Competition is part of the game as CPTPP comes into play
vietnam economy, business news, vietnamnet bridge, english news, Vietnam news, vietnamnet news, Vietnam latest news, Vietnam breaking news 
With the Comprehensive and Progressive Trans – Pacific Partnership (CPTPP) coming into play, the most challenging issue for local enterprises would be a change in mindset and considering competition part of the market economy, according to Tran Quoc Khanh, vice minister of Industry and Trade
Khanh made the comment at the Vietnam Private Economic Forum 2019 held on May 2, discussing the prospect of CPTPP as a breakthrough for Vietnam's economic development.
According to the vice minister, who has participated in many FTA negotiation, from the competition pressure, enterprises must change their stance from passive defense to be active players in the market.
The government would support enterprises but their proactive behavior would be a decisive factor determining the success under the CPTPP, Khanh stated.

Currently, Vietnam is the seventh member country to have official ratifed the deal following Mexico, Japan, Singapore, New Zealand, Canada and Australia, after the US withdrew in January 2017.
The CPTPP-11 economies make up around 13% of global economic output and are home to 500 million people.
The National Center for Socio-Economic Information and Forecast (NCIF) under Vietnam's Ministry of Planning and Investment expected the CPTPP would boost Vietnam's GDP by US$1.7 billion and over US$4 billion in exports, equivalent to additional growth of 1.32 and 4.04 percentage points till 2035, respectively.
Khanh expected Vietnam's participation in the CPTPP would help the country perfect legal frameworks and improve the business environment towards greater transparency, smoothness and fairness.
Discussing the CPTPP's impacts, Vu Duc Giang, chairman of the Vietnam Textile and Apparel Association (VITAS), considered CPTPP a backbone of Vietnam's textile industry, however, the deal would be insufficient for further development without a solid foundation.
Giang said the government must set up a development strategy and a long-term vision for the textile industry, including infrastructure and human resources.
Chairman of the Vietnam Cotton & Spinning Association (VCOSA) Nguyen Van Tuan said another challenge to Vietnam's textile industry is the fierce competition from foreign companies which currently dominate 70% of the domestic market.
Over the past 18 years, the textile industry has sustained an average growth rate of 15% per year but still depends on raw imports, while for the enterprises, the key issue would be value addition instead of purely relying on low-valued work.
Vice Minister Khanh expected the next big market for Vietnam's textile industry would be the EU, especially with the upcoming Vietnam – EU Free Trade Agreement (EVFTA).
According to HSBC's latest report, Vietnam's textiles and footwear sectors are expected to benefit most from the EVFTA. Vietnam's exports of textiles and footwear to the EU totaled nearly US$9 billion in 2018. Meanwhile, EU levied average tariffs on these products currently as high as 9%.
These tariffs would be removed in three years or directly upon entry into force of the EVFTA for less sensitive products. Meanwhile, EU tariffs on more sensitive textile and footwear products would be removed after five to seven years.
Vietnam needs sandbox to evaluate new economic models: Experts
Vietnam would require a sandbox approach to evaluate and review comprehensively the impact of new economic practices on the market, said experts at Vietnam Private Economic Forum on May 2.

The suggestion was made in response to the question of dealing with newly emerged economic models, as experts referred to a closed testing environment designed to experiment new things, so that policy makers could monitor and draft up suitable policies.
Nguyen Thien Nghia, deputy head of the IT Department under the Ministry of Information and Communication, said the government has been actively revising policies to reflect a fast-changing market, especially with the presence of sharing economic models such as ride-hailing firms Uber or Grab.
Nghia pointed to sandbox as a solution for Vietnam to pilot new models and solutions in a bid to minimize its potential adverse impacts.
According to Nghia, a new business model equipped with high technologies would enhance competitiveness in the economy.
Meanwhile, director of the Central Institute of Economic Management (CIEM) Nguyen Dinh Cung said the society should have a more open and new mindset towards new models and technologies, while insisting there would be no creativity by following procedures.

At the conference, CEO of Grab Vietnam Jerry Lim said a sandbox would create an environment for new business models to proves its efficiency and contribution for socio-economic development.
Additionally, there should be a transparent and smooth communication channel between enterprises and government agencies to speed up the testing process and its subsequent policy drafting, he added.
Lim referred to the transformation of Grab from a local Malaysian company with 10 employees to a unicorn in Southeast Asia after seven years.
With a combination of advanced technologies and sharing economic model, Grab has created jobs for millions of people, as well as its small and micro-sized partners in the region, Lim added.
Nevertheless, due to its new business model and the lack of legal frameworks, Grab has faced difficulties in operating in Vietnam.
New technologies come with big changes and there are always existing parties that resist such changes. However, eventually they would have to apply technologies to enhance their competitiveness and efficiency, or risk losing customers and market shares, Lim stated.
Private sector makes up 40% of Hanoi's economy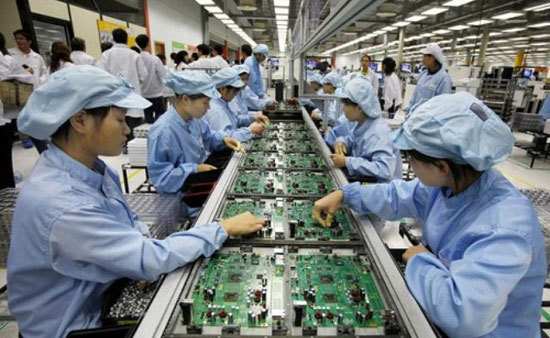 The private sector currently makes up over 40% of Hanoi's gross regional domestic product (GRDP) and creates jobs for over 50% of the labor force, Hanoi's portal reported.

As of present, Hanoi has a total of 256,000 enterprises, of which the private sector accounts for 97.2%, , indicating a significant role of the sector for the city's socio-economic development process.
Tran Thi Thu Hang, CEO of Vietnam Agriculture and Foods Import Export Company, said Hanoi's business environment has greatly improved over the past few years, particularly the local authority is supportive in addressing concerns of the business community.
Nevertheless, Hang expected more support from government agencies in removing bottlenecks and restrictions for further development of the private sector.
For the first time since the launch of the provincial competitiveness (PCI) index report in 2005, Hanoi has been named among the top 10 of the ranking nationwide, claiming the ninth position out of 63 provinces and cities with a score of 65.40 out of 100, up four places compared to last year's report.
Hanoi's ranking has been consistently going up in six consecutive years, up 41 places from 51st in 2012 to ninth in 2018," said Nguyen Doan Toan, vice chairman of the Hanoi People's Committee, at the 2018 PCI report launching ceremony on March 28.
The result has exceeded the initial target of being included in the top 10 PCI index ranking by 2020 set by the municipal People Council, stated Toan, attributing the success to the fact that Hanoi has always been the pioneer in activities meant to build a government of service which supports businesses in every step.
Toan referred to previous remark of Chairman of the Hanoi People's Committee Nguyen Duc Chung that the satisfaction of enterprises and citizens has been identified as the gauge in the operation of Hanoi's governance.
Vice Chairman of the Hanoi Association of Small and Medium-sized Enterprises (Hanoisme) Mac Quoc Anh said SMEs in general have limited financial capabilities, human resources and corporate governance, leading to inefficient operation and lack of competitiveness.
As the country is pushing for deeper integration in the global economy through a number of free trade agreements, shortcomings of local SMEs would be exposed unless these issues are properly addressed, Anh added.
For the private sector to realize its role as one of the driving force of the economy, the Hanoi People's Committee suggested three major plans.
Firstly, the city would focus on creating a favorable business environment to support the development of the private sector, encouraging innovation and modernization for greater productivity.
Part of the effort is to narrow the gaps of technologies, qualifications of human resources and enterprises' competitiveness between Vietnam and the leading ASEAN – 4 countries that are Indonesia, Malaysia, the Philippines and Thailand.
Secondly, Hanoi continues to perfect the legal framework and policies, which is part of the government's plan to realize the socialist-oriented market economy mechanism by 2030.
Thirdly, Hanoi would push forward with the restructuring of state-owned enterprises for greater efficiency. Most SOEs in Hanoi are expected to be privatized by 2030 and able to compete with their peers in the region.
Nguyen Manh Quyen, director of the municipal Department of Planning and Investment, said Hanoi would continue to simplify administrative procedures in a bid to improve the business environment and enhance the city's competitiveness in this second quarter.
In the time ahead, Hanoi is expected to hold a conference on improving business environment and its provincial competitiveness index (PCI) in 2019 and subsequent years, Quyen added.
Additionally, the city gives priority to startups and supporting the development of the private sector, he continued.
Hanoi targets GRDP growth rate of 7.5% in 2019 and 2020, leading to an expansion of 7.33% - 7.41% in the 2016 – 2020 period, which is in line with the city's five-year socio-economic development plan.
Lazada loses top spot on ecommerce market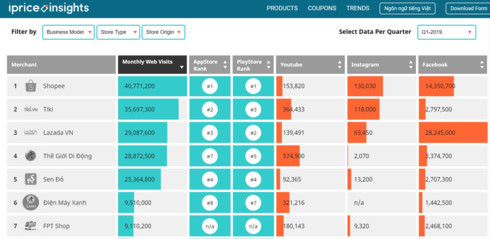 Lazada has failed to hold its crown as the most visited ecommerce platform nationwide amid increasing competition in the domestic market.
A report by online shopping aggregator iPrice Group indicates that Lazada, which made headlines as the most visited ecommerce platform with 42 million visits per month during 2018, was overtaken by Shopee during the first quarter of the year.
Shopee became the most visited ecommerce website in the country with 40.7 million visits per month on average. It was followed by Tiki which enjoyed an average of 35.6 million visits per month. Lazada dropped to third spot with an average of 29 million visits per month.
Experts believe that changes made by Lazada in its sale policies, along with errors in delivery and their handling of defective goods, has harmed the firm. These downturns come at a time when many rivals continued to offer attractive promotions and discounts.
Lazada halted a service that allows customers to check the goods they order before payment as of March 15. This has raised concerns regarding the condition that goods sent to customers could be defected by manufacturers or broken during delivery.
Mirroring a similar downward trend to Lazada, the ecommerce website of The Gioi Di Dong (Mobile World Co., Ltd) saw its monthly visits drop from 39 million to 28.8 million during the first quarter of the year. This left the website in fourth place according to the iPrice rankings.
Nguyen Huu Tuan from the Vietnam eCommerce and Digital Economy Agency under the Ministry of Industry and Trade, said the local ecommerce market has undergone changes in customer needs. During the initial phase of market development, buyers are more keen on discounts and promotions, however, as time passes they attach more importance to their experiences in terms of delivery, payment method, and after-sale services.
Local customers are quite familiar with online shopping and the presence of ecommerce platforms backed by big multi-national corporations. Despite brand awareness among consumers, ecommerce firms of all statures in the market could suffer if they fail to provide customers with positive experiences.
In fact, a number of shopping websites such as beyeu.vn, deca.vn, fab.vn, cucre.vn, and lingo.vn shut down due to fierce competition from within the domestic market.
In addition, online shopping features developed by Facebook are another threat to local ecommerce platforms.
According to the Vietnam Ecommerce Association, the domestic ecommerce market enjoyed an annual growth rate of 30 per cent in 2018 with total revenues reaching US$8 billion. This figure is expected to touch some US$15 billion by 2020.
Thai visitors increase fastest in first four months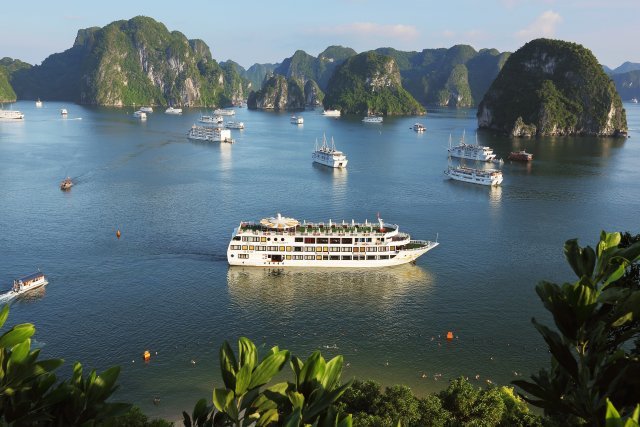 According to the General Statistics Office, Vietnam continued to be a growing international tourist destination in the first four months of 2019, with the number of international visitors reaching 1.4 million every month, up nearly 10 per cent compared with the same period last year.
Visitors arriving by sea increased strongly, by 120.5 per cent, while those arriving by air increased 5.9 per cent and those coming overland fell 10.3 per cent. International arrivals have totaled over 5.9 million since January, up 7.6 per cent compared with the same period in 2018.
Overcoming South Korea, Thailand had the highest number of visitors coming to Vietnam during the last four months, increasing 46.5 per cent year-on-year. South Korean visitors grew 23 per cent. The opening of a number of new routes connecting Thailand with tourist cities such as Da Nang, Nha Trang, and Da Lat has helped boost the number of tourist arrivals.
Other tourist markets with good growth in the first four months were Taiwan (25 per cent), the Philippines (24.4 per cent), and Malaysia (nearly 16 per cent). The number of visitors from some European countries is also heading upwards, including Denmark and Switzerland (12 per cent each), Norway (10 per cent), and Italy (10.5 per cent).
Compared to the same period last year, the number of travelers from Cambodia fell by nearly half. Other tourist markets seeing sharply declines included Laos (19 per cent), Finland (10.5 per cent), and Australia (0.3 per cent).
Chinese visitors were down 14 per cent in March compared to February. The situation improved during April, but the figure in the first four months was down 3.8 per cent year-on-year.
Total revenue from tourism stood at VND227,790 billion ($97.8 million) in the first four months, an increase of 8.91 per cent year-on-year.
Netland to boost partnerships with Japanese investors
The Netland Real Estate JSC (Stock code: NRC) has approved its 2019 business plan, with revenue to reach over $15 million and after-tax profit $4.72 million, increases of 98 per cent and 52.5 per cent against 2018, respectively. The dividend is expected to range from 10 to 30 per cent.
If its plans are exceeded, the Board of Directors will receive 10 per cent of the excess and staff and the executive board also 10 per cent.
NRC recorded revenue of $1.31 million in the first quarter of 2019, including $859,000 from its investment cooperation in The Panorama Villas (Haborizon Nha Trang) project and from brokerage services. After-tax profit of shareholders of the parent company was about $444,000.
It remains focused on pushing merger and acquisition (M&A) activities to acquire a large land bank. Leaders said the company will focus on the land bank on the Mui Ne beachfront in Phan Thiet city, south-central Binh Thuan province, where it hopes to secure about 40 ha, southern Dong Nai province, with 50 ha, southern Ba Ria Vung Tau province, with 30 ha, the Mekong Delta's Long An province, with 30 ha, south-central Nha Trang city, with 20 ha, and, in particular, Ho Chi Minh City, with 35 ha. With such a land bank, Netland would have the resources needed to grow in the next two or three years.
Along with plans for its land bank, Netland continues to cooperate with domestic and foreign partners to increase products and raise its position.
In the first half of 2018, NRC agreed to terms with Sanei Architecture Planning from Japan as a strategic partner, which currently has about 18.75 per cent of capital, and G-7 Holdings INC from Japan as a strategic shareholder, with a 5.1 per cent share. Mr. Le Thong Nhat, Chairman of NRC, revealed that Netland would also shake hands with another major partner from Japan - a billion-dollar listed company on the Tokyo and Jasdaq stock exchanges.
Under its plan, NRC will invest heavily in developing a retail network system and building a database of over 100,000 potential customers and more than 10,000 regular clients. It now holds 95 per cent of capital in Danh Khoi Real Estate, which has a brokerage market share in the top 3 in Vietnam's south.
In order to supplement capital for M&As, strategic cooperation, and project development, NRC's Board of Directors has prepared a proposal for issuing a maximum of $12.9 million of individual bonds to less than 100 investors with a value of $4.29 per bond and a maximum term of five years, with an expected placement time within this year.
Mr. Nguyen Huu Quang, Deputy General Director of NRC, said the two placements must be six months apart under regulations. It finished issuing 9 million shares on April 16, of which 99.93 per cent were sold. The Board found that the capital raising process was not timely, so the bond issuance plan was set for this year.
NRC posted $7.6 million in net revenue last year, of which its brokerage business earned $4.8 million, or 63 per cent. After-tax profit was more than $3.1 million. It will provide a dividend payment of 5 per cent in cash and 15 per cent in shares, which will be implemented in the third quarter of this year.
Taiwan Excellence Pop-up Store shows future to HCMC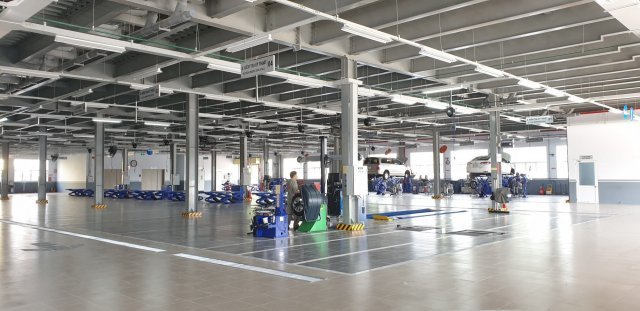 Within the framework of the Taiwan Excellence 2019 campaign, Taiwan Excellence Pop-up Stores returned to Ho Chi Minh City between April 27 and May 1 with the participation of 15 outstanding brands from Taiwan.
The purpose is to promote Taiwan Excellence's image and introduce cutting-edge Taiwanese brands and products to Vietnamese people.
Fifteen displaying brands in Taiwan Excellence Pop-up Store 2019 are from consumer-friendly sectors and industries such as smart home appliances, sports and healthcare, information technology, education, and entertainment. These are all integrated innovative technology products, with the ability to bring a more comfortable and convenient life to consumers, and were honored with the prestigious Taiwan Excellence Award, an initiative of Taiwan's Bureau of Foreign Trade (BOFT).
Apart from familiar brands seen in previous campaigns such as ASUS, FECA, GreenE, Horien Eye Secret, and Tokuyo, Taiwan Excellence Pop-up Store this year welcomed new names like Her Sheng Chang, Gigo, and Annie's Way, contributing to an increase in diverse fields and products introduced to consumers. By holding the exhibition space at one of the most crowded shopping centers in the city center, the Taiwan Excellence campaign hopes to reach out and improve the living quality of more Vietnamese families.
Meanwhile, the Taiwan Excellence shop at Crescent Mall was officially reopened after an upgrade and expansion, in response to increasing demand among Vietnamese consumers, selling products that meet quality and needs while still ensuring aesthetic value. The shop was opened with the aim of offering more options in terms of trading locations, where reputable Taiwanese brands gather, saving customers' time as they do not have to visit each brand's dealership.
"The Taiwan Excellence campaign in Vietnam is seeing success as we recognize enthusiasm growing among consumers for original Taiwanese products," said Mr. Keven Cheng, Director of Taiwan Excellence's Representative Office in Ho Chi Minh City.
"Annual events like Taiwan Excellence Pop-up Store are great opportunities for us to support Taiwanese businesses to access the Vietnamese market, and vice-versa, Vietnamese consumers can also approach and better understand the diversity of Taiwanese industries. Since the Taiwan Excellence shop in Vietnam has just reopened, I encourage people to spend time visiting the shop and have a realistic experience with breakthrough technologies."
According to the 2017-2018 Global Competitiveness Report from the World Economic Forum (WEF), Taiwan's economy ranked 15th globally and fourth in Asia. Taiwan is also the fourth-largest investment partner, fifth-largest trading partner, and sixth-largest tourist market for Vietnam.
Toyota Vietnam opens new HCMC branch
Toyota Motor Vietnam (TMV) continues to expand its dealership network and authorized service stations in Vietnam's south.
The Toyota Ben Thanh - Binh Tan Branch on Vo Van Kiet Street in Ho Chi Minh City's Binh Tan district officially came into operation on April 23, bringing the total number of Toyota authorized dealers / branches to 57.
The branch has an area of nearly 4,000 sq m, including three main areas: a product showroom, a customer lounge, and a service area. The service area has 40 compartments for repairs, including 12 for express repairs / general repairs and 28 for painting. including paint mixing and color mixing in closed areas, which ensures environmental safety.
After a year preparing facilities and engaging well-trained, professional, highly-skilled staff with a wholehearted spirit to serve customers, Toyota Ben Thanh - Binh Tan Branch fully meets the strict standards of Toyota Global to provide genuine products and services with the highest quality to bring satisfaction to customers.
TMV's network has now reached 57 dealers / branches and authorized service stations in 25 cities and provinces in Vietnam, in which the north has 19, the south 26, and the central region 12. With the opening of Toyota Ben Thanh - Binh Tan Branch, TMV once again affirms its ceaseless efforts to bring high-quality products and services to customers.
MWG: Sales from new products up in Q1
The Mobile World Investment JSC (MWG)'s strategy to increase sales via "selling new, unprecedented products" at TGDD & DMX has seen positive results so far.
The "shop-in-shop" model selling watches was first experimented in The Gioi Di Dong (TGDD) Ho Chi Minh City on March 8. MWG now has two stores selling over 50 models of smart watches and over 1,000 models of fashion watches in more than 20 different brands.
MWG is focusing on serving the mid-end segment with prices mostly ranging from VND1 million ($43) to VND6 million ($258) per item. All products are guaranteed 100 per cent genuine with one-year warranties.
In small appliances and kitchen wares, in the first three months of this year over 10 million items were sold in Dien May Xanh (DMX), generating more than VND1.7 trillion ($73.1 million) in revenue, equivalent to increases in sales and value of 130 per cent and 50 per cent, respectively, year-on-year.
In contrast to previous years, in 2019 the retailer was mainly focused on high season sales in the first quarter. From April the company has implemented the expansion/conversion of TGDD and DMX chains to effectively optimize revenue for the new stores during the hot season and the last six months of the year.
In particular, the retailer has prepared over 100 signed locations for opening new stores, in addition to changing layouts in over 200 mini DMX stores to optimize the display area and quantity of items, which is expected to be completed before the end of June.
Out of a total of 469 stores as at the end of March, Bach Hoa Xanh (BHX) had 95 stores in 12 provinces in the Mekong Delta, accounting for 20 per cent of all stores. By store format, it had 52 large stores (300 sq m), accounting for 11 per cent of the total.
Average Monthly Sales Per Store calculated for those opened before March was over VND1.25 billion ($53,766). Depending on store format (standard or large-size), sales per store in provincial areas was about 85-90 per cent of those in Ho Chi Minh City.
BHX continues to diversify its product selection to better serve customer needs. At present, large stores are selling about 500 fresh products and 3,000 FMCG products while standard stores are offering 350 fresh SKUs (stock keeping units) and more than 2,000 FMCG SKUs.
In March, BHX sold approximately 6,000 tons of fresh produce, up 20 per cent compared to the 5,000 or so tons sold at the end of 2018 and January. Fresh produce contributed about 40 per cent of total revenue of the BHX chain in the first quarter.
BHX promotes direct access to supplies in farming and fishing areas to shorten the transportation time and improve the quality and freshness of goods when reaching consumers. Especially for fish and meat products, this "purchase-at-source" method helped March volume and value sales of this product group increase by more than 50 per cent compared to the average in the first two months.
In the second quarter, BHX will focus on handling direct purchases for imported fruit and confectionery products.
In the first three months of 2019, MWG recorded consolidated net revenue of VND25 trillion ($1.07 billion), up 10 per cent year-on-year, while net profit after tax was VND1 trillion ($43 million), up 29 per cent year-on-year. As a result, it fulfilled 23 per cent of its revenue target and 29 per cent of its net profit target for financial year 2019.
Online revenue in the first three months of 2019 reached VND4.6 trillion ($197.8 million), up 67 per cent year-on-year, and equal to 19 per cent of total revenue.
As at the end of March, MWG had 2,266 stores. In March alone, it opened 50 new stores, of which 46 were BHX. The DMX chain increased by eight stores, of which four were converted from TGDD and four were new openings.
Gross margin and net margin in the first three months improved against the same period last year. The approximate 4.2 per cent net margin achieved in the first quarter was the highest since the beginning of 2017. Net margin in the first quarter is usually higher than the remaining quarters of the year.
Mobile phone sales in first quarter increased 3 per cent year-on-year, while value stayed flat due to the company pushing promotions for products launched from late 2018 and the brands did not have many new models launched in the first quarter. As for electronics and white goods, the company recorded a 27 per cent increase in sales volume and a 14 per cent increase in revenue in the first quarter year-on-year.
Digiworld targets office equipment as growth driver
Benefiting from the government's digital transformation program, the Digiworld Corporation (Stock code: DGW) announced its new growth strategies at its recent annual general meeting of shareholders in Ho Chi Minh City.
The company pinpointed certain product segments such as consumer goods and office equipment as growth engines, in which office equipment will take advantage of the trend towards digital transformation.
The draft "National Digital Transformation" project, of which the Ministry of Information and Communications is now seeking comment, sets out a general goal that Vietnam will be ranked among the top 4 in ASEAN in national digital ratings by 2025.
The specific goal of the project by 2025 is for its national competitiveness index to rank among the top 40 on the World Competitiveness Scoreboard from the WEF (by 2020 among the top 50); 50 per cent of SMEs to shift to digital platforms (reaching 10 per cent by 2020); the digital industry to account for at least 25 per cent of GDP (15 per cent by 2020); and at least 80,000 digital technology enterprises to be established (35,000 by 2020).
According to the IDC Spending Guide, global digital transformation spending will be approximately $2 trillion by 2022 and digital transformation investment will increase in all three areas: hardware, software, and services. In particular, investment costs for hardware and services will account for more than 75 per cent of the cost of digital transformation this year.
This trend will promote growth in the office equipment sector, including servers and clients, power solutions, IoT, network solutions, software, and cloud computing.
The company last year signed up with EATON, the world's leading energy management group, on effective energy management solutions. It also signed up with Synopsys, a software company. Digiworld also officially become a master distributor of Nestlé's nutrition products this year.
"Digiworld's growth is almost guaranteed by two new contracts signed at the end of 2018 and early 2019 with Nokia in mobile phones and Nestlé in consumer goods," said Mr. Doan Hong Viet, CEO of Digiworld. "With a vision of becoming a billion-dollar company, the greater challenge for the executive board is to make the office equipment sector become a growth pillar in ICT as well as to make sure of the sustainable development of the consumer goods business."
"I believe that with the irreversible trend towards digital transformation, the office equipment segment will achieve a compound average growth rate (CAGR) of 25 per cent and will even exceed the laptop segment in the next three years. The consumer goods business will also gain further breakthroughs in the future."
Revenue in the first quarter of 2019 stood at nearly $59 million, up 8 per cent year-on-year, and after-tax profit was $1.054 million, up 26 per cent. The company has therefore completed 19 per cent of the 2019 revenue plan and 18 per cent of the 2019 after-tax profit plan.
In the office equipment segment, revenue reached $11.5 million, increasing 19 per cent year-on-year and representing 19 per cent of the annual plan, while revenue in consumer goods reached $2.28 million, increasing 141 per cent, equal to 15 per cent.
Moves afoot in Binh Thuan wind power project
The UK-based offshore wind project developer Enterprize Energy has officially signed an agreement to designate Société Générale as its financial consultant to mobilize capital to build and develop the first phase of the Ke Ga offshore wind power project in south-central Binh Thuan province.
With a total capacity of 3,400 MW, the Ke Ga project is currently the world's largest.
According to a representative from Société Générale, Ke Ga has great significance for the transformation of Vietnam's energy structure and will also make the country an important offshore wind power development center in the region. Previously, in January, Enterprize received instructions from the Prime Minister's Office to prepare the Ke Ga project for incorporation into Vietnam's National Power Development Plan.
The offshore wind farm is expected to be built about 20 km - 50 km from Binh Thuan's coastline, where the average wind speed is 9.5m/s. The first turbines have a capacity of 9.5MW.
The major project will require total investment of at least $12 billion and will be carried out in several 600MW phases. It will consist of 9.5MW wind turbines supplied by Mitsubishi Vestas Offshore Wind, a joint venture between Vestas Wind System and Mitsubishi Heavy Industries. Vietsovpetro and PVC-MS have been designated as designers and manufacturers of offshore structures for the project.
According to the Binh Thuan Department of Industry and Trade, most investors in wind and solar power projects approved by the provincial people's committee for survey, research, and planning are all carrying out the necessary tasks and procedures.
Five projects have been granted approval with a total area of 340 ha, a total capacity of 177.48MW, and total estimated investment capital of VND6.981 trillion ($300.3 million), while two projects on a total area of 350 ha will generate 250MW, with total estimated investment capital of VND6.608 trillion ($284.3 million).
The government targets 6,000MW of wind power capacity by 2030, up from the current 197MW, and 12,000MW of solar capacity (now less than 100MW). The development of Ke Ga will significantly contribute to these targets.
'be' car and bike-hailing app hits Can Tho streets
Vietnamese car and bike-hailing startup the Be Group JSC and its "be" app have opened an office in the Mekong Delta's Can Tho city and begun to offer services.
"be" will expand to central Da Nang city in the very near future. With an operational motto of "the driver is the most important entity", its business model is to help drivers have the best working environment and stable incomes, enjoying benefits such as social welfare and traffic accident insurance as well as receiving professional training from the company.
"The increase in 'be's' customer numbers, network expansion, and rising market share have also helped drivers earn more income so they will do the job for a longer time," said a representative from the Be Group. "The long-term goal for 'be' is greater recognition from the public about its drivers."
The "be" car and bike-hailing app has been downloaded over on over 2 million mobile devices, and its 20,000 drivers conduct about 200,000 trips each day. Since its official launch in December, drivers have completed more than 5 million trips with beBike and beCar. The company is now aiming to attract 100,000 drivers by the end of this year, contributing to creating more jobs, paying more taxes, and at the same time providing better services to customers.
Six tech companies now operate in Vietnam's transportation market: Grab, Fastgo, ABer, Vato, Go-Jek (Go-Viet), and "be".
Vietnamese firms seek to adapt to official exports to China
Vietnamese businesses and farmers face various challenges in exporting farm produce to China, which is shifting from unofficial channels to official ones.
Statistics show up to 70 percent of Vietnamese agricultural exports to China have been shipped via unofficial channels.
However, the Chinese side has set new conditions and policies towards agricultural imports from Vietnam, putting many Vietnamese exporters in a pickle.
According to Nguyen Cong Truong, Vice Chairman of the People's Committee of Lang Son province, which borders China, China has tightened policies regarding border residents and product packaging and preservation.
Notably, all Vietnamese goods must enter the Chinese market via official channels and with contracts, the official said.
Truong said Vietnamese traders face huge risks exporting via unofficial channels as their products may avoid the weak control set up by Vietnam to penetrate China through trails, but they can still be stopped by Chinese forces.
Moreover, local firms don't abide by China's requirements of origin traceability, said Hoang Khanh Duy, head of the export-import bureau under the provincial Department of Industry and Trade.
The department said it takes customs officers at the Tan Thanh border gate 3-5 minutes to inspect a truck. Therefore, only about 180 trucks crossed the gate each day in the first quarter of this year, leaving 500-700 others in the queue for border customs control.
During the period, the revenue of farm produce export through Lang Son's border gates fulfilled only 21.3 percent of its set target, equivalent to 89.5 percent of the amount recorded in the same period last year, the department said.
Lao Dong (Labour) daily reported that local businesses prefer unofficial exports which cost them less in terms of packaging and transportation although they face more risks.
Duy said Vietnam aims to export more agricultural products to China via official channels, which requires greater efforts from State management agencies, enterprises and farmers to satisfy technical requirements set by the neighbouring country.
However, if successful, the quality and competitiveness of Vietnamese products will improve and they will have chances to join the global market more deeply, he said.-
Customs sector collects 120 trillion VND for state budget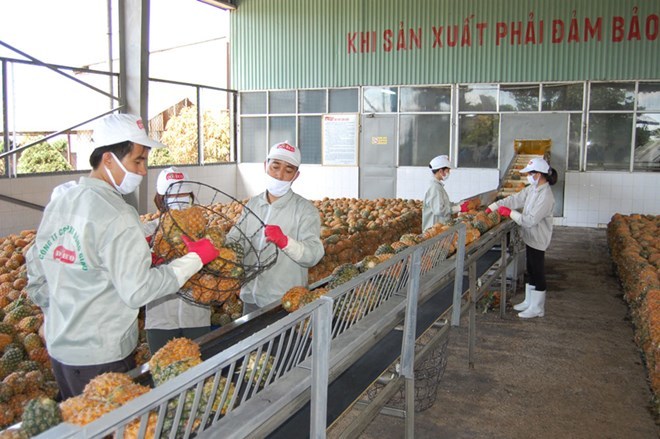 The customs sector's state budget collection in the four months increases 25.44 percent due to increase in imports.
The customs sector's state budget collection exceeded 120 trillion VND (5.18 billion USD) by the end of April, up 25.44 percent from the same period last year.
The General Department of Vietnam Customs said the amount accounted for 37 percent of the estimate for the whole year.
The outcome was attributed to a surge in import-export turnover which hit 156.81 billion USD, a year-on-year increase of 8 percent. Of which, export earnings reached 78.76 billion USD, up 5.8 percent, while import value was estimated at 78.05 billion USD, up 10.4 percent.
State budget collection in most of the cities and provinces' customs departments ranged between 30-40 percent of their yearly plan. The rate in Hai Phong city was 47.39 percent, HCM City 33.97 percent and Hanoi 31.78 percent.
Thanks to strong increase in imports of several projects, the customs departments in Binh Dinh, An Giang, Tay Ninh, Kien Giang and Khanh Hoa provinces recorded high tax collection in the four months, respectively accounting for 92.24 percent, 96.1 percent, 119.68 percent, 288.75 percent and 155.49 percent of the yearly target.-
PM chairs southern key economic zone development conference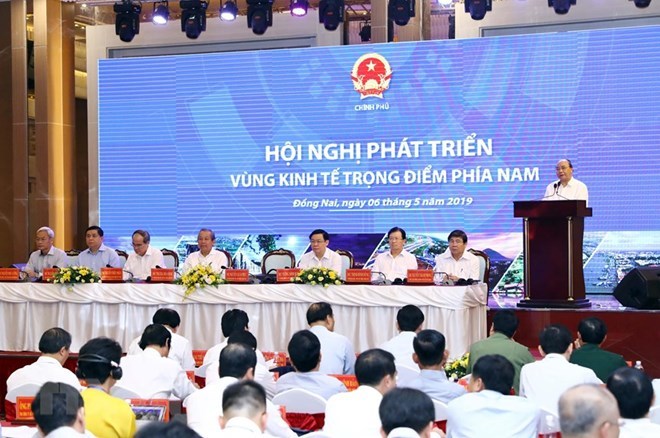 An overview of the conference
Prime Minister Nguyen Xuan Phuc chaired a conference on the development of the southern key economic zone on May 6 in Bien Hoa city, the southern province of Dong Nai.
The southern key economic zone comprises of Ho Chi Minh City and Dong Nai, Binh Duong, Ba Ria-Vung Tau, Binh Phuoc, Tay Ninh, Long An and Tien Giang provinces.
It leads the nation in terms of industrialisation and modernisation and drives Vietnam's economic development, accounting for 45.42 percent of the country's Gross Domestic Product (GDP).
In recent years, the region has gained many achievements in socio-economic development, with average annual GDP growth rate of 8.34 percent during 2016-2018, and per capita income reaching 5,474 USD last year – two times higher than the nation's average.
However, the region's potential has yet to be tapped fully, and regional connectivity is lacking.
Therefore, at the conference, delegates are expected to discuss policies to boost regional growth, connectivity to develop logistics and transport infrastructure and the quality of human resources.
They are also expected to make recommendations to help the region bring its potential and strengths into full play.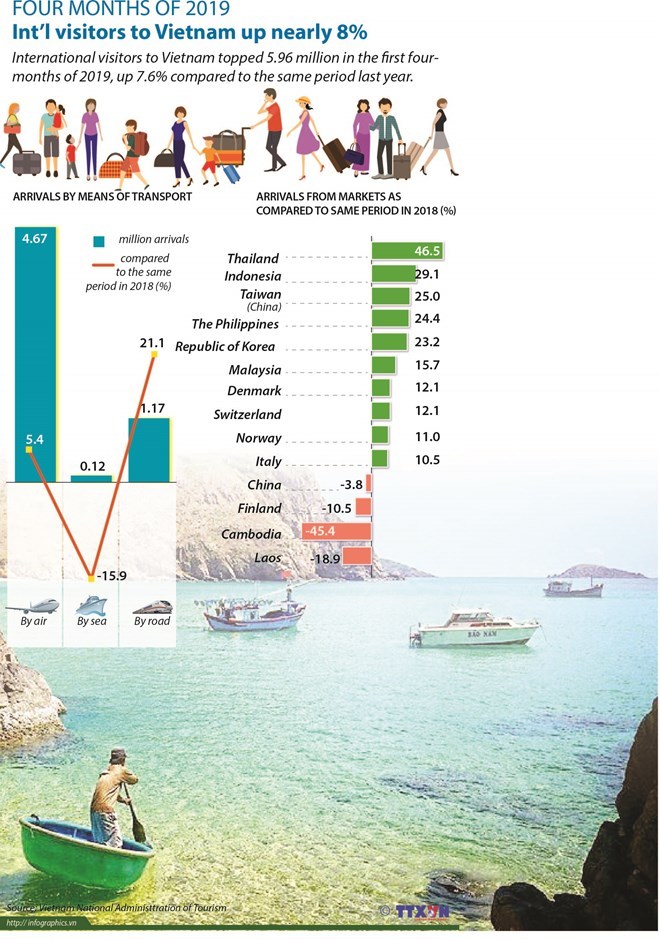 Ảnh: