Authorities in HCM City and Long An Province have suspended operations of a number of businesses so that epidemic prevention measures can be carried out.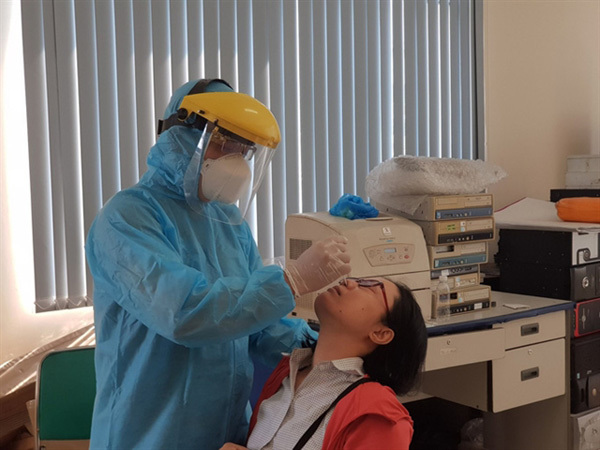 A worker at Tan Thuan Export Processing Zone in HCM City is tested for the SARS-CoV-2 virus. Photo courtesy of nld.com.vn
About 29 companies in Tan Thuan Export Processing Zone in HCM City have been asked to suspend their operations after many workers tested positive for SARS-CoV-2 virus, according to Người Lao Động (Labourer) newspaper.
Hoang Minh Tuan Anh, chairman of the District 7 People's Committee, on July 11 asked the Management Board of HCM City's Export Processing Zones (Hepza) and Tan Thuan Company to strengthen COVID-19 epidemic prevention measures.
Meanwhile, Long An Province has asked local businesses to suspend all activities and develop plans for on-site production, dining and rest before continuing operations.
The provincial People's Committee on July 11 issued a written request to companies with recorded F0 and F1 cases to immediately suspend operation and focus on tracing, zoning and isolating infected cases.
Other firms have been required to suspend operation from 0h on July 12 to review and arrange places to eat and rest for their workers.
With special firms handling tasks related to national disaster prevention, national security and other emergency services, they also need to report to the provincial People's Committee until further notice.
When companies are able to ensure the "3 on-site" rule, including on-site production, dining and rest, they must seek authorities' approval before resuming operations.
As of the evening of July 11, Long An Province had recorded 664 positive cases of SARS-CoV-2 virus in the community, spreading across 15 of 15 districts, and towns and cities.
Source: Vietnam News

Ho Chi Minh City, Vietnam's current biggest COVID-19 outbreak hot spot, is on the right track in pandemic prevention and control after two days of social distancing imposed in the entire city.