The land price spike has caused investors to reconsider their projects and postpone new business plans.
Le Tan Dung, director of Nghinh Phong Tourism JSC, said he in a dilemma as the land price has increased dramatically.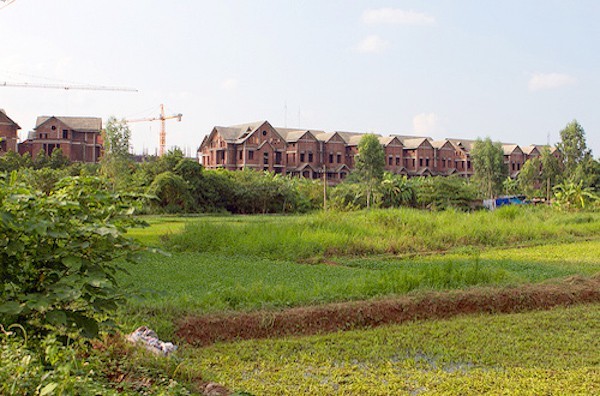 The company had to pay VND440 million in land rent in 2014 and VND1.3 billion in 2015. The sum soared to VND7.8 billion in 2016, or 18 times higher than 2013. Gio Bien is now leasing 32,000 square meters of land to develop Gio Bien tourism complex.
"It will be reasonable if the rent increases by 15 percent year after year. The current sharp increase is unbearable for businesses," he said.
Nguyen Van Sy, deputy director of Thang Muoi Tourism, also complained the land rent has been adjusted two times since 2013. The rent in 2013-2014 increased by 1.9 times compared to the years before 2013, or VND1.163 trillion a year. In 2015, the rent increased by another 7.37 times, or VND8.6 billion. The sharp increase has put a heavy burden on businesses.
The land price spike has caused investors to reconsider their projects and postpone new business plans.
According to Nguyen Van Chien, director of Hung Phat Packaging, the amount of land rent he had to pay increased by 3-4 times in 2015-2017.
Meanwhile, businesses are required to pay for several years at once. The rent arrears enterprises have to pay are sometimes equal to half of the enterprises' capital.
Do Viet Chien from the Vietnam Real Estate Association confirmed that many association members have complained about land rent increases. Meanwhile, their products remain unsold and the inventory level is high.
Sky Bridge Dragon Sea in Vung Tau City got a license to develop Dragon Sea, an international tourism, exhibition and conference center in 2010. The local authorities then decided that the company could lease land for 50 years and make payments at once, VND350 billion.
However, the amount of rent it had to pay was VND1.75 trillion, or five times higher than initially fixed.
Chien said some enterprises which have been operating for tens of years dare not upgrade their facilities and develop new products because of the high land prices.
Sy from Thang Muoi Company said the shareholders' meeting 2014 approved the plan to develop 4-star Resort Thang Muoi capitalized at VND120 billion. However, the company in 2015 received a notice from the Vung Tau City Taxation Agency that the sum of money it had to pay was 7.37 times higher.
It decided to give up the project because the land rent increase made it unprofitable.
The land rents applied to businesses are set by local authorities after considering land market prices.

The implementation of policies and legal regulations on the planning, management and use of land in urban areas over the past few years was the focus of the National Assembly meeting on May 27.  

Dozens of businesses that want to invest in Saigon High-Tech Park (SHTP) in District 9 have not received approval because the city has yet to announce new land rental prices for public land.  
Kim Chi