Many retail models and entertainment services in large cities have not been successful when trying to develop a night economy.
Retailers

6 am. Phuong, a second-year university student finishes her working shift at Circle K on Cau Go street in Hoan Kiem district in Hanoi. After taking stock of goods, she hands over the watch. Just tens of meters away, her colleagues in other two Circle K shops are doing the same thing.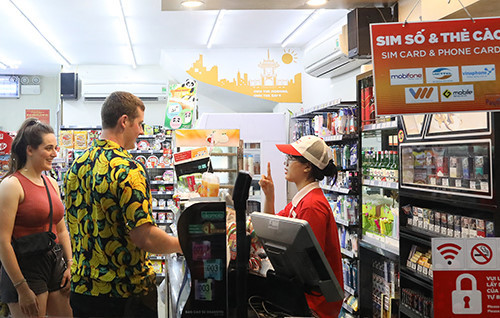 Cau Go, one of the busiest streets of the old quarter, is full of convenience stores and groceries. However, Circle K is the only retailer which opens 24/24.

The presence of Circle K gives youth an address to go to when seeking a place that sells food at night when authorities restrict business activities after midnight.

Retail is one of the sectors to benefit from a night-time economy. However, analysts say that not all models will succeed.

Circle K came to Vietnam in 2008, but only since 2013 has it begun operating under the 24/7 model. In 2015 it began developing the model in Hanoi.

Many retail models and entertainment services in large cities have not been
successful when trying to develop a night economy.
Having expanded the network, but after 14 years of operation, in early 2019, Shop&Go, the 24h convenience store, had to sell to VinCommerce, a subsidiary of Vingroup and stop operating at night. The retailer had made heavy investment, but the business result was not as good as expected.

Vu Thi Hau, deputy chair of the Vietnam Retail Association, said not all retailers open the door after 10 pm. Travelers and people tend to go to entertainment venues at night, not to supermarkets and convenience stores. The sales at night are small which cannot cover expenses.

"The wages retailers have to pay to workers at night are 30-40 percent higher than usual. Besides, they have to pay additional money for electricity and water," Hau explained.

Multi-billion dollar projects

Not only retailers, real estate developers also hope to make money from their 'sleepless cities'. However, many of them have been 'bogged down' in their 'night-economy dream'.

Five years ago, Empire Group began developing a super entertainment project in Ngu Hanh Son in Da Nang City with the estimated investment capital of $5 billion.

In 2017, the project became operational with thousands of apartments, walking street and entertainment items such as outdoor stage, theater, water music, bars and pubs.

One year ago, the group spent millions of dollars to invite tens of foreign artists to Vietnam to a music night, hoping to attract 30,000 viewers. However, the number of people to the show was just 1/3 of the number. Bars and pubs had to close at 10-11 pm.
Kim Chi 

The UK's night-time economy is now said to be the UK's fifth-biggest industry with annual revenues of £66bn.

In July 2019, ministries and people's committees of central cities and provinces received a request to study Chinese policy on night-time economy development.