The Royal International Corporation (RIC) which operates The Royal Casino Ha Long has just announced its financial report for 2019 with losses of over VND72 billion (US$3.2 million).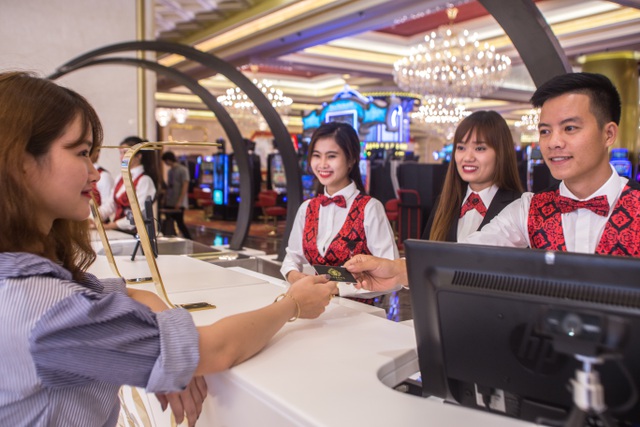 Almost all casinos have faced losses which are attributed to strict policies. Photo for illustration
According to the report, the company made VND235.76 billion in revenue including VND97.7 billion from the casino. The company saw a loss of nearly VND 72.8 billion which was mostly caused by the casino activities.
RIC said that despite some efforts to cut down on labour and other expenses but they had still incurred losses due to falling revenues.
This is not the first time RIC reported losses from casinos. Between 2013-2017, the company continuously incurred losses of from VND11 billion-56 billion a year.
The Ho Tram Casino at the Grand Ho Tram Resort & Casino has also reported the same situation. Opened in 2013 as one of the country's largest casinos with 90 gaming tables, it has yet to break even since.

Corona Phu Quoc Casino, which was put into operation in January 2019, was the first to open to Vietnamese people in three years. With total investment of over USD1 billion for the first stage, Corona Phu Quoc was expected to be a good investment but the present situation reality was showing different.

After a year of operation, Corona Phu Quoc made revenue of nearly VND1.2 trillion (USD50 million). The revenue was too small compared to the huge investment. A financial report showed that Corona Phu Quoc incurred a loss of over VND604 billion in 2019 and the situation is predicted to be still difficult.

Another casino which has been described as the most successful in Vietnam is the Aristo of Aristo International Lao Cai Hotel. However, its business situation looks bad.

According to a report by the Australian Donaco Group which owns a 95% stake in Aristo International, their business operation in Vietnam have recently declined. Revenues from games activities have fallen by 15% to VND197 billion. It is estimated that Donaco's casino revenues in Vietnam was just equivalent to a third of its casino in Cambodia.
Vietnam was sold as a promising destination for casino investors.
However, almost all casinos have faced losses which are attributed to strict policies.
According to Corona Phu Quoc, a regulation requires that Vietnamese people need to show a monthly income of at least VND10 million (USD435) to be allowed to enter their casino. However, many local tourists failed to remember bringing such documents with them while on holiday.

The special consumption tax of 30-40% was also a big challenge to local casinos.

McCamley from the Global Markets Advisors claimed casinos could be a major benefit to the economic development of Vietnam, but the government was still reluctant in piloting and developing this service.

"The Vietnamese government is still considering carefully based on the reaction from the public when developing casinos," he noted. "So it may take a long time to assess the effectiveness of the casino industry, which is sure to face lots of challenges." Dtinews

Corona Casino – the first casino in Vietnam where Vietnamese people are permitted to gamble – has reported a gross profit of $13.04 million and pre-tax profit of $4.7 million after six months of operation.  

Casinos in Vietnam are facing difficulties because of the slowdown in growth of Chinese travelers.