Chaleun Sekong Group has spent $97.83 million on buying up Hoang Anh Gia Lai Hydro Power JSC, despite news that the company operates without profit.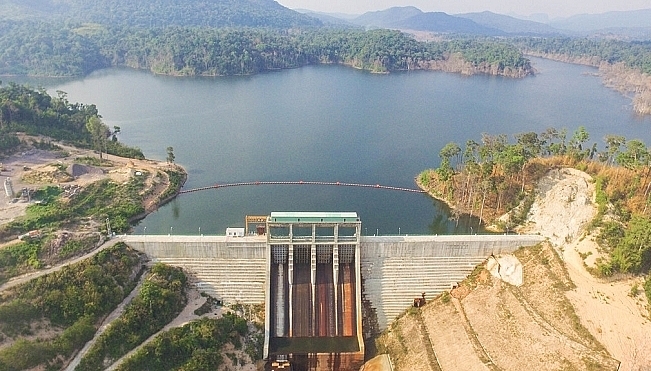 A hydropower plant of Chaleun Sekong Group in Laos
HAGL has released information to put 248 million shares in Hoang Anh Gia Lai Hydro Power JSC, equaling 99.4 per cent stake, on sale. This movement shows the withdrawal from ineffective business and investment sectors in order to focus on the agricultural sector.
Previously, in its financial statement for the second quarter of this year, HAGL reported that Chaleun Sekong Group from Laos signed a contract to buy Nam Kong 2 and Nam Kong 3 hydropower plants owned by Hoang Anh Gia Lai Hydro Power for VND2.53 trillion ($110 million). So far, Chaleun Sekong completed the payment of VND2.25 trillion ($97.83 million).
It is not the first time that HAGL divested a hydropower project. In mid-2016, the group sold six hydropower plants to Bitexco Group for VND2.1 trillion ($91.3 million). The move to withdraw from the two above plants marks the end of HAGL's journey in the hydropower sector.
Besides, in order to mobilise investment capital for its agricultural projects, HAGL divested from numerous sectors, including real estate, sugar cane production, and livestock. For example, in August this year, Hoang Anh Gia Lai Agricultural JSC (HAGL Agrico – HNG) announced the resolution of its Board of Directors to transfer its entire 99.875 per cent in Dong Penh Co., Ltd. to THADI Agriculture Farming Processing & Distribution JSC.
Besides, in October, the fourth dollar billionaire of Vietnam, Tran Ba Duong, became the developer of a huge real estate project in Myanmar instead of Doan Nguyen Duc, chairman of HAGL.
The resolution of the Board of Management of HAGL shows the decision to transfer 196 million shares, which account for 47.9 per cent of the charter capital of Hoang Anh Housing Development and Construction JSC (HAGL Land – HAN) to Dai Quang Minh Real Estate.
HAGL Land is a subsidiary of HAGL, in charge of real estate development. Dai Quang Minh is a subsidiary of Truong Hai Automobile (Thaco).
Nexif Energy acquires 49MW Song Giang hydropower project in Vietnam
Nexif Energy has acquired 94 per cent of the equity of Song Giang Hydropower JSC, a company that owns two run-of-the-river hydropower projects in cascade on the same river totalling 49MW in the central province of Khanh Hoa.
The two projects are the 37MW Song Giang 2, which has been operating since December 2014, and the 12MW Song Giang 1, which is currently under construction and is expected to be completed in the second quarter of 2021.
Electricity demand in Vietnam is growing by 10-12 per cent annually, creating opportunities for investment in electricity generation, transmission, and distribution infrastructure. To attract investment to meet the growing need for power, Vietnam has created a favourable regulatory environment for investment in renewable energy projects and is currently in the process of establishing a competitive electricity market.
Song Giang hydropower project will produce enough energy to power 74,000 Vietnamese households and will offset approximately 110,000 tonnes of carbon emissions annually. It will also directly create 250 jobs during the construction of Song Giang 1 and will sustain 50 long-term jobs during operation. It will also directly and indirectly contribute to the economic development of the region in other meaningful ways.
"This acquisition will significantly add to Nexif Energy's portfolio of renewable energy projects in Vietnam and represents a step towards our vision of delivering clean, reliable power to the country and the region," Nexif founder and co-chief executive officer Surender Singh said.
Today's announcement builds on Nexif's presence in Vietnam with Coc San Hydropower project in Lao Cai province and the wind energy projects in Ben Tre and Soc Trang provinces currently in the development stage. It will also add to the company's projects in Thailand and the Philippines in Asia and a rapidly expanding portfolio in Australia.
"Nexif Energy welcomes the opportunity to develop this project and contribute to Vietnam's rapidly growing renewable energy sector. This is an important step forward in achieving Nexif Energy's objective of establishing itself as a leading power generation developer and investor in Asia and Australia. We look forward to acquiring and developing more projects in Vietnam and the rest of our target markets," added Matthew Bartley, founder and co-chief executive officer of Nexif Energy.
Denham Capital managing director Saurabh Anand added: "Denham Capital is committed to delivering low-cost, clean power at the place and time of need. This agreement represents a significant milestone in our plans to invest in a portfolio of more than 1,000MW of renewable and dispatchable generation projects in Asia and Australia by 2021."
Nexif Energy was formed in August 2015 by Nexif, a Singapore-based independent power management company, and Denham Capital, a leading global energy-focused private equity firm with more than $9 billion of invested and committed capital across eight fund vehicles. Nexif Energy's goal is to develop, finance, construct, and opportunistically acquire conventional and renewable power generation assets across Asia and Australia.
Denham Capital is a leading energy and resources-focused global private equity firm with more than $9.3 billion of invested and committed capital across nine fund vehicles and offices in London, Boston, Houston, São Paulo, and Perth. The firm makes direct investments in the energy and resources sectors, including businesses involving international power, oil and gas, and mining, across the globe.
Denham's investment professionals apply deep operational and industry experience and work in partnership with management teams to achieve long-term investment objectives. For more information about Denham Capital, visit www.denhamcapital.com. VIR
Kim Oanh/Nguyen Huong

Truong Hai Auto Corporation (Thaco) has registered to buy five million shares of Hoang Anh Gia Lai Agricultural JSC (HNG).

Gia Lai's people are afraid that hydropower plants will deprive them of land, but investors continue to plan more and more hydropower projects.