More Chinese toys are being exported to Vietnam and are getting cheaper as a result of the US-China trade war.
The Phu Yen provincial Market Management Department and the Phu Yen Police inspected the Anh Thu household-use product stall at the Phu Yen Industry & Trade Trade Fair and discovered 778 toys of different kinds, made in China, with no invoices or documents showing the legality of goods, and no CR stamps. The agencies seized the products for further investigation.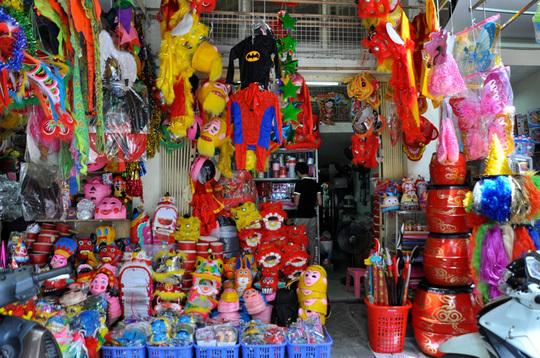 Animal-shaped toys, counterfeit Lego products and rubber ducks have been crossing border gates into Vietnam.

Animal-shaped toys, counterfeit Lego products and rubber ducks have been crossing border gates into Vietnam.
The director of a HCMC-based toy company said only 30 percent of toys available in the Vietnamese market are products with clear origin and brands, while Chinese toys, cheap and unclear in origin, have become more popular.

Chinese animal swing toys, for example, are available everywhere, from street pavement shops, traditional markets and social networks. They are also available at vending vehicles at corners in cities and rural areas. These products are not safe enough and origin is unclear.

Chinese toys sell well because they are very cheap.

"While a made-in-Vietnam product is priced at hundreds of thousand of dong, a Chinese toy is worth several or tens of thousand of dong only. So, you can understand why Chinese products are very competitive," he said.

The impact of the US-China trade war can be seen very clearly in the toy market. Hoang, a big importer of Chinese toys, said Chinese products are 30 percent cheaper this year than the previous year. As a result of the trade war, Chinese exports to the US and other countries have fallen and have headed for the Vietnamese market.

Hoang said he imported tens of tons of toys in the first five months of the year alone, double the same period last year.

"Chinese toys are selling very well. A toy aircraft is sold for VND100,000-10,000. Vietnamese or Japanese product of the same kind is five times more expensive," Hoang said.

"Chinese toys are the best sellers. About 60-70 percent of products sold are Chinese, while Vietnamese and American products just account for 30-40 percent," he said.

According to the General Department of Customs (GDC), in the first five months of the year, Vietnam imported $35.8 million worth of Chinese toys. Reports show the steady increase in imports from China, from $56.7million in 2017, to $68.7 million in 2018.

A report from TOXICs-Free, a non-governmental organization, showed that many rubber ducks as well as toys sold online in China contained a high content level of PAE (phthalic acid esters) - a chemical that harms the reproductive system.
Thanh Lich 

Vietnamese people call the 7th full moon festival "Vu Lan bao hieu" (Parents' Day) or "Xa toi vong nhan" (Wandering Soul's Day).