China has exempted tariffs on 33 kinds of Vietnamese seafood exports, the Viet Nam Association of Seafood Exporters and Producers (VASEP) has said.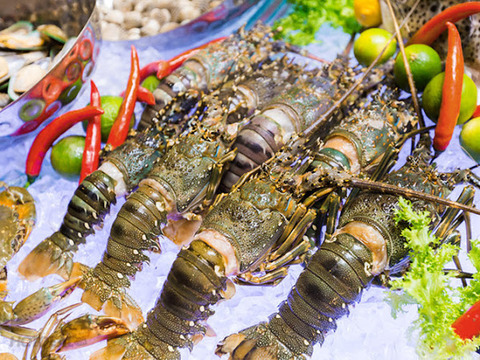 China has exempted tariffs on lobster and 32 other Vietanamese seafood exports. — Photo baodautu.vn
The products include lobster, tiger prawn, sea shrimp, cod, clams, frozen tra and basa fish, round scads, tuna and octopus.
More than 150 Vietnamese enterprises export seafood products to China, including about 45 tra and basa enterprises and nearly 50 shrimp exporting enterprises, among other seafood enterprises, according to VASEP.
With China easing its import policy, Viet Nam is expected to enhance its exports to the world's most populous market. China is considered one of the most important markets for Vietnamese seafood, with average export value from Viet Nam to China reaching over US$1 billion per year.
In 2017, Vietnamese seafood export value to China increased nearly 50 per cent year-on-year to $1.3 billion, according to the association.
However, the export value fell slightly by 5 per cent year-on-year in 2018 to $1.2 billion. It also fell by 5 per cent in the first quarter of the year, to $239 million.
Truong Dinh Hoe, VASEP Secretary General, said the fishery industry set a target to export over $1.5 billion seafood products this year to China, where seafood consumption is increasing.
Large provinces in China are concerned about direct trading activities with Vietnamese seafood firms instead of buying via intermediaries. As e-commerce in China is developing quickly, many kinds of Vietnamese seafood have been introduced on e-commerce platforms.
Hoe said that Viet Nam could reach its target of seafood export value, which would be higher than the $1.2 billion recorded last year.
Meanwhile, besides businesses' efforts to ensure quality standards, the State must strictly control cross-border export activities of seafood products to China to ensure fair competition for Vietnamese seafood businesses, he said. — VNS