Escalating US – China tensions are putting pressure on the Chinese yuan (CNY) and lead to further capital outflow, while Vietnam is expected to be at the receiving end of China's outward FDI, according to Viet Dragon Securities Company (VDSC).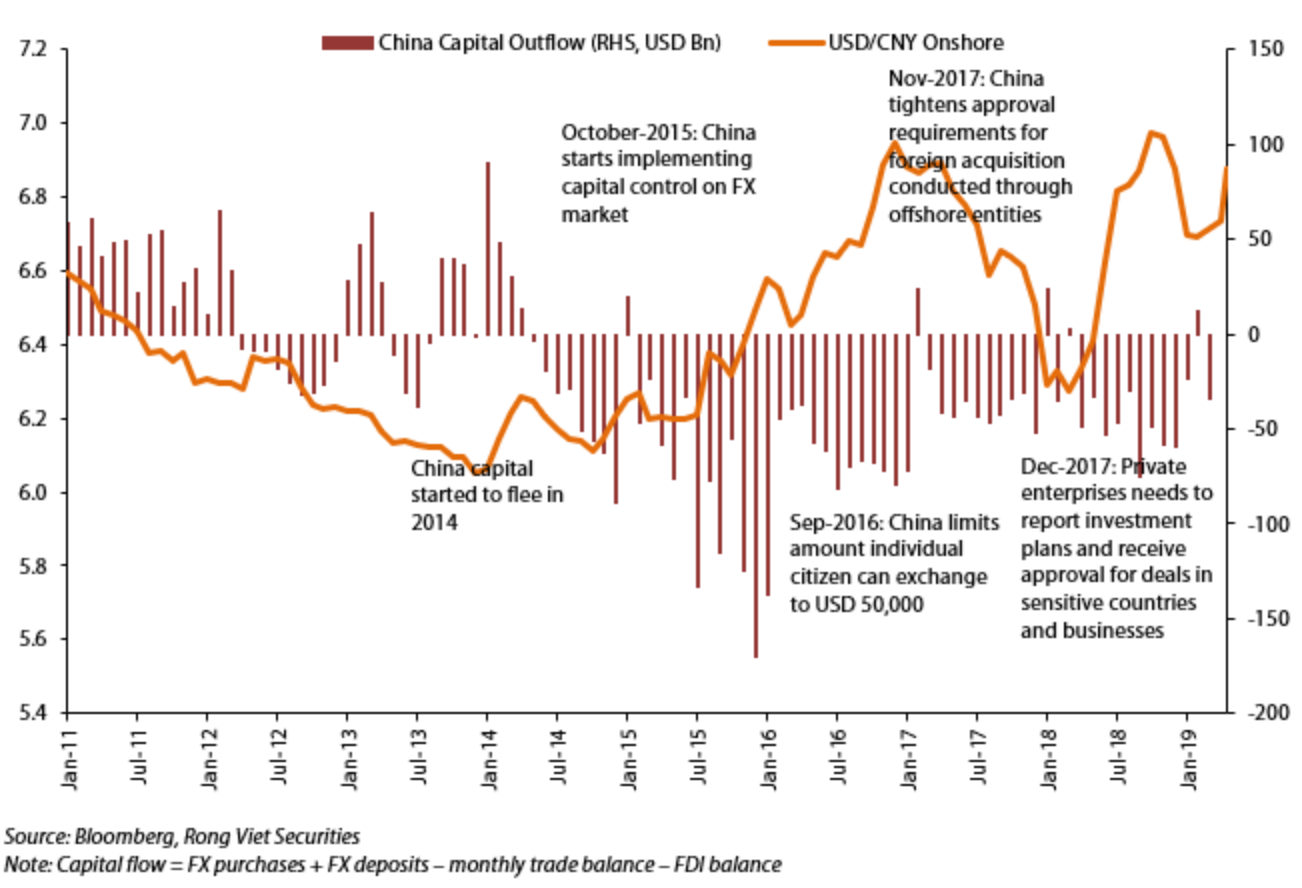 China's outward FDI declined sharply. Source: VDSC.
According to VDSC, there has been a negative relationship between the USD/CNY exchange rate and China's capital outflows.
 Capital started to leave China from 2014, when the CNY lost more than 2% to the USD. Things worsened when China devalued the CNY in 2015 and China's capital outflows recorded the highest number ever at US$896 billion.
China introduced a series of regulations to control flows. This helped to reduce capital outflows by 46% year-on-year in 2017. Still, more than US$2,800 billion has left the country since 2014.
Escalating US-China tensions put pressure on the yuan again and the USD/CNY increased more than 2% from May 3 when President Trump decided to increase tariffs to 25% from 10% on US$200 billion worth of Chinese goods. China retaliated by raising tariffs on US$60 billion worth of US goods.
As the conflict continues, further currency pressures are expected to possibly lead to further outflows. Capital outflows from China have reached US$4 billion YTD through ETF channel.
Capital controls negatively impacted China's outward FDI, stated VDSC. Prior to these measures, outward FDI had an average annual growth rate of 20% from 2009 to 2016 until it dropped 29% year-on-year in 2017. In the first quarter of 2019, outward FDI reached US$25 billion, equivalent to 21% of the total in 2018.
Vietnam is favored by Chinese investors due to its low labor costs, geography, and culture. China's outward FDI to Vietnam has risen for five consecutive years since 2014 despite the capital controls and noticeable slump in 2014-2015 over sea tensions in the East Sea.
China's registered FDI to Vietnam rose around 15% per annum since 2016 and in the first four months of this year reached US$1.7 billion or nearly 70% of fiscal year 2018.
Among 51 countries and territories that had fresh projects in Vietnam in the first four months of 2019, China was the largest investor with US$1.31 billion, accounting for 24.53% of the total and nearly double that of Singapore in the second place with US$700 million.
As a result, a production shift from China to Vietnam has led to a surge in manpower demand, according to Navigos Group, the operator of Vietnam's biggest job portal Vietnamworks. Hanoitimes
Ngoc Thuy