Asanzo has been denounced for importing Chinese goods and selling the goods as Vietnamese. But Asanzo is not alone.
Speaking about TVs with 70-80 percent components made in China, Pham Van Tam, president of Asanzo Group, affirmed that the TVs are Vietnamese. In the globalization era, a product can be made of components and accessories from different sources and made by different manufacturers.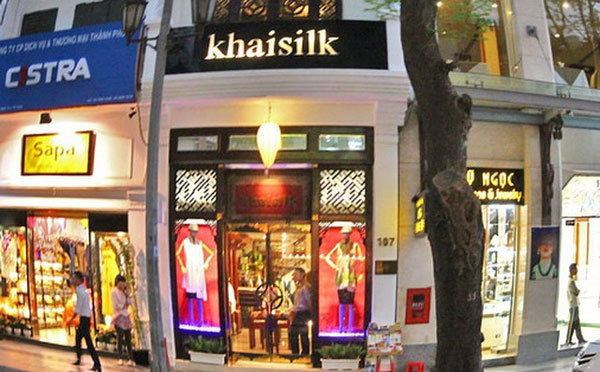 However, Vietnamese consumers still accused Asanzo of cheating consumers, while analysts predicted a bad ending for the TV brand.

Nguyen Van Nam, a renowned trade expert, related the story of Minh Khai locks.

Minh Khai lock was a well known brand in the 1990s which won the heart of Vietnamese consumers. Later, the company imported locks from China, labeled as Minh Khai's lock, and showed the words 'ISO 9000-2000' and 'Hang Viet Nam chat luong cao' (Vietnamese high-quality products) on every product imported from China.

The Minh Khai brand has since been disbanded.
Asanzo has been denounced for importing Chinese goods and selling the goods as Vietnamese. But Asanzo is not alone.
In late 2017, Khai Silk shocked the nation when it was discovered importing China's silk and selling in Vietnam at high prices under the brand 'Khai silk', a Vietnamese brand.

A customer bought 60 Khai Silk scarves at VND644,000 ($28) each, and found one of them having two labels, one made-in-Vietnam and another made-in-China.

Two days later, Hoang Khai, the owner of Khai Silk, admitted in local newspapers that the scarves were actually imported from China, and that Khai Silk had been deceiving customers for tens of years.

Nam affirmed that Minh Khai and Khai Silk are not the only brands which deceived customers. He once came to Guang Zhou and visited vast markets which sold all kinds of input materials and provided everything in large quantity.

Many Vietnamese went to the market, bought accessories there and brought them to Vietnam to assemble products for sale in the domestic market. They also ordered Chinese to make products as they wanted and bring products to Vietnam to sell as Vietnamese goods.

"China is a production base for the world. It organizes large scale production, so they can provide products of any kinds at low prices," he explained.

Nam agreed that it is normal to make products from components and accessories from different sources, but said there must be regulations about the level of Vietnam's content for products considered as Vietnamese products.

In FTAs that Vietnam has signed, such as CPTPP and EU-Vietnam, for example, there are regulations about goods origin. To be eligible for preferential tariffs, goods must satisfy certain requirements on domestically made content.

In Vietnam, many brands are considered 'Vietnamese high-quality goods', but in fact, there is no regulation about 'Vietnamese goods'.
Kim Chi

Management authorities are stepping up preventive measures to stop trade fraud and tax evasion related to Chinese commodities that illegally carry made-in-Vietnam labels due to escalating U.S.-China trade tensions.