Customs agencies have recently discovered many batches of Chinese products bearing "Made-in-Vietnam" labels.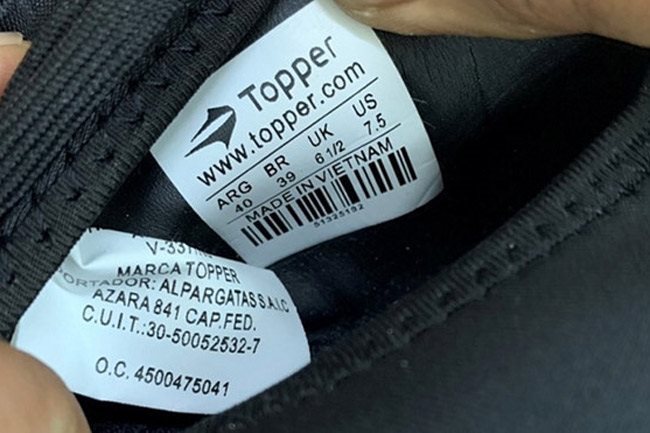 A Topper sport shoe, from a batch of sport shoes shipped from the Port of Xiamen in China, bears a "Made in Vietnam" label - PHOTO: TNO
At an online conference to examine how customs agencies can prevent product origin fraud, held on September 10, Nguyen Khanh Quang, deputy head of the Anti-smuggling Investigation Division, under the General Department of Vietnam Customs noted that customs officials had found four suspicious trucks transporting some 100 tons of clothes, motorbike and electric bike accessories and electric devices from the north to the south for consumption, Thanh Nien Online newspaper reported.
All of the products originated from China, but many of them bore "Made-in-Vietnam" labels. Some labels even indicated that the products were made in Hanoi's Ha Dong District, had a warranty term of one year and were certified as high-quality Vietnamese goods.
In addition, Son Tung Construction and Electronics Corporation, headquartered in HCMC's Tan Phu District, might face criminal charges for attaching "Made-in-Vietnam" labels to speakers imported from China.
Thanh Quy Import-Export Co., Ltd, and Aeolus Henan Trading Co., Ltd, face the same fate as they were caught importing 2,880 ball-point pens bearing Vietnam's Thien Long brand, 438 doorknobs bearing Vietnam's Huy Hoang brand and 287 other allegedly smuggled products from China.
Similarly, H.T Co., Ltd, in HCMC recently declared the import of six containers of unglazed tiles from China. Customs officials found "Made-in-Vietnam" labels on the packaging, stating that the tiles were produced in My Xuan A Industrial Park in Ba Ria-Vung Tau Province's Tan Thanh District.
Au Anh Tuan, acting head of the Customs Supervision and Management Division of the General Department of Vietnam Customs, remarked that the regulations on the granting of certificates of origin are not strict enough.
The General Department of Vietnam Customs and the Ministry of Finance have reported the situation to the Vietnam Chamber of Commerce and Industry (VCCI) and the Ministry of Industry and Trade and proposed amending the related regulations.
At the conference, Mai Xuan Thanh, deputy head of the General Department of Vietnam Customs, noted that the general department has focused on investigating origin fraud cases involving steel, wood, seafood, bicycles and energy batteries and has enhanced inspections of importers of accessories.
Tuan from the Customs Supervision and Management Division stated that the Ministry of Industry and Trade and VCCI can run a background check on enterprises and their imports through the national one-door portal before granting certificates of origin. SGT