The number of capital contribution and share acquisition transactions conducted by Chinese enterprises in Vietnam in the January-November period of this year skyrocketed by more than 82% over the year-ago period.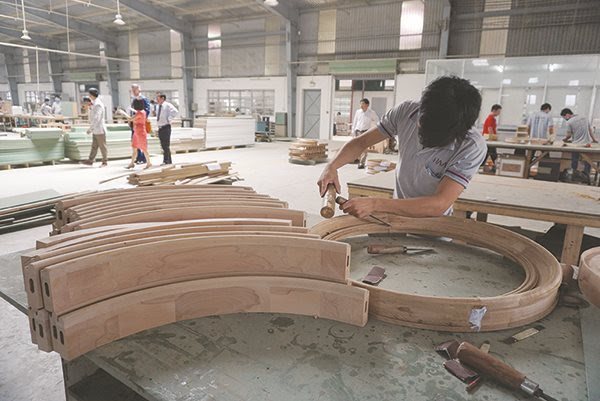 A worker processes wooden products at a local factory. Chinese enterprises are keen on investing in the local wood processing sector through capital contributions and share acquisitions
According to the Foreign Investment Agency, under the Ministry of Planning and Investment, Chinese firms conducted 1,680 transactions to contribute funds to and acquire shares in local firms during the period, with a combined value of nearly US$686 million. The respective figures in the same period last year were 922 transactions and over US$503 million.
Compared with South Korea, the largest foreign indirect investor in Vietnam, the number of Chinese firms' transactions came in second. However, Chinese investors reported a much higher growth rate.
Specifically, there were 2,570 deals in which South Korean investors contributed capital and acquired shares, up 48% year-on-year. These transactions were valued at a total of US$1.38 billion.
Thus, Chinese firms are fostering their investment in Vietnam through capital contributions and share acquisitions, which may pose a high risk to local firms.
According to experts, the surge in Chinese indirect investment in the country should be considered a problematic issue amid the U.S.-China trade war.
Despite the high number of transactions, the investment value of each transaction was small. Therefore, experts were concerned that Chinese firms were investing in Vietnam to sell their products in the Vietnamese market and transport their products to Vietnam before shipping them to the United States to avoid high U.S. tariffs or benefit from free trade agreements that Vietnam has signed.
The Foreign Investment Agency's statistics did not show the sectors that received China's indirect investment. However, several local enterprises in the plastic packaging, wood and electronics sectors revealed that Chinese firms had sought cooperation opportunities with them.
At a recent seminar on opportunities to export Vietnamese goods, experts and representatives of associations warned that Vietnam might face severe losses if origin fraud is not contained. SGT
Hung Le

Minister of Planning and Investment Nguyen Chi Dung held talks with Deputy Prime Minister and Minister of Planning and Investment of Laos Sonsay Siphandone in Hanoi on December 23.

Additional foreign investment inflows in real estate went up during 2019 while credit in the sector bucked a downward trend, signalling its reduced heavy reliance on bank loans.