Chinese Xiamen Port Group met with Ha Tinh Province's People's Committee recently to explore opening a container line between Vung Ang and Xiamen ports as well as invest in local logistics.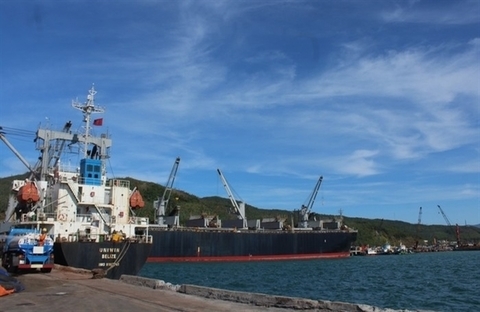 A vessel docked at Vung Ang Port. — Photo baohatinh
Leader of Xiamen Port Group, Zhiping Chen, said Xiamen is a coastal city in Fujian Province in China. Xiamen Port is among the top seven largest ports in China and the 16th largest container port in the world. The port is a deep-water one that can accommodate up to 100,000-ton ships. It has routes to Asia, Europe, the Americas and the Mediterranean.
Zhiping Chen asked the province to support its possible investment in the local port and logistics industries.
Chen said: "Our survey of the local infrastructure conditions shows that Vung Ang Port, connecting with international seaports as well as connecting road systems in the country via Laos and Thailand, has great potential and advantages for development."
Speaking at the meeting in the province, deputy chairman Duong Tat Thang said: "Ha Tinh is focusing on attracting projects in seaports, logistics centres and post-steel industry into the economic zone."
He said the Lao Government is currently conducting a feasibility study on a railway project linking Laos and Viet Nam. The new railway is about 400km long, running from Thakhek district (Laos) to Vung Ang Port of Viet Nam with a total investment of nearly US$2 billion.
Thang said: "The railway will be an important gateway for investors and businesses to cooperate and invest in cargo transport routes from Laos and Thailand to other countries and vice versa through Vung Ang seaport."
He added Ha Tinh will create favourable conditions for the Xiamen Port Group to survey, research and invest in the field of seaports and logistics in Vung Ang.
Vung Ang Economic Zone is one of nine coastal economic zones that have been selected by the Government to develop steel, thermal power and deep-water ports for the central region and the whole country.
Currently, Vung Ang Economic Zone has attracted 137 investment projects, including 80 domestic investment projects and 57 FDI projects. These projects focus on the fields of industry, thermal power, renewable energy and post-steel development.
In addition to Xiamen Port Group, many large enterprises are also exploring investment opportunities in the zone. They are a joint venture between Lee & Man Group (Hong Kong) and Hokuetsu (Japan) which proposed research and surveys to build a port complex, logistics area and large-scale paper industrial park with total investment of $3 billion; while Siemens Energy (Germany) studied a gas-fired power plant with total estimated investment of $1.8 billion in Vung Ang No 3. — VNS

The Vietnamese port industry needs further investment to keep pace with the country's rapid economic growth and reduce logistic costs for businesses.  

Vietnam needs to address the shortcomings in its port infrastructure to fully benefit from its economic development.