Increasing numbers of airlines and aircraft are putting serious pressure on Viet Nam's aviation infrastructure.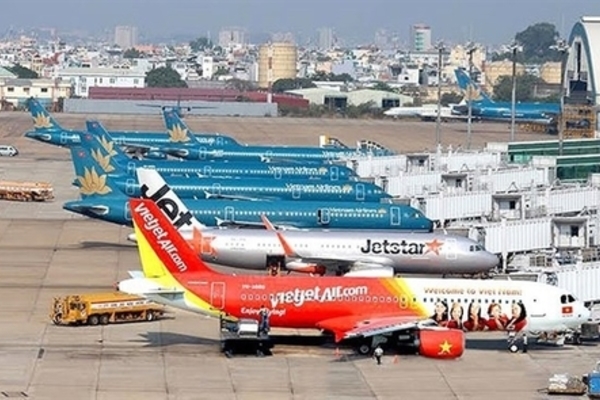 Aircraft at Tan Son Nhat International Airport in HCM City. Competition in Viet Nam's aviation sector looks to soar as more new players enter the fray. — Photo vnfinance.vn
As competition for market share and skilled labour intensifies, the Government must take measures to ensure a fair playground and long-term development, said industry experts and authorities.
The Civil Aviation Authority of Vietnam (CAAV) has recently approved an air operator's certificate (AOC) submitted by Vietstar Airlines, bringing the total number of licensed air operators in the country to seven. CAAV also confirmed two more AOC applications submitted by Vinpearl Air and Vietravel Airlines were pending.
Vinpearl Air said it would field a fleet of six aircraft in July next year and bring in 30 more by 2025 to fly both domestic and international routes. Vietravel Airlines said it hoped to commence operations next October with three aircraft and planned to bring in five more by 2025.
Central Quang Nam Province's department of planning and investment has also filed an application for its local airlines KiteAir, who said it would begin with six ATR72 aircraft during the first quarter of next year. It aimed to operate 15 ATR72 models and 12 A320/A321 models by the end of 2024.
It has placed further strain on the overloaded and overcrowded major airports across the country such as HCM City's Tan Son Nhat International Airport, Ha Noi's Noi Bai International Airport as well as those in the cities of Da Nang and Nha Trang.
For example, the CAAC cited the Noi Bai - Tan Son Nhat route, operated by Vietnam Airlines, Jetstar Pacific and VietJet Air, which accounted for a whopping 22.7 per cent of Viet Nam's air ticket sales last year with flights connecting the country's two major economic hubs reported over 90 per cent of seat capacity filled.
Terminals and runways at the two airports, as a result, are forced to operate over capacity for a long time. To make matters worse, legal issues and complex aviation regulations slowed down the process to carry out much-needed repair and upgrade work. New players had to find bases elsewhere. Bamboo Airways was reported to set up base at Phu Cat Airport in central Quy Nhon Province, KiteAir at Chu Lai Airport in central Quang Nam Province and Vietravel Airlines at Phu Bai Airport in Hue City.
While routes considered profitable by air operators were over-exploited, airports in less-than-popular-destinations have seen little business with airlines claiming operations to and from such localities financially unsustainable.
Airlines also faced strict scrutiny in attempts to bring in additional aircraft to their fleets. For example, CAAV reportedly turned down Bamboo Airways' request to add 30 more aircraft in April citing an inadequate number of air traffic controllers to safely monitor flights. It also curbed Vinpearl Air's plan to add 36 aircraft by 2025 to 30.
As market share is fiercely contested, air operators were forced to introduce new and better services to lure customers. Some have started to look for routes outside Viet Nam. Vietjet Air's first half of the year report showed an increase of 35 per cent on the number of passengers served on the airline's international routes compared to last year at a total of 4 million. The airline's revenue from international routes outweighed its domestic counterpart for the first time at 54 per cent.
By CAAV's estimation, by 2030 there will be 600 aircraft operating in the Vietnamese aviation sector, three times the country's current number. As numbers of both air operators and aircraft are set to increase in the foreseeable future, skilled manpower was also expected to be in high demand.
Offensive tactics were reported to have been used to poach technicians and pilots from competitors. The situation has gotten so severe the Government needed to step in. In a recent meeting to discuss the sector's issues, Deputy PM Truong Hoa Binh asked air operators to maintain a fair playground and make sure workers and pilots are not overworked saying they are both important components in the long-term development of Viet Nam's aviation industry.
By June this year, Vietnamese air operators' fleet numbered 197, increasing by 30 compared to 2018. Vietnam Airlines, the country's flag carrier, operated 95 aircraft and employed 1,135 pilots, of which 860 were Vietnamese. Vietjet Air, Jetstar Pacific and Bamboo Airways operated 65, 15 and 6 aircraft, respectively. — VNS

Experts all agree that the development of the aviation industry with more airports and air routes put has helped change the central region.

Six airlines have licenses to operate, while two airlines have applied for licenses at state management agencies.

The Civil Aviation Authority of Vietnam (CAAV) has affirmed that Vinpearl Air and Vietravel can meet the requirements for submission to the PM for approval.