Some large private corporations have had to withdraw their capital from many projects and take out new loans.
The risks from the 'too big to fail' corporations have been increasing and are expected to have a big impact on the national economy if problems arise.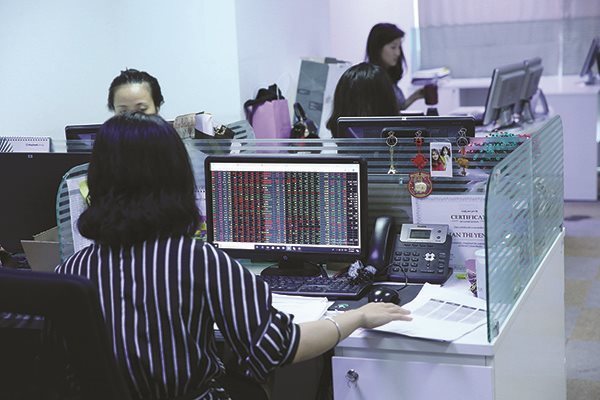 'Too big to fail' is the terminology used to refer to banks and economic groups which had to be rescued in the 2007 global crisis. The businesses had very large scale, and their collapse would have seriously affected the economies.

Analysts said once the economy slows down, the interest rate goes up under the pressure of inflation and exchange rate, and demand weakens. Big enterprises, especially ones with big debts, unhealthy balance sheets and problems in cash flow will suffer heavily.

The risks from the 'too big to fail' corporations have been increasing and are expected to have a big impact on the national economy if problems arise.
Such conglomerates have appeared in Vietnam in recent years. They operate in many different business fields, and make great contributions to the economy, but they borrow big money. The conglomerates always try to make the best use of financial leverage and try every possible solution to optimize capital use.

Many enterprises have succeeded in finding foreign capital. However, the financing is associated with risks as the exchange rate fluctuates. Vietnam is facing the prospect of being downgraded in credit rating, while other regional countries have devalued their currencies.

Enterprises now can mobilize huge capital easily by listing subsidiaries or selling shares to foreign investors. This has prompted them to make investments in many different business fields.

However, the risks in investments in multi-business fields are relatively high, while cash flow will be under pressure if the new business fields cannot bring the desired effects.

A Vietnamese private economic group fell into a dangerous situation as it invested in too many business fields. As a result, the banks and creditors became 'hostages' of the enterprise.

The warning about the risk from corporate debts was raised more than one year ago, when economists found that enterprises had borrowed too much and expanded their operations too rapidly.

The warning has been repeated recently, because of the US-China trade war broke out and the Covid-2019 epidemic affecting the global economy.
The debts of enterprises in China, the second largest economy, has become the biggest threat to the global economy, according to a report of Moody's Analytics.

The 2019 White Book on Vietnamese Businesses showed that the liabilities of businesses, including state-owned, non-state enterprises and foreign-invested enterprises (FDI), had reached VND23,600 trillion dong, while the GDP was VND5,000 trillion. Thus, liabilities to GDP ratio was 472 percent.

Kim Chi

Bankers anticipate that the coronavirus outbreak will affect the business of many of their clients.

Twelve out of 40 commercial banks have so far cleared all their non-performing loans (NPLs) kept at the Vietnam Asset Management Company (VAMC).