The consumer price index increased by 1.64% in January to July period, the lowest rate since 2016, with lower food and electricity prices after Government efforts to stabilise prices and support virus-hit citizens and enterprises in the pandemic.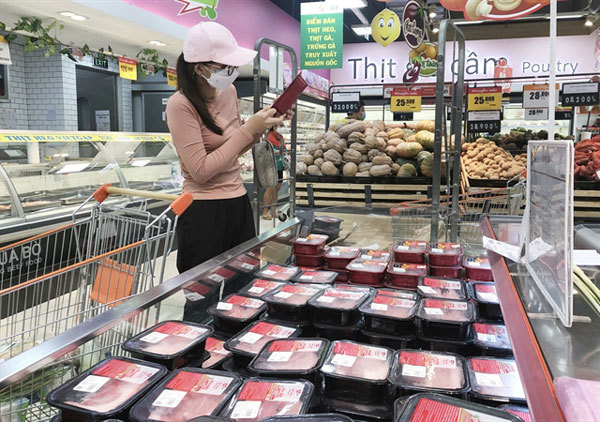 A consumer shops for food at a supermarket in HCM City. Consumer price index increased by 1.64 per cent in January – July period, the lowest rate since 2016. — VNA/VNS Photo My Phuong
In July alone, CPI rose by 0.62 per cent over June and 2.64 per cent over July 2020.
July saw an increase in transportation services charges due to fuel price hikes on June 26, July 12 and July 27. Altogether this pushed up E5 biofuel by VND730 per litre over the previous month. The increase in transportation services charges pushed up CPI overall by 0.23 percentage point.
Food and catering services also saw an increase of 0.67 per cent in prices due to the rising demand for goods in localities where social distancing was in place, pushing up overall CPI by 0.22 percentage points.
Among those experiencing a month-on-month downturn, prices of cultural, entertainment and tourism services were hit the hardest by COVID-19, dropping by 0.1 percent. It was followed by postal and telecom services (0.05 per cent), and garment-textile, headwear and footwear (0.03 per cent).
For the seven-month period, the index gained 1.64 per cent, the lowest since 2016.
The GSO said that CPI was kept at a low level because of the Government's efforts to stabilise the price of food which saw a drop of 0.44 per cent against the same period last year and pushed CPI down by 0.09 percentage point. Pork prices fell by 5.4 per cent and chicken by 1.7 per cent in the period.
The Government also implemented packages to support virus-hit citizens and enterprises, including lowering power prices from May which helped push down CPI by 0.06 percentage point.
The January-July period, however, saw increases in prices of several goods and services, including fuel prices by 20.36 per cent, gas by 18.43 per cent, education services by 4.46 per cent, rice by 6.83 per cent and building materials by 5.6 per cent.
Core inflation inched down 0.06 per cent in July but edged up 0.89 per cent from January to July, reflecting that price fluctuations mainly came from changes in food, fuel, power and gas prices. These are the lowest levels since 2011.
Former GSO Director Nguyen Bich Lam said it is likely that the CPI would grow further in the remaining months of the year, particularly in the final months. However, it was expected to range around 3.3 – 3.6 per cent, within the target set by the National Assembly at below four per cent for the full year, he said.
Source: Vietnam News

The reported CPI only reflects 60-70 percent of the real situation, according to the former Chair of the Hanoi Supermarket Association Vu Vinh Phu.

With the consumer price index (CPI) increasing by 1.47% during the first half of the year, the lowest rise since 2016, it remains entirely feasible for the country to keep inflation below 4% this year.