As a member of WTO and EVFTA, Vietnam has yet to permit foreign investors to offer air transport services, though aviation services and projects have been opened for investment since the signing of CPTPP.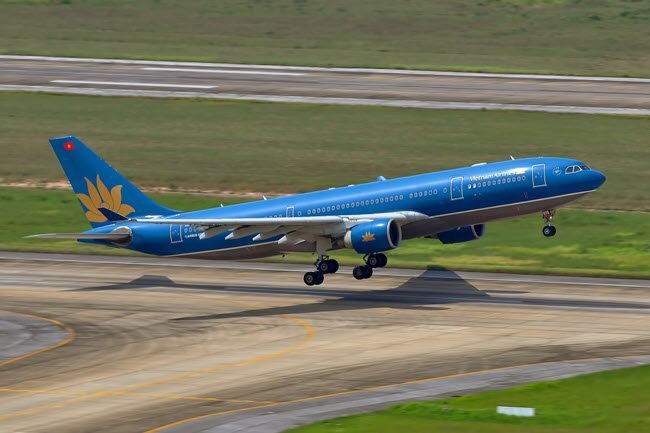 A Vietnam Airlines aircraft takes off. Vietnam has permitted foreign investors to invest in air transport services in the local market under CPTPP – PHOTO: VIETNAM AIRLINES
Under the the Comprehensive and Progressive Agreement for Trans-Pacific Partnership (CPTPP), Vietnam will first permit foreign investment in the aviation sector, including local and international air services, through capital contributions or stake acquisitions.
The investment must meet certain requirements, including a 30% cap on foreign ownership in an airline. Further, the largest shareholder in an airline must be a Vietnamese individual or organization, two-thirds of the board members of a foreign-invested carrier must be Vietnamese nationals and the general director and legal representative of the carrier must be Vietnamese nationals.
Speaking at a seminar titled "Vietnam Distribution, Ecommerce, Logistics sectors: Opportunities and Challenges from the CPTPP" on November 25, Nguyen Thi Thu Trang, director of the WTO Center and Integration, under the Vietnam Chamber of Commerce and Industry, noted that all air services, including cargo and passenger transport activities, will be permitted under the agreement.
The Vietnamese aviation market is considered to have great potential, with a growth rate of 10% per year.
According to the International Air Transport Association (IATA), Vietnam is the world's fifth fastest growing aviation market and is forecast to handle 150 million passengers by 2035.
Up to 72 international airlines and five Vietnamese carriers are operating flights on 200 international air routes from 25 countries and territories to eight sites in Vietnam: Hanoi, Danang, HCMC, Nha Trang, Phu Quoc, Can Tho, Haiphong and Dalat.
Currently, Vietnam's carriers are operating a combined 48 domestic air routes linked to 22 airports. Vietnam Airlines operates 33 domestic and international air routes, while Vietjet has 35 air routes connecting major cities in Vietnam and international destinations, Jetstar Pacific offers 23 domestic and international air routes and Bamboo Airways and Vietnam Air Services Company or Vasco (a subsidiary of Vietnam Airlines) fly on 24 and nine domestic and international air routes, respectively.
The local aviation market is expected to get busier in the coming months as new brands rush to enter the sector. Procedures and preparations to establish Vietravel Airlines, Vinpearl Air, Vietstar Airlines and Thien Minh are underway.
The higher the demand is, the more opportunities for development the aviation sector will have, Trang said, adding that as a result, the strong growth will drive up the economy.
However, Trang voiced concern over the severe overload facing the aviation infrastructure, noting that poor infrastructure and complicated regulations have hindered air services from developing on par with their potential. SGT
Van Dung
The Comprehensive and Progressive Agreement for Trans-Pacific Partnership has opened up opportunities for Vietnam's fine arts and handicraft products to make inroads into the 11 markets that have signed up to the trade pact.

The Ministry of Industry and Trade (MoIT) is drafting a circular providing guidance for the application of safeguard measures for textile and apparel products under the CPTPP.