In recent years, craft villages in Ho Chi Minh City have introduced their products on online trading platforms. This has helped the villages trade efficiently and assert their brand value.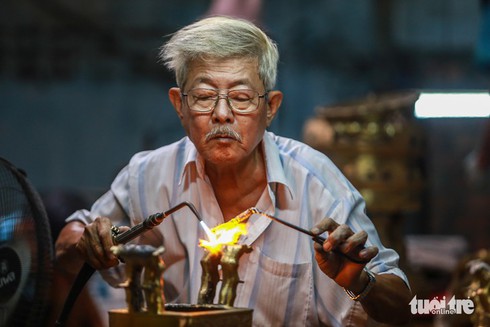 Lai Thieu pottery products (Photo: Home&Garden Pottery)
Visiting the An Hoi bronze censer village in Ho Chi Minh City, you can feel a busy atmosphere right from the entrance by typical sounds of metal hammering.
Tran Minh Toan, an artisan with 50 years of experience, told VOV that there had been a time when An Hoi craft village almost died because of expensive production cost and a lack of skilled workers.
But Toan said after introducing  them on online trading platforms, An Hoi products have become more popular while the market has been expanded and the village is reviving.
"E-commerce has promoted our village and craft.  The promotion has helped us make progress. With such visibility, our sales have increased to 10 products, for example, as compared to 7 items in the past," said Toan.
This is a positive signal for craft villages in Ho Chi Minh City that they have stabilized the volume of output  in recent years. Most customers from the central and northern regions and abroad have come to know An Hoi items and the village's facilities through online trading channels.
Lai Thieu pottery village in Binh Duong province has been widely known by its reputation and via social networks like Facebook and other websites. 
Nguyet Anh representing Vuon Nha Gom (Home & Garden Pottery) workshop said the village had more than 200 facilities in the past but the number has now dropped to 20 due to environmental problems. 
Some years ago, Lai Thieu pottery craft almost went into oblivion as products were unsold.
Anh recalled "We had already applied e-commerce to our trading but only used the social network Facebook to promote our products. All information on our products, pottery types, and the village's history are now updated. It is an additional channel for our available on-spot trading helping more people know about Lai Thieu pottery village."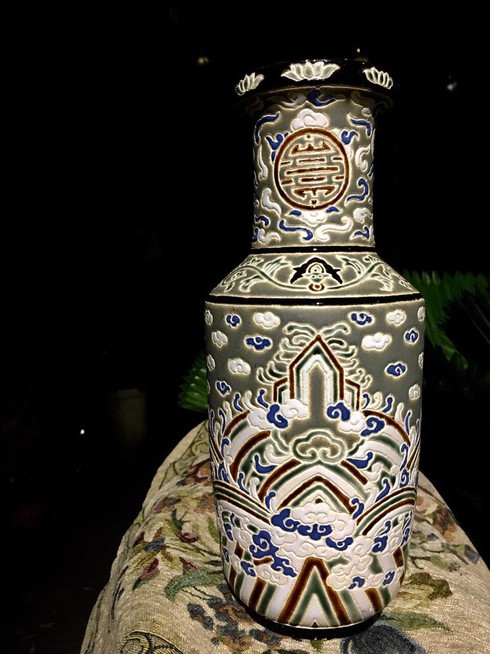 A Lai Thieu pottery vase (Photo: Home&Garden Pottery)
The strong development of IT is helping craft villages expand their markets more easily. In the past, they had to depend on trade fairs or trade promotion programs organized by functional agencies to market their products.
Nguyen Huu Phuoc, Deputy Chairman of the Vietnam Craft Village Association, said "Traditional crafts must find ways to adapt to market needs in the context of modernization  in production and distribution. In order to have higher turnover and access markets more efficiently, traditional craft villages should modernize themselves. We hope many businesses in the village can follow this trend."
E-commerce is contributing to expanding markets, increasing competitiveness, and reviving craft villages for younger generations. VOV5

Phuc Sen village in the northern province of Cao Bang is not a place first-time visitors might want to stay long, as the noise may come as a shock.

In the Red River Delta province of Ha Nam, there are 164 traditional trade villages which have developed over the years thanks to the preservation efforts of artisans and skilled workers.