The Vietnamese Ministry of Industry and Trade has proposed a VND100 trillion (US$4.31 billion) preferential credit package for the development of the country's support industry.
 Made-in-Vietnam electric cars: dream or reality?
Vietnamese manufacturers struggle in homeland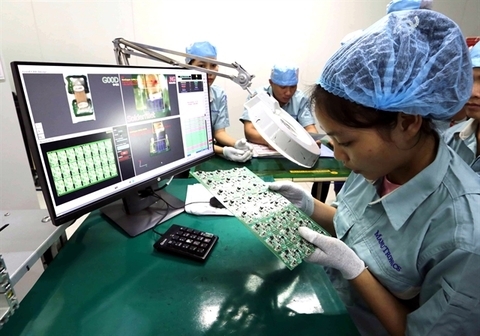 Chip panels are produced at Manutronic Viet Nam JSC at Tien Son Industrial Park in Bac Ninh Province's Tien Du District. Support industry is addressed as the backbone of the Vietnamese economy and will receive a US$4.3 billion low-interest loan package to improve its competitiveness.
The ministry says that Vietnamese support industry products could have high competitiveness, meeting 45 per cent of essential demand and local consumption, and accounting for 25 per cent of total export value by 2020. The support industry plans to meet 70 per cent of local demand by 2030.
It also planned to have 1,000 firms capable of supplying products to assembly companies and multinational groups in Viet Nam.
The local support industry would meet the requirements of localisation progress of production sectors including 40 to 45 per cent for garment and textile, and leather shoes, and 10 to 20 per cent to assembly of cars with fewer than nine seats.
To realise the set targets, the ministry has proposed a range of solutions in terms of policies and market development for the support industry.
Accordingly, the Government should continue to build and complete policies to promote development of some key support industries. Policies to encourage localities to use their budgets for support industry would also be promulgated.
In addition, the Government should have mechanisms to develop some sectors such as automobile, electronics, garment and textile, leather shoes and material industry.
Businesses should be given support to improve their capacity. The country would build three centres for the development of the support industry.
Preferential credit would also be given to the sector. Specially, the VND100 trillion credit package would have similar mechanisms to the credit package for hi-tech agriculture development. The package for hi-tech agriculture development has the participation of eight commercial banks. The banks would provide loans to organisations and individuals who want to invest in clean and hi-tech agriculture. The interest rates would be 0.5 to 1.5 percentage points lower than normal levels.
Prime Minister Nguyen Xuan Phuc assigned the Ministry of Planning and Investment in co-operation with the Ministry of Finance to arrange capital to build the three centres. MoIT would study for the construction of the centres. The State Bank of Viet Nam would provide preferential mechanism on capital and loans to develop prioritised sectors within 5 to 10 years.
The Ministry of Science and Technology would consider adjusting access mechanisms of the Viet Nam National Fund for Science and Technology to make them simpler for support industry firms. In addition, each locality should have action programmes to develop the support industry.
Statistics from MoIT showed that Viet Nam now has some 1,800 part suppliers. However, only 300 firms are in the supply chains of multinational groups. — VNS