Local authorities on both sides of the Vietnam -China border have agreed to work extra hours to allow more Vietnamese agricultural goods to cross the border into China.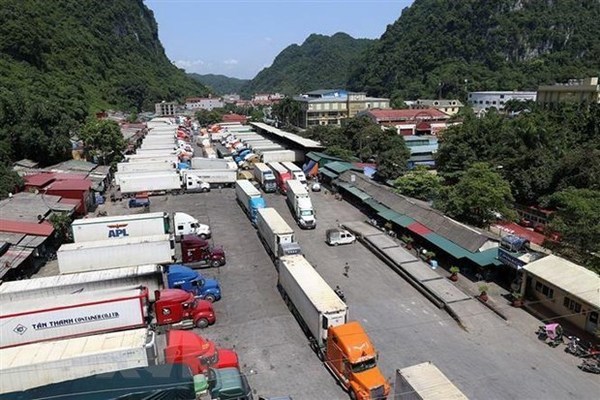 Hundreds of trucks wait at Tan Thanh-Po Chai Border Gate for customs inspection.
Truong said the Tan Thanh-Po Chai Border Gate was to remain open until 9.30 pm,two and a half hours longer than usual to let in some 370 container trucksand their drivers, who were still waiting for customs clearance by October23 afternoon on Vietnam's side. The gate would open from 6am per usual. 
Chinese customs said they would make an exception and allow Vietnamese trucksto cross over to China before undergoing inspection to hasten the process. Theyalso asked Vietnamese businesses to complete all necessary papers in advanceand strictly follow China Customs' regulations on contraband, especially theban on fresh pork. The situation was expected to be resolved by tomorrow,according to local customs officials.
In the last couple of days, the province has seen a sharp increase in thenumber of trucks, most of them transporting dragonfruits, making their way to the border as Vietnamese farmerscompleted their harvest. Thanks to cooperation from both sides, customsagencies have been able to inspect and clear 150-200 trucks per day,said Truong. 
Another factor was increased scrutiny from the Chinese side.
"It takes six toseven minutes to inspect a truck now as compared to around two minutes prior tothe change," said Nguyen Quoc Hai, deputy-director of the province'sdepartment of industry and trade.
"It has slowed down the process significantly as well as created a largebacklog of trucks waiting to cross over."
Since May last year, China has imposed much stricter import regulations onfruit from Thailand and Vietnam, asking for prior clearance papers fromsanitary control agencies as well as certificates of origin.
Vu Thi Nguyet, the owner of a Vietnamese fruit export company, said Chinesecustoms would inspect every single truck now.
She said the worst is yet to come as the watermelon harvest is just around thecorner. 
"Chinese customs ban the use of straw to help preserve fruits. This will make it harder forVietnamese exporters because traditionally we have always used straw tohelp cushion our watermelons during transport. For the time being, we do notknow of an alternative to straw," Nguyet said. 
Experts have long pointed out that a lack of planning and poor infrastructurewere major hurdles Vietnamese agriculture must overcome. Vietnamese businessesand farmers are often slow to catch up with the Chinesemarket's developments, which has resulted in occasional over-supplyand poor product quality.
Tran Thanh Hai, deputy head of the department of import/export under theMinistry of Industry and Trade, said the immediate priority is to keepVietnamese businesses and farmers up-to-date on China's latest regulations onsanitation, packaging, origin of product and quality control.
The ministry would also start talks with their Chinese counterpart to allowVietnamese goods to cross other border gates such as Chi Ma, Na Hinh and BinhNghi to ease the pressure on the Tan Thanh-Po Chai Border Gate. 
In another development, Deputy Prime Minister Vuong Dinh Hue asked forYunnan province's cooperation in resolving the matter in a meeting with theprovince's deputy party chief in Hanoi on October 23. 
Chinese ambassador to VietnamXiong Bo said a sudden spike in the amount of agricultural products coming fromVietnam was not expected during this time of the year and Chinese localauthorities have been instructed to resolve the issue./.VNA

Hundreds of trucks carrying fruits are now stuck at the Vietnam-China border gate of Tan Thanh in Lang Son Province.

As many as 500 container trucks loaded with thousands of tons of farm produce, mostly dragon fruit, have been stuck at the border gate of Tan Thanh in Lang Son Province since October 15.