The Dana-Y Steel JSC has just filed a lawsuit has filed a lawsuit against the Danang City People's Committee for for losses allegedly caused by the committee's decisions to suspend its operations.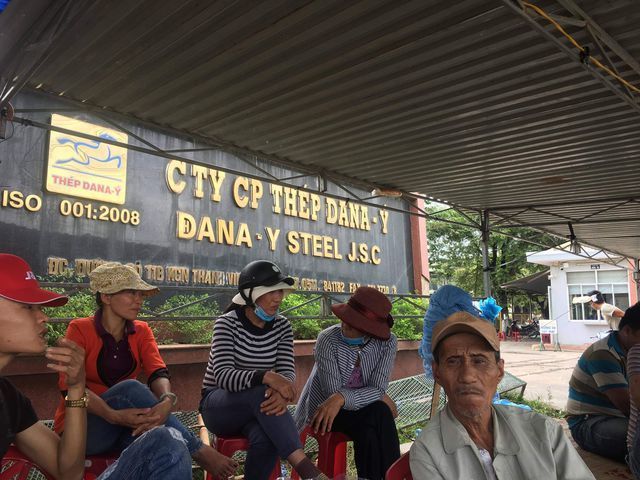 Local people gather at the Dana-Y's plant to protest against its violations
According to the People's Court of Danang City, the company said in the lawsuit that the decisions violated its right to business freedom and asked for compensation of some VND400 billion (USD17.40 million) from the municipal People's Committee and its chairman.

The Dana-Y Steel JSC which has a plan covering 15 hectares of land in Thanh Vinh Industrial Park in Hoa Vang District's Hoa Lien Commune was temporarily suspended together with its sister, the Dana-Uc Steel Plant, for six months for causing pollution to the environment since November 2018.
Following decisions from the municipal People's Committee, the Dana-Y Steel Plant was also fined VND400 million (USD17,391) while the Dana-Uc Steel fined VND740 million for their violations.
According to a report released by the Danang Inspectorate in October 2018, the licensing of the two plants in 2008 did not comply with the committee's policy which does not allow building steel calcining furnaces inside industrial zones; and the plant locations also failed to meet the regulations on the 500 metre minimum distance between processing and residential areas.
The report said that two former city chairmen, together with the relevant departments and agencies, might be responsible in this case.
It added that the general directors of the steelmakers did not obtain construction licenses but had built their plants in the park. Therefore, they should be held responsible for this violation.
During their operation, the two plants have been found to use different production chains which have higher capacity than registered, the inspectors said.
Annual production outputs are tens of thousand tonnes higher than permitted. Between 2008 and 2015, new machinery was installed which changed the production capacity but the company did not report the upgrading to local authorities.
The Dana-Y Steel Plant has been violating environment regulations as they changed to a different exhaust treatment system from that previously approved, the report said.
Both plants also failed to plant trees following the approved plan by local authorities.
Speaking at meeting on the plants' violations last November, chairman of Danang City People's Committee, Huynh Duc Tho, admitted that they were wrong to build the two plants near the residential area.
"And then we haven't been unable to remove local people from the area," Tho said.
Tho also expressed concerns that while there were not enough evidence to close the two plants, the temporary suspension may not solve the problems. Dtinews