Online food delivery firms are entering into new competition to attract more merchant partners to their online platforms.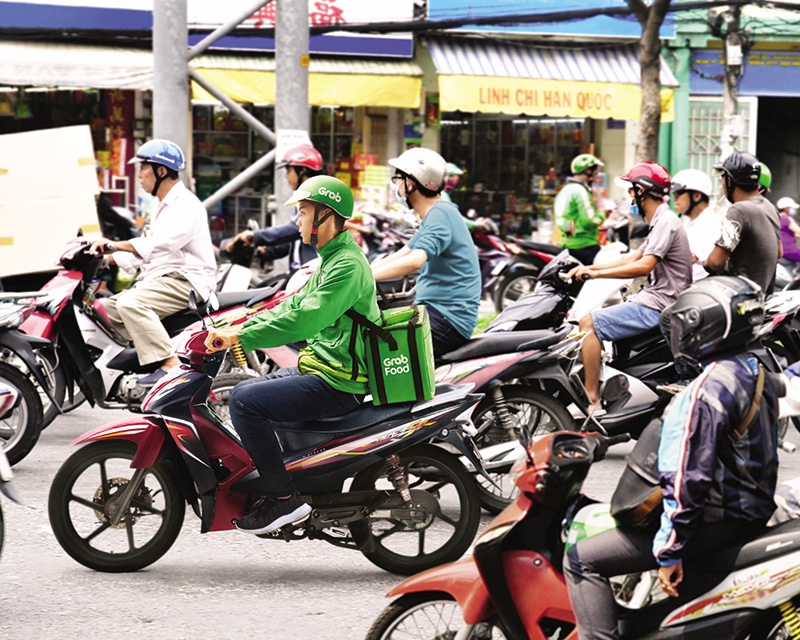 The competition is fierce in online food delivery, with several companies already taking the lead
Vietnam's online food delivery market is becoming increasingly robust with the latest entrance of South Korea's food-delivery unicorn Woowa Brothers.
The startup announced the launch of Baemin in Ho Chi Minh City following the acquisition of local food delivery firm Vietnammm in February 2019.
Woowa Brothers has quickly made a splash in the market by offering discounts of up to 70 per cent.
Last month, GrabFood, an online food delivery service and part of the Grab App, celebrated its first anniversary in the Vietnamese market. GrabFood has achieved impressive figures in just 12 months, posting a 250-fold growth in the number of daily orders.
Accordingly, the food delivery platform is expected to dethrone Foody's Now.vn, which dominated Vietnam's online food delivery market in the past year. GoFood, despite joining Vietnam's market aggressively, is only present in Ho Chi Minh City and Hanoi.
Vietnamese startup Lala has been knocked out altogether by intensive competition after just one year. Other players are also feeling the heat. With births and deaths, the competitive landscape in Vietnam's food delivery market has changed throughout the year.
Like ride-sharing, food delivery focuses on certain factors to drive growth, including market coverage, driver fleet, delivery speed, promotions, service quality, and the number of merchant partners.
Since promotions are a must for any business, delivery speed and the number of driver partners are not subject to fierce competition, and food delivery firms are stepping up their game by scouting food and beverage (F&B) merchant partners to diversify their menus.
The food delivery firms have deployed different strategies to snag merchant partners.
The solution of providing a management platform has been commonly adopted by many firms, offering features such as order tracking, menu and operation hours updates, and even digital payments.
As an early player in the market, Now.vn has utilised this solution to assist its partners, in addition to promising advertising merchant brands to millions of its users with its Foody ecosystem.
Meanwhile, Southeast Asian unicorn Grab is taking advantage of its huge ride-sharing customer base to promote its GrabFood services.
The firm uses data-driven analytical algorithms to derive suggestions for business optimisation.
An owner of a chicken rice restaurant in Ho Chi Minh City said, "I highly appreciate data analysis by GrabFood because it helps my restaurant identify the best-selling dishes to focus on and increase revenue."
Besides offering technology assistance, food delivery firms also create customised and tailored-made solutions to support each merchant partner.
For example, before partnering with GrabFood, Miss Tuyen's rice paper salad was only sold on Instagram.
The owner said that GrabFood's team not only invited her to join the platform, but also scouted potential locations for opening her first outlet.
GrabFood introduced her to a crowded place to get easy access to potential customers and delivery, in addition to supporting the cost of renting space.
Indeed, small merchants often run into limitations when doing business online. However, when joining hands with delivery food apps, they have a good chance to earn more income and improve their online presence.
Nguyen Van Cam, an owner of a small food stall, is bullish on the benefits of partnership with GrabFood.
"They help us do everything from changing the name of the stall to improving brand recognition, redesigning menus, and naming dishes. After selling on GrabFood, our revenue increased exponentially," he added.
For large merchants, GrabFood is creative with its unique dish programme. It co-creates with strategic merchant partners to offer exclusive menus only available on the platform, bringing interesting gastronomic experiences for customers.
This is considered a smart move as large merchants have gained a reputation among consumers, so surely making differences will be necessary.
"As the number of F&B stalls has been mushrooming in recent years, stall owners need to catch up with the online food delivery trend to become more competitive," said Trung, the owner of a kebab rice noodle stall in District 3 of Ho Chi Minh City.
"The stall is always crowded with customers, and my 'on-app restaurant' also gets a large number of orders after just two months since joining food delivery platforms. My revenue rose substantially," he added.
It is clear that food delivery platforms help merchant partners reduce cumbersome processes like renting location, spending on advertising costs, and developing shipper workforce.
Merchants can receive consultancy from food delivery companies to optimise their selling process such as market research, packaging, and delivery.
On top of that, customers stand to gain the most benefits with a diverse portfolio of F&B options.
"A rice vermicelli stall I just saw in my neighbourhood yesterday quickly appeared on a food delivery app," said Anh Thu, an officer in District 1 of Ho Chi Minh City who was surprised at food delivery services' aggressive strategies to recruit food stalls. VIR

Online shops could be the major clients of the firms as they have diverse service requests.  
SEA and Grab from Singapore, Woowa Brothers from South Korea and Go-Jek from Indonesia are fighting for market share.

Speed and delivery quality will determine the growth of the e-commerce market in the time to come, according to the Vietnam E-commerce Association (Vecom).v