Despite bankability concerns in power purchase agreements, investing in solar power is a new boom in Vietnam as developers, original equipment manufacturers, and contractors rush into the market thanks to the current feed-in tariff.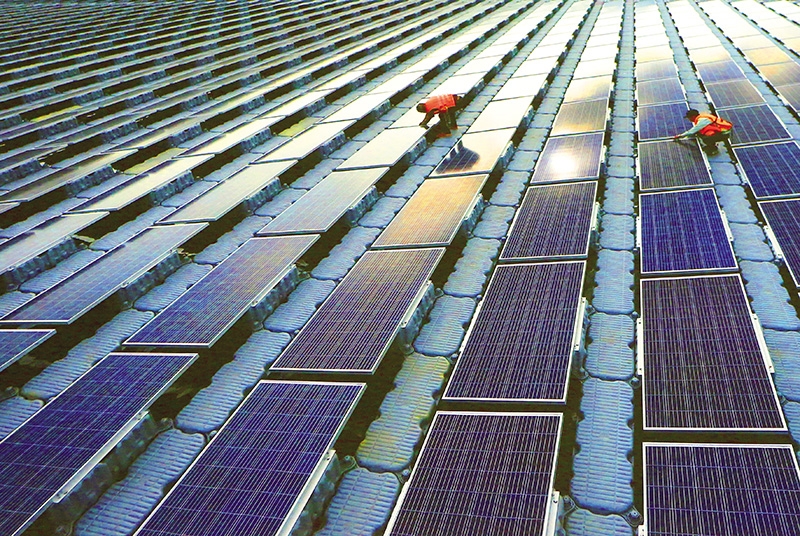 Vietnam plans to cover 21 per cent of the nation's energy demand with renewables such as solar power until 2030
However, it remains to be seen if an upcoming policy is attractive enough to both keep them and meet surging demand. 
Last week, more than 300 companies and 70 professional speakers gathered at the Solar Power Expo Vietnam 2019 (SPEV) in Hanoi to seek opportunities for the next round of the feed-in tariff (FiT) mechanism that will become effective for projects with commercial operation date (COD) from the end of June this year.
The event showcased that the Vietnamese solar sector is hotter than ever with no sign of slowing down, as hundreds of registered projects with capital of billions of US dollars were established in just a short time to enjoy the outcomes of the prime minister's Decision No.11/2017/QD-TTg issued in April 2017 on mechanisms for encouragement of the solar power development in Vietnam. Under Decree 11, the FiT is 9.35 US cents per kilowatt-hour (kWh) for solar power in Vietnam, which sparked an investment rush before the cut-off date. In the south-central provinces of Ninh Thuan and Binh Thuan, installed capacity of approved solar projects has reached nearly two gigawatts and 4GW, respectively, according to the Ministry of Industry and Trade (MoIT).
Meanwhile, Neoventure, a Chinese-based independent investment advisory agency and also organiser of the SPEV noted that Vietnam, the hottest destination for solar power investment in the Asia Pacific, has had 3GW of solar projects installed after the first round of FiT mechanism was put into effect, with more than 1GW of solar power installation for yearly growth.
To commission its electricity target for 2030, Vietnam requires around $10 billion a year. As a result, many companies such as B.Grimm Group, Sunseap Group, VinaCapital, Macquarie Group, Trina Solar Ltd., and more are looking to make a mark in the country.
To further enhance renewable energy and sustainable development in Vietnam, the MoIT released an updated draft of the decision of the prime minister on encouraging solar venture development.
Under the latest draft for the next round of the FiT mechanism to be applied for projects reaching COD within the period from July 1, 2019 to December 31, 2021 and applied for 20 years from the COD date, there will be only one region for the rate instead of four regions now.
The new proposed FiT for the whole of Vietnam sits at VND1,620 (7.09 US cents) per kWh for ground-mounted solar energy project and VND1,758 (7.69 US cents) per kWh for floating solar energy projects.
The 9.35 US cent rate will be maintained for rooftop solar power projects, and the FiT for floating solar and ground-mounted solar power projects will be reduced in comparison with the first round FiT of Decision 11.
The MoIT explained that the FiT for solar power is applied in order to meet with development of transmission lines, local infrastructure, and the grid. A decision is expected on the next FiT rate imminently.
Jorrmsump Lachaya, chairman of Thailand's Super Energy Corporation Plc. told VIR at the SPEV that the Vietnamese power market, especially for solar energy, was attractive due to its high power demand and the government's commitments to diversification of power generation, with increased emphasis on renewable energy as the solution.
"The offer of the current FiT for solar power in Vietnam is attractive, but it should not be compared with other countries as demand and infrastructure in each are different," said Lachaya.
Kobe Qin, sales director of Asia-Pacific at GCL System Integration Technology Co., Ltd. said, "The Vietnamese government has quite a clear strategy to develop renewable energy. The shortage of power will require Vietnam to develop more in renewable energy."
Vietnam has high ambitions for renewable energy, as shown in the Revised National Power Development Master Plan VII. The plan stipulates that 21 per cent of the total energy supply should come from renewable sources by 2030.
As plans for a nuclear power plant have already been postponed by the National Assembly, the country is pushing for more alternatives to satisfy its energy hunger. Foreign investors are especially welcome, as there is no foreign ownership limit and many attractive tax incentives are offered.
Gavin Smith, director of Dragon Capital's Clean Development said that solar energy installed capacity rapidly has passed 4,500 megawatts in 2019, but the nameplate capacity has not turned into a high volume of power being delivered. "The limited grid capacity in Ninh Thuan and Binh Thuan provinces has cut solar production in these important solar plants by up to 57 per cent. Renewable energy remains a minor part of the picture despite Vietnam's excellent resources in wind and sun," Smith said.
According to him, actions need to be taken to open up the power market to free competition and to allow the free flow of capital.
Meanwhile, Bence Szeged, vice president of Asia Investment Team at SUSI Partners which is a Swiss infrastructure fund manager, said Vietnam is high in potential, but he remained concerned that a vague FiT "reduces the number of gold diggers" postulating for getting their hands on the various projects across Vietnam.
The government is targeting to triple installed capacity by 2030 to meet the demand of the fast-growing economy. The success in attracting investment in the solar sector has shown how quickly change can come, but it also highlights the need for an up-to-date and synchronous power plan that takes into account distribution as well as generation.
Ku Jun Heong - Director, Sales & Marketing Asia Pacific & Middle East Trina Solar

Generally speaking, the Vietnamese solar market outlook is upbeat and positive. Supportive government incentives encourage investment and development, the increased competitiveness in the industry, and technological improvements reduce the cost of renewable energy.

Vietnam's economic growth has driven the increase in energy consumption in the country.

According to the Vietnam electricity supply mix and tendency of 2030 released by Electricity of Vietnam, the growing power demand is impossible to meet with the existing power structure.

Fortunately, Vietnam has a geographical advantage for solar energy, enjoying one of the world's highest hourly rates of sunshine annually at 2,000-2,500 hours per square kilometre.

Solar could address the growing demands, together with wind energy. The government also offers incentives to encourage investors in the energy sector, especially solar feed-in tariffs.

Vietnam has always been an important market for Trina Solar. With a deep understanding of the market, we built a production facility in the country, and achieving production capacity of 800MW annually. It shows our confidence in the solar potential of Vietnam.

Trina Solar's immediate plans for Vietnam are to reach out to local developers and promote brand awareness, and its outstanding bankability performance, as well as Trina Solar's comprehensive solar panel portfolio. And also, how our integrated smart solar solution, TrinaPro, can be better utilised to enhance the solar energy generation system.

We will see how our industry leading solar solutions can better support the market growth. Trina Solar will continue to play a pivotal role in Vietnam's transformation towards a renewable energy ecosystem.

Vu Thang - Country manager Sungrow Power

In 2018, an investment wave in solar power appeared in Vietnam. From a country without any solar power plants, after nearly a year it now has nearly 90 plants.

This shows the huge potential of solar power in the Vietnamese market. Prior to June 30, a number of investors were determined to connect their power plants successfully to produce electric and got profit from the projects.

The remaining investors are waiting for new policies from the government to decide whether to continue investing or not.

Among these power plants in Vietnam, Sungrow has so far been co-operating to supply equipment for 24 plants in provinces such as Ninh Thuan, Binh Thuan, Long An, Khanh Hoa, and Binh Dinh.

Sungrow is working in project investment, in which we own three solar power plants, and also trading, providing inverter and main equipment at solar plants.

The company now focuses on developing markets and providing equipment for partners.

During the time waiting for official price announcements for the power plant, the company continues to operate in roof voltage for solar power, which in my opinion has more potential than the power plant.

In the equipment for power plants segment, there is always much competition. Sungrow aims at middle and high-end customers with long-term product durability. Solar power projects usually last for a period of 20-25 years, so it is necessary to ensure the devices work for a long time.

To support our customers, we will perform the exchange (if any) in Vietnam but customers do not have to transfer equipment to China.

Brandon Gao - Marketing manager Jinko Solar Co., Ltd.

Entering the Vietnamese market five years ago, by the end of June this year, Jinko also provided equipment for solar power plant projects in Vietnam, accounting for 1.4GW of output in projects such as Trung Nam, Dau Tieng in Tay Ninh province, and a project from BIM Group in Ninh Thuan province, among others. This shows that Vietnam is a very attractive market for Jinko and other firms. In the near future, Vietnam's government will have policies related to roof voltage.

Jinko hopes to continue providing suitable products to the Vietnamese market. Jinko expects that by the end of 2020, the roof voltage market in Vietnam of Jinko will be able to reach about 1GW, equivalent to the market share in the market of about 30 per cent.

In order to achieve this goal soon, Jinko also hopes that the Vietnamese government will soon facilitate and complete the policy for the roof voltage market as well as soon approve the new prices to make investors more confident in investing.

Solar battery products need technological updates very quickly and promptly.

Therefore, the fact that investors are waiting for new policies and prices from the government is partly making the supply of our products to the country less than expected. Jinko expects that in the fourth quarter of this year, we will finish establishing our office in Vietnam, based in Ho Chi Minh City to support and warranty our customers in Vietnam.

Le Nho Thong - Senior account manager Huawei

In Vietnam, the solar power sector is one of the fastest-growing in the world. During the first phase, the country has witnessed a boom for solar power thanks in part to the FiT rate of 9.35 US cents.

In the following phase, the solar power production cost is expected to be lower than power production of conventional sources of energy such as coal, petroleum, natural gas, and nuclear energy. Arriving at the final phase, Vietnam will reach the level of sustained energy development.

Fortunately, this phase will soon be reached, and rooftop solar power will continue to develop sharply, mainly because it does not depend on transmission lines and grids.

With 21 years in Vietnam, Huawei, a leading global ICT provider, is trying to cut initial and operating cost for investors and developers.

Moreover, we will continue to support Vietnam in its endeavour to reach the planned energy supply target including 21 per cent of renewable energies. VIR
Nguyen Thu

Many businesses and investors are waiting for the Government's decision on the feed-in tariff (FiT) rate for solar power projects nationwide to set up long-term investments in solar power projects in Vietnam.  

As a country with abundant renewable energy potential, Vietnam will have many benefits when shifting early to develop clean energy.