The domestic hospitality market is expected to recover strongly with the gradual resumption of domestic and international tourism, though the Ministry of Constructionwarns that it might not all be plain sailing.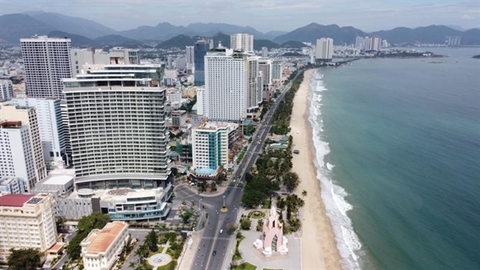 Only 120 condo-hotels were sold in 2020, due to the impact of the COVID-19 pandemic. — Photo vneconomy.vn
In the third quarter of 2021, 26 projects were completed in Binh Thuan and Lam Dong, consisting of more than 1,300 tourism villas. Meanwhile, 54 other projects on 14,500 tourism apartments and 4,000 tourist villas were built in Khanh Hoa, Quang Nam and Phu Yen, said Ha Quang Hung, the deputy head of MoC's Department of Housing Development and Real Estate Market.
According to the ministry, the COVID-19 pandemic seriously affected the real estate market, including resort real estate.
In 2020, about 3.8 million foreigners visited Viet Nam. This number declined by 78.7 per cent year on year due to the COVID-19 pandemic, according to the General Statistics Office. In the first 10 months of 2021, the country received about 125,000 foreign arrivals, down 96.7 per cent on the same period last year.
Meanwhile, multiple pandemic waves have forced many hotels and resorts to stop the operations entirely, though domestic guests have provided some revenue. A few resorts have maintained operations at an average capacity of 20-30 per cent. The number of hotel and resort projects up for sale is very high.
The Real Estate Brokers Association reported that the number of condo-hotels offered on the market in 2020 was more than 18,000 units. Only 120 condo-hotels were sold in the whole year. The supply of villas and shophouses in 2020 reached about 15,000 units.
The absorption rate of these products was only about 8 per cent in the first months of 2021, as market demand remained at a low level.
However, since September, when the social distancing measures were eased, the market has shown more positive signs. The market has had 7,206 listings; 2,280 have sold, an absorption rate of 31.6 per cent. Localities that have listed hospitality for sale include Da Nang, Phu Quoc, Quang Nam, Quang Ninh, Phu Yen, Khanh Hoa, Binh Thuan and Thanh Hoa.
Nguyen Anh Tuan, Director of the Institute for Tourism Development, said if the pandemic was controlled, the tourism and hospitality market would recover quickly.
"When tourism develops, hospitality real estate will develop too. If tourism still has difficulties, this market will face challenges."
"In the context of COVID-19, a trend of wellness resorts is emerging in the world, because this virus has made good health more important. This kind of resort will promote the development of the hospitality market," Tuan said.
The Vietnamese resort real estate market has attracted globally famous brands, especially in coastal areas. This will create favourable conditions for further development in the future, according to Tuan.
"Viet Nam always needs more quality products that deliver unique experiences for guests and create a true 'destination'. We need more truly luxury resorts, boutique resorts, hi-tech hotels, senior living products, wellness products, more entertainment facilities… which helps to enhance the chain of tourism and attract more potential guests, not only international but also local demand," Mauro Gasparotti, Director SEA Savills Hotels APAC, told Viet Nam News.
Hospitality is an industry that has been heavily impacted by COVID-19. Both business and leisure demand collapsed worldwide, causing a fall in revenue across all related sectors, such as restaurants.
Specifically in Viet Nam, international tourism ceased entirely, which was the primary source of revenue for most destinations, from the sea to the city.
In the coming months, there will continue to be a high level of uncertainty in the hospitality market, according to Gasparotti.
"First, there are uncertainties in future demand. We are all waiting for the borders to reopen but even then, we don't expect a big rebound in short term for several reasons. It will take time to get back to the level we were at before," he said.
"The second problem is demand. The fact is that people are still hesitant to travel, mainly due to complications of travelling, such as testing or additional insurances and limited flight options. There is also the risk of travelling to other destinations, the risk of being stuck there or perhaps coming into contact with a positive case and having to stay in quarantine at the destination."
"The third factor impacting demand is a change in consumer behaviours, especially among business travellers. We are all very familiar now with video calls and the need for actual face-to-face meetings has decreased, which is having a larger impact on the office market and is expected to also impact MICE business, especially for city hotels."
"We expect the demand to take a few years to recover back to 2019 levels. Delayed recovery is a problem for the Vietnamese market as a low demand is not sufficient to support the current supply growth. We expect, on average, the supply to grow by 20 per cent per annum in the next three years. If the demand is not there, this will largely impact the occupancy of hotels," he said.
To ensure sustainable development in the hospitality market, according to Hung, Viet Nam needs to complete specific regulations relating to land set aside for hospitality projects, trading activities for the projects, and conditions and procedures to sell these projects, including condo-hotels.
"Those regulations will create a solid legal basis for the development of the hospitality market in the future," Hung said.
"To create favourable conditions for enterprises and for the hospitality real estate market to have some sustainable development, the ministry has issued design standards for various types of tourism apartments and villas at resorts," Hung said.
At present, the development, management and use of apartments, villas and resorts for the tourism industry have been specifically regulated according to the 2017 Tourism Law and Decree 168/2017/ND-CP. 
Source: VNS