Many motorbike taxi drivers have said it is not necessary for them to wear identification badges, or name tags, issued by grassroots government offices, as proposed by Hanoi City's Department of Transport.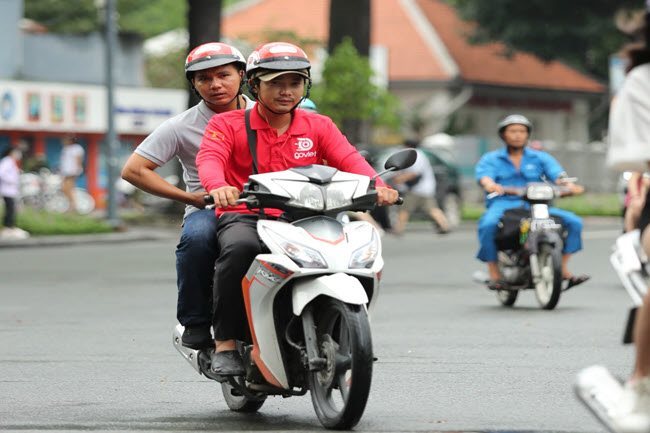 A Go-Viet driver transports a passenger in downtown HCMC. The proposal to ask motobike taxi drivers to wear name tags while working has drawn objections from drivers
The transport department has sent to the municipal government a proposal on the management and use of nonmotorized vehicles and motorcycles to transport passengers and goods.
In particular, motorbike taxi drivers will have to wear identification badges starting from January 1, 2021, according to the proposal.
Tran Van Long, team leader of motorbike taxi drivers at Hanoi-based Giap Bat coach station, was quoted by VnExpress as saying that the drivers are already required to hold driving licenses, motorbike registration certificates and résumés to operate at the station.
Passengers can give feedback on the drivers using the station's hotline, based on the driver's code, which is printed on their uniforms. Thus, Long concluded that there is no need to require the drivers to wear an additional name tag.
Le Van Linh, a Grab driver, said that he had to wait for a week to have his résumé certified by the competent authorities to submit it to Grab, a technology-based ride-hailing firm. It is acceptable to wear name tags while working, he said, but there are time-consuming procedures involved in issuing name tags, which will likely affect his job.
According to lawyer Tran Tuan Anh from Hanoi, the 2008 Law on Road Traffic stipulates that motorcyclists must hold driving licenses, motorbike insurance and registration certificates. Motorbike taxi drivers or goods deliverymen are the same as other motorcyclists, so the issuance of identification badges is not required under the law, he stressed.
Overall, the name badges are unnecessary and will cause difficulties for drivers and transport operators. Further, the time-consuming issuance may result in falsified name tags, Anh added.
Most transport operators and teams of motorbike taxi drivers have their own management systems that store the information of drivers and vehicles. Anh recommended the municipal transport department require information sharing among these operators.
Meanwhile, deputy chief of the office of the National Traffic Safety Committee Tran Huu Minh suggested that motorbike taxi drivers with identification badges would be easily recognized and would win the trust of passengers.
Though the proposal currently faces objections from drivers, Minh believed they would be willing to register for badges in the future.
He also suggested the municipal transport department simplify the issuance procedures to create favorable conditions for drivers.
Taxi associations seek help over new incentives for e-taxis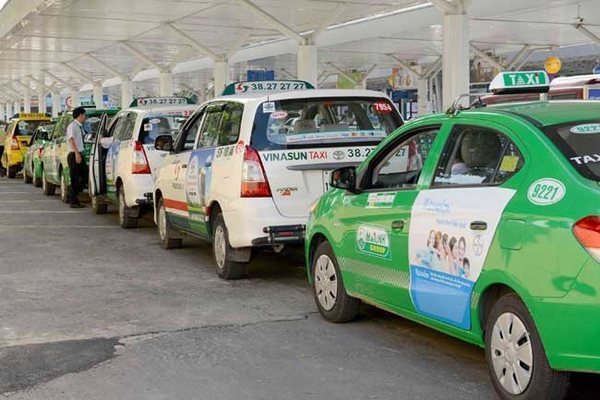 Taxi cabs park at Noi Bai International Airport in Hanoi - PHOTO: VGP
The taxi associations of Hanoi, HCMC and Danang have sought support from Party General Secretary and State President Nguyen Phu Trong as new preferential policies for e-taxis may put traditional taxi firms at risk.
According to the three taxi associations, which represent tens of thousands of taxi drivers, regulations in a draft decree replacing Decree 86/2014/ND-CP of the Ministry of Transport will create an unfair situation for traditional taxi firms, news site Motthegioi reported.
Under the draft decree, ride-hailing vehicles with fewer than nine seats will not need to install rooftop light boxes. Moreover, individuals and household businesses can provide transport services using ride-hailing vehicles with fewer than nine seats without having to join transport cooperatives.
According to the taxi associations, the regulation that ride-hailing vehicles with fewer than nine seats must install rooftop light boxes had received the support of 25 out of 26 members of the Government cabinet, but it has finally been removed from the draft decree.
If the draft decree is approved, traditional taxi operators will not see any opportunity for further development, according to the taxi associations.
Moreover, e-taxis have an advantage over their traditional peers. Specifically, they enjoy preferential policies on taxes and labor costs, as they do not have to pay training fees, insurance costs and medical examination fees for drivers.
In addition, they are not required to have traffic safety units and customer-care switchboards. SGT
Traditional taxi operators proposed to liquidate contracts with their taxi drivers in order to switch to the ride-hailing service model using electronic contracts to seize the advantages offered by this model.