The Vietnamese e-commerce market is forecast to continue to boom in 2021, with revenue surpassing last year's figure.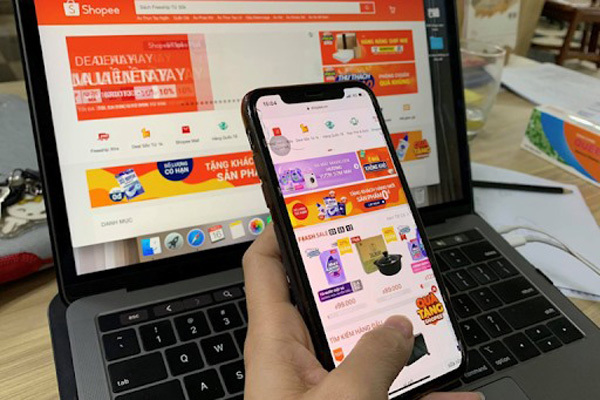 Shopping on Shopee e-commerce platform. — Photo congthuong.vn
A report by the Vietnam e-Commerce and Digital Economy Agency (iDEA) under the Ministry of Industry and Trade showed that with 53 per cent of the population participating in online shopping, the e-commerce market in Vietnam grew 18 per cent, reaching $11.8 billion last year, accounting for 5.5 per cent of total retail sales of consumer goods and services nationwide.
Nguyen The Quang, the agency's deputy director, said e-commerce had had an impressive year of growth and would continue to explode this year and beyond.
According to the national master plan on e-commerce development in 2021-2025, by 2025, up to 55 per cent of the population will participate in online shopping, with the average value of online purchases of goods and services reaching US$600 per person annually.
The revenue of the B2C e-commerce model increases by 25 per cent each year, reaching $35 billion, accounting for 10 per cent of the total retail sales of goods and services in the whole country.
Vietnam has a growth rate of retail market share among the top three countries in the region.
From 2015 up to now, the growth rates of the three largest internet economies in the region have averaged 35 - 36 per cent, of which, Vietnam grew by 36 per cent, Indonesia 41 per cent, and the Philippines 30 per cent.
Nielsen research shows that, since the COVID-19 pandemic broke out, the demand for shopping on e-commerce floors has increased sharply.
Last year, 70 per cent of Vietnamese people had access to the internet and 53 per cent of e-wallet users made payments when buying online, up 28 per cent compared to 2019.
In Hanoi and HCM City, e-commerce activities grew strongly and accounted for 70 per cent of the total number of e-commerce transactions of the country.
According to Amazon Vietnam, Vietnamese sellers exceeded $1 million in sales on Amazon last year, a three-fold increase from 2019.
Experts predicted e-commerce would continue to thrive in this year and created a new impetus for economic growth, at the same time, this was also an opportunity for Vietnamese businesses to build new business strategies and approach modern distribution channels, helping to expand markets and recover from the pandemic.
Amid digital transformation and the development of the online shopping market, iDEA has implemented the Online Vietnamese Store programme on three major e-commerce floors in Vietnam, including Tiki, Sendo and Voso.
The programme has created a new playground for manufacturing enterprises to develop distribution systems with digital transformation solutions and apply e-commerce and digital technologies in connecting the domestic market.
Dang Hoang Hai, director of iDEA, said the agency would implement the GoOnline programme to accompany businesses in the e-commerce application process.
The programme has the companionship of telecommunications, technology and e-commerce systems in the country, targeting manufacturers, businesses and individuals nationwide who want to access and apply e-commerce.
Promoting e-commerce in parallel with perfecting the electronic payment system and improving the quality of shipping activities would create a very exciting and potential shopping and trading environment.  VNS

Vietnam's e-commerce revenue reached $11.8 billion in 2020, up 18 per cent against last year and accounting for 5.5 per cent of total retail sales.

Vietnam's e-commerce market is forecast to continue growing strongly in the time to come thanks to a big population with high rates of young people and internet users.