From morning to early afternoon Nguyen Van Chiem in HCM City's District 1 is bustling with food vendors selling breakfast and lunch and customers coming to eat.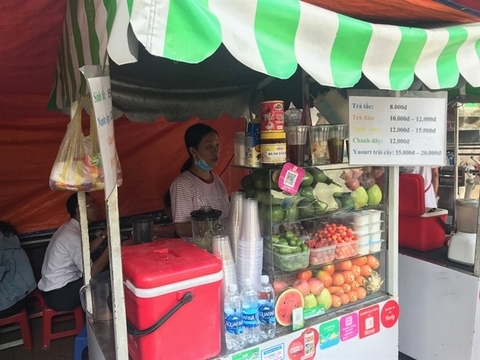 A juice stall on District 1's Nguyen Van Chiem Street has QR codes for Momo and GrabPay e-wallet services.
It is somewhat startling to see some of the vendors accepting payment by scanning QR codes using e-wallets since it is still a relatively new trend among street vendors in the city.
Nguyen Thi Mai Huong, owner of a juice stall on the food street, told Viet Nam News that she had been accepting e-wallet payments since around Tet in early February, including Momo and GrabPay by Moca.
Though not many customers used them normally, some five or six people a day would pay using e-wallets during promotions from GrabPay, she said.
"It is convenient, it does not take a lot of time, I don't have to return any change and customers don't need to bring cash. It's just that there isn't really a lot of people using it right now."
Do Quoc Vinh, owner of a smoothie stall on the street, also said a lot more people use e-wallets during promotional periods.
Nhan Dan (The People) newspaper quoted a drink vendor in District 5 as saying that ever since he accepted e-wallet payments, he does not have to worry about torn or fake notes.
According to the State Bank, there are around 30,000 QR code points set up for e-wallet payments as of the end of 2018, and the number of transactions made through e-wallets in the third quarter of 2018 was 21 per cent up year-on-year.
There are around two dozen e-wallet services and 4.2 million accounts.
E-wallet services charge business owners 1-2 per cent fees and frequently offer customers discounts to encourage spending.
A vendor selling corn and sticky rice in District 3 accepts Momo QR code payment. – VNS Photo Viet Dung
Many convenience stores and other consumer businesses have begun to accept e-wallets, and so it could be said it was only a matter of time before street vendors climbed on the bandwagon.
But some vendors also complain e-wallets are inconvenient.
Nguyen Van Du, who runs a corn and sticky rice stall in District 3, signed up with Momo, but told Viet Nam News that e-wallets were slower than cash, especially since he had to spend extra time verifying the transaction.
A vendor in District 1 has few customers making e-wallet payments, yet she has to have an internet banking account and an internet connection, which she sometimes lacks.
The QR code to be scanned faces away from her at the stall and so sometimes she cannot verify the amount she receives.
According to Ðoan Ðinh Hung, a banking and finance expert, over 70 per cent of the country's population use smartphones, which provides a good opportunity to switch to newer payment methods.
Nguyen Hoang Minh, permanent deputy director of the State Bank of Viet Nam's HCM City office, said to increase the use of non-cash payment methods, they should be developed for public services and people's awareness should be increased. — VNS

Nepal on May 21 imposed a ban on transactions with Chinese e-wallets Alipay and WeChat Pay in the country. What about Vietnam?

Following the removal of the limit, Vietnam's central bank said it would only maintain the monthly limit of VND100 million (US$4,284) for each individual.  

Nearly 30 e-wallets have been licensed, but only a few of them have real users.