The EC has rescheduled a visit to Vietnam for November to review the country's efforts to have the restrictive yellow card on its seafood products removed, instead of visiting in June as previously planned.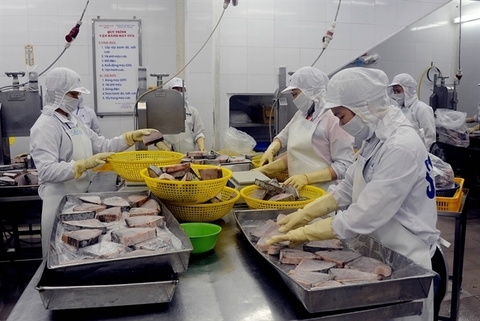 A customer selects seafood at a supermarket. A visit of the European Commission to review Vietnam's efforts to have the yellow card lifted on local seafood products has been rescheduled for November
Nguyen Hoai Nam, vice general secretary of the Vietnam Association of Seafood Exporters and Producers (VASEP), confirmed the visit schedule to the Saigon Times on May 17, saying that the Directorate of Fisheries will have more time to prepare for the upcoming visit of the EC working team.
The rescheduling of the visit was finalized by Vietnamese agencies and the European Union during a recent visit of the Vietnamese delegation to Europe.
Earlier, VASEP general secretary Truong Dinh Hoe told the paper that the EC issued the yellow card on local seafood products in October 2017, as the country had failed to clamp down on illegal, unreported and unregulated (IUU) fishing.
Vietnam was then given six months since the issuance date of the card, along with measures recommended by the EC, to put in place IUU fishing practices and have the yellow card lifted, according to the VASEP general secretary. However, the EC visit to Vietnam had been rescheduled a number of times, and the team now plans to arrive this November.
Following the EC's recommendations, the Ministry of Agriculture and Rural Development had directed agencies to address existing shortcomings in the local fishing sector, including keeping track of the volume of seafood caught and monitoring the origins of imported seafood materials.
To date, at least 62 local seafood operators have pledged to fight against IUU fishing by only purchasing or importing seafood products which have clear product origins and were lawfully caught by licensed fishing boat operators, Hoe added.
Violators of fishing laws to be fined up to VND1 billion
The Government has issued Decree 42/2019, stipulating punishments for administrative violations in the local fishing sector. The decree will take effect on July 5 this year.
Fishing boat owners will be fined from VND800 million to VND1 billion if they are caught: using fishing boats measuring above 24 meters long and owning no fishing licenses or having expired fishing licenses; fishing in national or overseas waters without fishing licenses or with expired licenses. Also, foreign fishing boat owners, who operate in Vietnamese waters and have no fishing licenses or expired licenses, will be subject to punishment.
Meanwhile, fines ranging between VND500 million and VND700 million will be imposed upon owners of 15-to-24-meter-long fishing boats who do not have licenses; have expired licenses; do not keep track of the volume of seafood caught; conceal, falsify, or discard evidence of fishing violations.
Similarly, owners of 15-to-24-meter-long fishing boats will receive fines of VND300 million to VND500 million if they do not have licenses; have expired licenses; or do not install navigation systems on their boats while operating in national waters.
Further, they will be eligible for additional punishments from authorities based upon their violations, including having the volume of caught seafood, fishing licenses, and fishing boats confiscated. SGT
Trung Chanh