Kien Long Bank has become the eighth bank to clear all bad debts they had previously sold to the Viet Nam Asset Management Company (VAMC) before the maturity date, VAMC announced on Tuesday.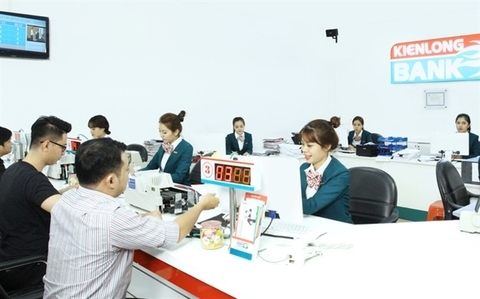 The clearance of bad debts at VAMC will help increase Kien Long Bank's profits in the future. — Photo cafef.vn
Earlier, at the bank's 2019 shareholders meeting, Kien Long Bank set plans to clear the debts before December 31 this year.
By the end of last year, the bank's bad debts kept at the VAMC was VND153 billion (US$6.65 million), of which VND94 billion had provision.
With the clearance, the bank will not have to make provision for the debts from January 1 next year, which will help it increase profits.
In October 2013, VAMC accepted to buy bad debts of banks in a move to reduce the bad debt ratio of the entire banking system. Many banks had to sell bad debts to VAMC so they could take the debts off their balance sheet to have a bad debt ratio of below 3 per cent as required by the central bank and could continue their operations as normal banks.
By selling the debts to VAMC, instead of money, banks received five-year special bonds from VAMC. During the five years, banks had to make provisions of 20 per cent for special bonds each year. In principle, this affects banks' annual profits.
Currently, the list of banks which have cleared all bad debts at VAMC includes Vietcombank, VIB, Techcombank, TPBank, MB, OCB, Nam A Bank and Kien Long Bank.
When the on-balance sheet bad debt ratio at banks is low and banks have gained fairly high profits in recent years, the trend of buying back bad debts to clear debts at VAMC is becoming more popular.
In the first nine months of the year, Kien Long Bank's core businesses were positive, with total assets rising by 10.8 per cent against the end of last year to VND46.87 trillion and pre-tax profit up 6 per cent year-on-year to VND236 billion. — VNS

Commercial banks are attempting to sell off a host of mortgaged assets, including real estate and cars, to speed up the settlement of huge bad debt.  

Banks' nine-month financial reports show that bad debts have increased compared with the beginning of the year, though the bad debt ratio has fallen.