It may be Sunday morning, but you'll find Nguyen Viet Hung enjoying a coffee, and of course, keep up-to-date with work as he fastidiously checks his smart phone.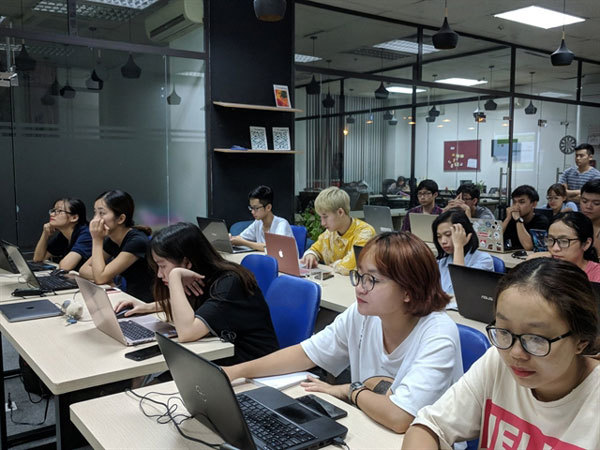 A normal classroom at ColorME. The company plans to offer e-learning subscription packages from 2020. — Photo courtesy of ColorME
At 24 years old, Hung entered Vietnam's start-up community with a debut business named ColorME.
Entering the market five years ago, ColorME offers graphic design courses for young adults at VND500,000 (US$21.68) each.
"It is not a new idea," Hung said. "Similar courses have appeared for so long before ColorME."
Starting up with 45 first trainees who were recruited via a simple Facebook event, his company now teaches 1000 trainees a month at its four branches, three in Hanoi and one in HCM City.
"After the lightning success of the first batch, the second one witnessed a boom in attendance registration with more than 100 people," he said. "This was a eureka moment and I felt the urge to develop an inclusive electronic platform as soon as possible."
"It is not a zero-sum game, as I started low-key, others can do exactly the same. The problem only comes when your business grows bigger and administrative duties are no longer effective to be implemented manually. You will need an app that helps you cover all the paperwork, present data in the most digestible way for easy tracking and monitoring."
After five years, the app now has a friendly user interface (UI) with minimal layouts running smoothly even in low mobile data mode.
Both trainers and trainees use the system to check in, check out, access to the cloud library, upload products, write and get comments.
"We are trying to detail features and enhance experiences of users as much as possible," Hung said.
While trainees can learn anytime, anywhere based on their interests and abilities, their feedback is collected and sorted into key words, becoming an important resource for ColorME team to continuously reflect and update syllabuses to best satisfy changing demands.
Instead of investing into fingerprint machines, the company allows staff to scan QR codes for checking in and checking out which requires location, Wifi connection and registered devices.
Data collected will help to calculate workers' salary at the end of the month based on their performance.
"The process, commonly known as digital transformation, enables a small company like us to save a lot of money, keep the payroll small and efficient and offer more added value for customers," Hung said.
"It feels like we set foot in a field where many others cultivated. How to perfect services and how to grow sustainably, those questions keep echoing in our heads. A capable tool, I think, is our answer."
Innovation
Vietnam has set an ambitious goal to have one million enterprises in the first year of the new decade.
Bui Tat Thang, former head of Development Strategies Institute under Ministry of Planning and Investment, stressed innovation as the key for the country's start-up community.
"Vietnam has jumped ten places in the 2019 Global Competitive Index while innovation has been considered as a breakthrough in its ten-year development strategy from 2021 to 2030," he said.
"The Government needs more assistance policies to unleash the potential of private enterprises, especially technology-based start-ups, at the same time, creating favourable conditions which uphold transparency and accountability for them to develop," Thang added.
ColorME has just had its first venture round and gotten support from 18 investors. In the next five years, the company expects to expand to other markets in the region.
"But first, we will start 2020 by launching an e-learning subscription package at VND100,000 ($4.34) per month which offers users courses on demand and the huge resource of some 1,000 articles on graphic design. The beta version is now being experienced by some 2,000 people," Hung said.
"To us, it is a constant progress of trial and error to gradually scale up the company. With the digital platform as a backbone, our aspiration is to simplify operational procedures to a level which allows the instant deployment of courses in a foreign country," he said.
"As innovation takes time, we are going on a restless journey." — VNS
Khoa Thu

Vietnam's startup ecosystem could develop strongly over the next five years with venture capital and government assistance, Eddie Thai, general partner of the venture capital firm 500 Startups Vietnam.

Most Vietnamese startups find it difficult to call for investment, especially foreign investment.