While direct power purchase agreements have been one of the key drivers of global renewable energy infrastructure, especially in wind and solar, there is no defined plan for a pilot mechanism in Vietnam yet.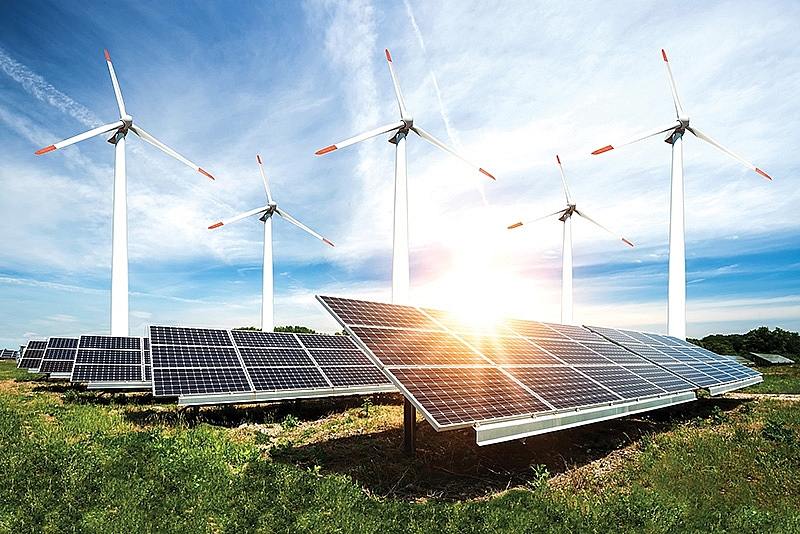 Fuelled by its rising energy demand, Vietnam co-operates with global partners to further develop renewable energies
The Vietnam Energy Partnership Group (VEPG) and its associates returned on December 10 with its third high-level meeting, addressing key policy development processes and other activities to boost development of the Vietnamese energy sector.
Direct power purchase agreements (DPPA) were once again mentioned, with a suggested legal framework for pilot rolling out. Although the US Agency for International Development's (USAID) Vietnam Low Emission Energy Programme, working in conjunction with the Electricity Regulatory Authority (ERAV) under the Ministry of Industry and Trade (MoIT), has now been performing for years, there is no defined plan for a pilot programme.
The ERAV plans to propose to the leaders of the MoIT and the government to review implementation of a legal framework and a pilot programme on off-site virtual renewables DPPA in 2020.
The DPPA mechanism that will allow businesses in Vietnam to purchase from private renewable energy firms lends an enormous opportunity for solar and wind developers. Over 30 large international and domestic businesses represented by the Renewable Energy Buyers Alliance Vietnam are supporting this effort, and emphasised the critical need for accurate power market data to support low-risk transactions to power the clean energy revolution in Vietnam.
International firms, especially giant tech, lead the trend as many begin to either commit to going 100 per cent renewable, or establish science-based targets to reduce greenhouse gas emissions. Google, Apple, Coca-Cola, and ABB are among those leading the clean charge.
Previously Brian Hull, ABB's country managing director in Vietnam explained to VIR, "this trend is growing rapidly as large companies are paying more attention to the sustainability of their businesses through their commitments to reduce CO2 emissions. Moreover, pressure is growing on businesses to become more sustainable, thanks to initiatives such as the Paris Agreement, national and local targets to cut carbon emissions, and more environmentally-conscious consumers."
Customers and employers are also demanding sustainable products, Hull added. "At the business-to-business level, the reduction of supply chain emissions for a buying company enhances its reputation significantly."
The trend is not only found in the Fortune 500 companies with strong commitments, but also in their supply chain partners. Operating enterprises in Vietnam are likely to be piloted, with Electricity of Vietnam remaining the wholesaler of power between the produce and the consumer.
The VEPG have noted that for a DPPA mechanism to roll out, it may be necessary to start with existing laws and gradual improvement of the legal framework based on outcomes from the pilot mechanism. Results from current legal reviews show that it is essential to develop a robust legal framework in which DPPA is one of the options for renewable generators.
This legal framework could follow documents including a decision of the prime minister on implementation of the DPPA being a separate mechanism and operating in parallel with the feed-in tariff mechanism, so that renewable energy developers can opt for either, according to a VEPG report of June's high-level policy dialogue featuring the USAID and the ERAV.
The framework could also consider and approve electricity system infrastructure service fees to carry out DPPA transactions; study and issue specific regulations on licensing for DPPA-involved generators who are active in both generation and retail sales in a single license; and guide circular provisions on grid connection through publication of a grid code along with required financial commitments. Besides the DPPA, the VEPG report analysed progress in implementation of the 40 policy recommendations formulated by five technical working groups and adopted at the VEPG's second high-level meeting in November 2018.
The VEPG was established in June 2017 as an agreement between the Vietnamese government and its development partners with the purpose of strengthening mutual partnerships and better aligning and co-ordinating external support to the Vietnamese energy sector.
The overall objective of the VEPG is to work towards effective and efficient international support to sustainable energy development in Vietnam, in line with national law and international agreements, of which Vietnam is a member. The VEPG is chaired by the MoIT and co-chaired by the delegation of the European Union to Vietnam and the World Bank.
Ousmane Dione - Vietnam country director, World Bank
The energy sector has gone through some fundamental transformations. On one hand, it was the global trend towards "electrification of everything" – starting from lighting, to now heating, cooling, cooking, and even driving. More and more, electricity is becoming our primary fuel.
On the other hand, the technologies and resources for generating electricity are shifting from traditional fossil-fuel based to renewable energy-based resources bringing in opportunities for enhanced digitalisation of the grid and implementation of disruptive technologies.
For Vietnam, the challenge is to ensure future energy demand, which is growing at a double-digit rate, is met, while also complying with the government's objectives of reducing greenhouse gas emissions by promoting renewable energy and energy-efficient technologies.
Another question is how to mobilise the large investment, estimated at nearly $10 billion annually till 2030, through a competitive and transparent approach, while also creating a viable sector by optimised use of public and private sector resources.
Currently, we notice that many critical projects of the Power System Development Plan are facing delays.
These delays could lead to a shortfall of energy and rolling black-outs in the next 12 to 18 months. The economic impacts from these shortfalls, which could be as high as 3-4 per cent of GDP in the worst-case scenario, would be felt across all sectors of the economy and could hamper Vietnam's ability to continue to attract quality foreign direct investment.
Considering the recommendations from the VEPG, I would urge that the authorities continue to focus on carrying out strong policy reforms in the energy sector. We should make no mistake that the energy sector is at a critical inflexion point and is poised for the next phase of its growth.
Given the interconnected nature of the sector, it is the right time for us to take a system-wide approach its development. From upstream resource development, to downstream service delivery, and transmission and distribution functions, each leg of the energy sector value-chain requires careful attention.
Sustained support from the government for the energy sector is still necessary not only to incentivise private investment where applicable, but also to directly mobilise public resources as public goods, where required.
Co-ordinated efforts are necessary to improve the planning and execution processes and to establish regulatory frameworks that enable rapid energy infrastructure development, and a bold vision is necessary to embrace new technologies in the rapidly changing landscape of renewable energy and energy efficiency.
Giorgio Aliberti - EU Ambassador for Vietnam
Many issues were discussed at the VEPG, with focus on topics such as energy efficiency, wind and solar energy, review of the current incentive regime, the transitional mechanism on the road to auctions, and more.
We have right now a great opportunity to shape the course of Vietnam's energy development. This is a unique time for us to join hands in recalibrating the course towards further sustainable energy, shifting away from polluting to cleaner energy sources.
The effects of climate change are severe and growing in frequency and intensity, both here in Vietnam and around the world.
Global and national transition processes to cleaner energy systems must be accelerated, with ambitious commitments from governments and with the strong support of development partners.
The European Union remains fully committed to assist Vietnam in its transition from brown to green energy, while also ensuring access to affordable energy for all and protecting Vietnam's competitiveness. VIR
Phuong Thu