The European Parliament (EP) on February 12 ratified the EU-Vietnam Free Trade Agreement (EVFTA) and the EU-Vietnam Investment Protection Agreement (EVIPA).
 A free trade agreement, seen as the most modern, comprehensive and ambitious" ever concluded between Vietnam and the European Union, got the EU Parliament's backing on Wednesday.
Members of the European Parliament gave their consent to the free trade agreement by 401 votes for, 192 votes against and 40 abstentions at a session in Brussels, Belgium, according to a statement.
The deal will contribute to setting high standards in the region, and could lead to a future region-to-region trade and investment agreement, according to the Parliament, in an accompanying resolution adopted by 416 votes for, 187 against and 44 abstentions.
The pact is "a strong signal in favor of free, fair and reciprocal trade, in times of growing protectionist tendencies and serious challenges to multilateral rules-based trade," said the Parliament.
Almost all customs duties gone
The trade deal will remove virtually all customs duties between the two sides over the next 10 years, including on Europe's main export products to Vietnam: machinery, cars and chemicals.
The deal extends to services such as banking, maritime transport and postal, where EU companies will have better access. Companies will also be able to bid on public tenders put out by the Vietnamese government and several cities, including Hanoi.
It also safeguards 169 emblematic European products, such as oils and animal fats; fresh, frozen and processed meats; spirit, wine, beer and hops; as well as confectionery and baked products.
In addition, the agreement is an instrument to protect the environment and sustain social progress in Vietnam, including labor rights. It commits Vietnam to apply the Paris Agreement.
The Southeast Asian nation is committed to ratify two bills as requested by Parliament, one on the abolition of forced labor by 2020, and the other on freedom of association by 2023.
Dispute settlement between companies and state
Separately, the Parliament agreed by 407 votes for, 188 against and 53 abstentions to an investment protection agreement providing an investment court system with independent judges to settle disputes between investors and state. The accompanying resolution passed by 406 votes for, 184 against and 58 abstentions.
"These state-of-the-art agreements just adopted present a unique opportunity to further the EU's goal to become a geopolitical player that defends multilateral trade, rejects protectionism, and raises labor, environmental and human rights standards worldwide," said Rapporteur Geert Bourgeois.
He added the deals will boost prosperity, create new and better paid jobs, cut costs for companies big and small, and give them better access to each other's markets.
Chairman of the Committee on International Trade Bernd Lange said the following after the vote: "History shows that isolation does not change a country. That is why Parliament voted in favor of this trade agreement with Vietnam. With it, we strengthen the role of the EU in Vietnam and the region, ensuring that our voice has more weight than before.
"This is particularly important on issues on which we disagree, such as the role of the free press or political freedom. We also extend the room for maneuver of civil society. Our work from now on is to make sure the agreement is put into practice." 
Once the council formally concludes the trade agreement and the parties notify each other that their procedures are closed, it can enter into force. For the investment protection agreement to enter into force, EU member states' parliaments first need to ratify it.
Vietnam is the EU's second largest trading partner in the Association of Southeast Asian Nations (ASEAN) after Singapore, with trade in goods worth 47.6 billion euros a year and 3.6 billion euros when it comes to services. EU exports to the country grow by 5-7% annually, yet the EU's trade deficit with Vietnam was 27 billion euros in 2018.
The main EU imports from Vietnam include telecommunications equipment, clothing and food products. The EU mainly exports goods such as machinery and transport equipment, chemicals and agricultural products to Vietnam.
Minister: EP's ratification of EVFTA shows trust on Vietnam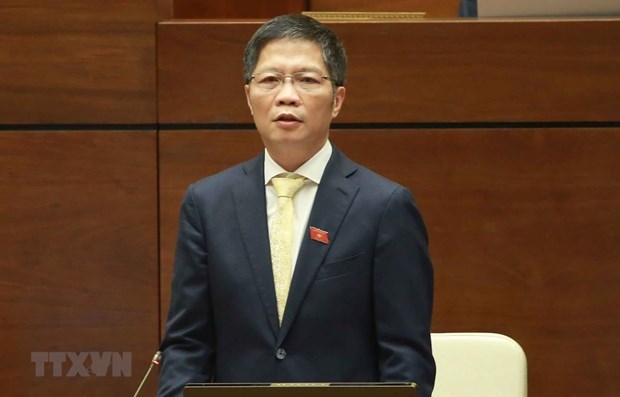 Minister of Industry and Trade Tran Tuan Anh
The ratification of the European Union – Vietnam Free Trade Agreement (EVFTA) and the EU – Vietnam Investment Protection Agreement (EVIPA) by the European Parliament (EP) has reflected its high valuation of and trust on Vietnam as a comprehensive and important partner in all areas, not only in Asia but the world also.
This was stated by Minister of Industry and Trade Tran Tuan Anh during a press conference in Hanoi on February 12 following the EP's ratification of the two documents earlier the same day.
Anh further said that the act shows that the Vietnam – EU ties have new, important and sustainable foundations.
According to him, both sides have exerted continuous efforts over the past more than eight years, from negotiations to signing and ratification, on the basis of trust and close and timely cooperation.
In particular, the Vietnamese side has provided information and held working sessions with EU partners from the European Council, the European Commission and the EP, he added.
Minister: EVFTA creates chances to infiltrate into 18 trillion USD market
Minister of Industry and Trade Tran Tuan Anh on February 12 described the European Union – Vietnam Free Trade Agreement (EVFTA) as a lever for growth, opening up opportunities to infiltrate into a market with a gross domestic product of 18 trillion USD.
During a press conference in Hanoi following the European Parliament's ratification of the EVFTA earlier the same day, Minister Anh said the EU values Vietnam as a comprehensive and trustworthy partner in Southeast Asia and the world over.
The move holds special significance as the EU is one of Vietnam's current top two importers, Anh said, adding it is also a focus both sides are turning to for the future.
ILO welcomes EP's EVFTA ratification
The International Labour Organisation (ILO) office in Vietnam on February 12 said it welcomes the European Parliament's ratification of the European Union – Vietnam Free Trade Agreement (EVFTA) in Paris earlier the same day, which is expected to bring economic benefits to both sides.
The new-generation document was signed in Hanoi on June 30 last year. It comprises of important terms regarding labour and environment towards sustainable development.
ILO Vietnam Country Director Chang-Hee Lee said the deal's requirements on labour and environment will help bring about benefits for all sides, help Vietnam achieve sustainable development and ensure that the current growth is achieved at the expense of future generation's opportunities,
According to him, Vietnam's entry to the EVFTA and the Comprehensive and Progressive Agreement for Trans-Pacific Partnership (CPTPP) will make it easier for the country to modernise labour laws and industrial relations systems. The adoption of the revised Labour Code in November 2019 brought its legal framework closer to ILO fundamental conventions.
"Modern industrial relations based on recognition of freedom of association, together with better skilled workforce and effective social protection, is a key social driver for Vietnam to move towards upper middle income country in a sustainable manner," he said. SGT/VNA
Thanh Thom

The challenges on market access, circulation of products, and tax in the Vietnamese market are expected to be solved ahead of the European Parliament's crucial vote for the ratification of the EVFTA scheduled for early 2020. 

Vietnamese businesses should prepare to deal with potential trade barriers that could arise early next year when the European Union-Vietnam Free Trade Agreement (EVFTA) takes effect, experts have said.