It is estimated that the EU-Vietnam FTA (EVFTA) will add 0.1 percentage point (ppt) on average to Vietnam's real GDP growth each year based solely on its trade impacts.
After years of negotiations and delays, EU and Vietnam plan to ratify the EVFTA, in the second half of 2019, with the EU parliament having provisionally scheduled discussions for May 28, according to HSBC's latest report.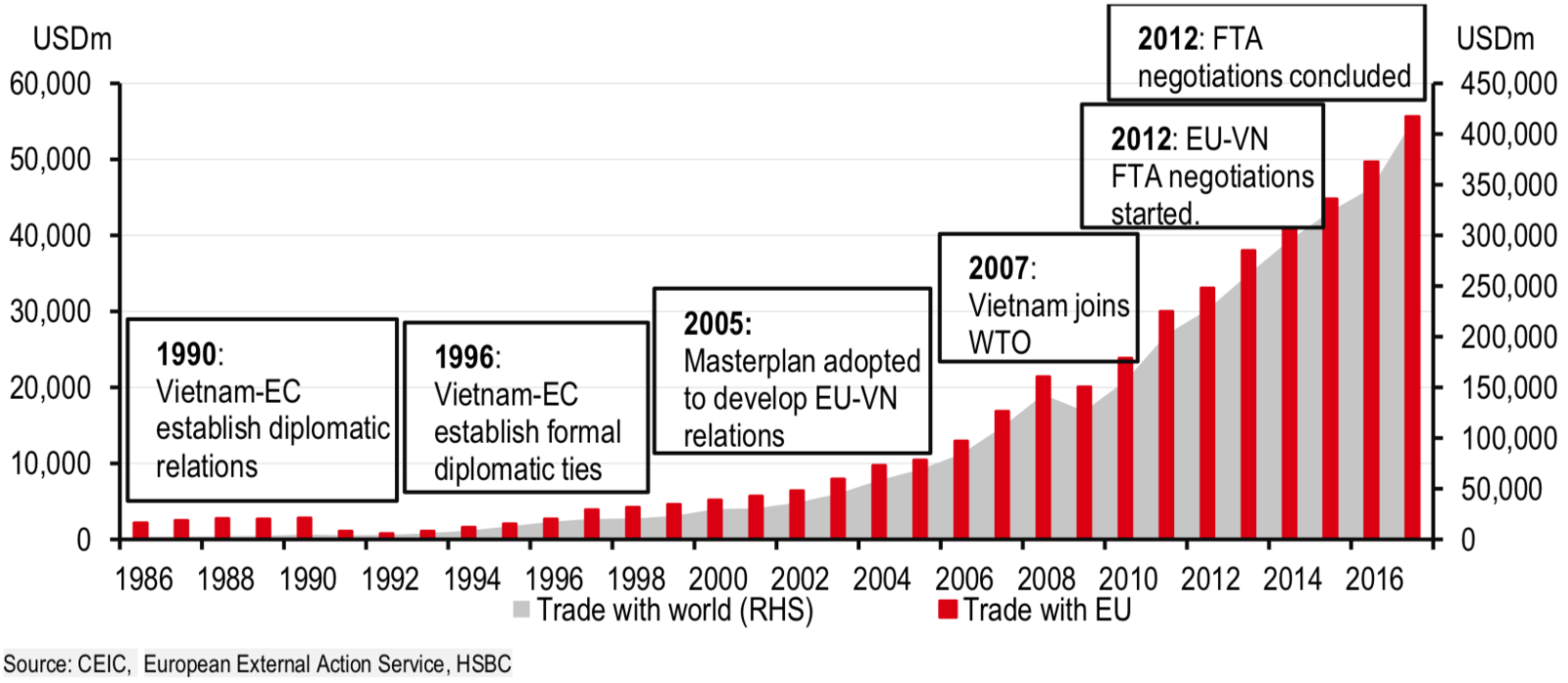 Timeline of EU-Vietnam trade and economic relations.
EU-Vietnam relations have steadily improved since the two sides established formal diplomatic relations in 1996. Bilateral trade between the two has risen more than 20x over the past two decades, making the EU Vietnam's second largest export market next to the US.
Vietnam's exports to the EU have also evolved throughout the years. Its exports in 2005, when the two sides first adopted a plan to further develop relations, primarily consisted of agro- food, textiles, and footwear products. Now, the largest share of its exports (47%) to the EU are of electrical machinery, which consist of more sophisticated products like smartphones and computer electronics.
"If ratified, the EVFTA should continue to boost bilateral exchanges of both goods and services between the two parties," HSBC noted.
The EVFTA is a comprehensive, high-standard free trade agreement that should provide mutual benefit for both sides. FTAs between developed and a developing countries can at times be less comprehensive and/or have low standards, given the divergence of products and services that each country can provide.
However, the EVFTA has been dubbed "the most ambitious" FTA the EU has ever concluded with a developing country, according to the European Commission. It not only includes the almost full elimination of bilateral tariffs, but also a substantial reduction of non-tariff barriers. Moreover, it includes provisions to protect intellectual property, labor, environmental standards, and fair competition, while promoting regulatory coherence.
Gains from EVFTA
It is estimated that the EVFTA will add 0.1 percentage point (ppt) on average to Vietnam's real GDP growth each year based solely on its trade impacts. The European Commission estimates that Vietnam's exports to the EU would grow by around 18% as a result of the agreement, while the EU's exports to Vietnam are slated to increase by around 29%.
According to HSBC's estimates based on 2017 trade numbers, this would still result in a wider trade surplus for Vietnam with the EU. Moreover, if ratified, the EVFTA's high standards and comprehensive approach should help accelerate Vietnam's economic reforms and global integration. Increased EU FDI to Vietnam as a result of the agreement could also lift Vietnam's growth further than the estimate, considering that the EU's FDI to Vietnam has averaged just less than US$800m between 2010 and 2017.
Particularly, Vietnam's textiles and footwear sectors are expected to benefit most from the agreement. Vietnam's exports of textiles and footwear to the EU totaled nearly US$9 billion in 2018. Meanwhile, EU weighted average tariffs on these products are currently as high as 9%.
These tariffs would be removed in three years or directly upon entry into force of the EVFTA for less sensitive products. Meanwhile, EU tariffs on more sensitive textile and footwear products would be removed after five to seven years.
However, the strict rules-of-origin for textiles imports into the EU could dampen the trade benefits for Vietnam, given that the majority of primary materials for its textiles are imported from elsewhere. The agreement, for instance, requires the fabric from which garments are made to be woven in Vietnam, the EU, or South Korea, which has FTAs with both Vietnam and the EU. This emphasizes the need for Vietnam to fully develop its own textile manufacturing industry to take full advantage of the agreement's benefits, HSBC analysts stated.
For the EU, one of the biggest beneficiaries will be its machinery and appliances sector. This is the EU's largest export to Vietnam in value terms, and it is currently faced with weighted average tariffs of 3.0%. Vietnam has committed to withdraw tariffs on almost all EU exports of machinery, appliances, and textiles as part of the agreement.
​
Around half of EU pharmaceutical exports will also be able to enter Vietnam duty-free immediately after the agreement is ratified. Moreover, the EVFTA will act as an important stepping stone for the EU to negotiate a wider trade deal with the rest of Southeast Asia – a deal that it has been working towards for nearly a decade. Hanoitimes