A group of major shareholders of Vietnam Export Import Bank (Eximbank) has sent a letter to the office of the board of directors requesting a meeting to consider the dismissal of the chairperson for the second time.
Eximbank announces new Chairwoman of Board of Directors
Eximbank embattled after scandals
Assets of King of Shrimp family reduce sharply after Eximbank scandal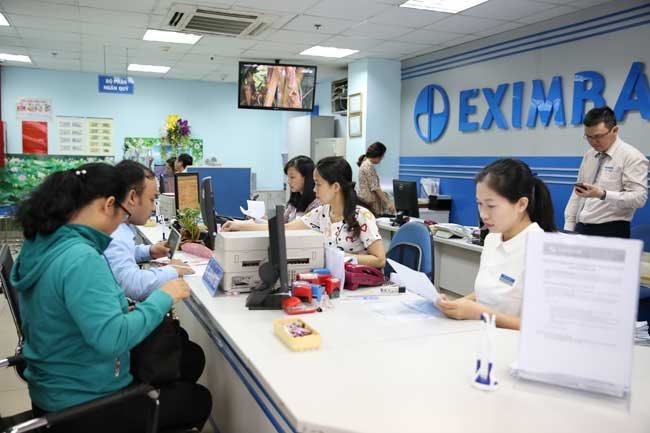 Customers transact at an Eximbank office in HCMC in this file photo. A group of major shareholders of Eximbank has called for the dismissal of the chairperson for the second time
On April 5, five board members, Dang Anh Mai, Hoang Tuan Khai, Cao Xuan Ninh, Yasuhiro Saitoh and Yutaka Moriwaki, asked the board to hold a meeting under the Enterprise Law and the charter of Eximbank.
The meeting was aimed at making decisions, including reshuffling the leadership; dismissing chairman Le Minh Quoc; electing a new chairperson; and extending Le Van Quyet's time in his role as general director.
Earlier, the bank issued Resolution 112/2019/EIB/NQ-HDQT on the appointment of Luong Thi Cam Tu as the chairwoman of the bank to replace Quoc.
However, the HCMC People's Court ordered Eximbank to suspend the adoption of the resolution a few days later.
On April 4, the supervisory board of the bank issued a notice asking board members to fully carry out their duties.
The chairperson was told to call a meeting to resolve all urgent issues as well as other problems as suggested by board members.
However, the board failed to organize the meeting as requested. On April 23, or 15 days after receiving the petition to arrange the meeting, the shareholders called for another meeting on May 6 to look into Resolution 12 and other issues.
The bank is expected to hold the 2019 annual general meeting on April 26. SGT