Vietnam should intensify efforts to develop renewable energy in an effort to participate in this indispensable worldwide trend, said Nguy Thi Khanh, director of the Green Innovation and Development Center.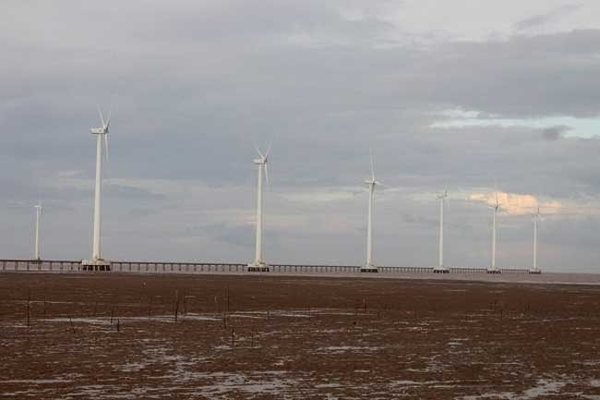 Wind turbines at a wind farm in the Mekong Delta province of Bac Lieu
Speaking at a seminar on opportunities and challenges for the Mekong Delta in the transition to sustainable energy, held in An Giang Province on September 20, Khanh said that coal-fired thermal power plants have suffered a setback, whereas renewable energy projects have been mushrooming. The capacity of coal-fired thermal power plants has declined over the past three years.
In addition, construction of multiple coal-fired thermal power plants has fallen behind schedule, or the proposed sites for plants have yet to be determined.
These projects, however, can meet only 15% of the planned capacity for the 2016-2030 period, Khanh noted, citing the report, "The progress of power projects in the adjusted National Power Development Plan VII," issued in June by the Ministry of Industry and Trade.
Additionally, many localities have proposed the Government withdraw coal-fired thermal power projects from the adjusted National Power Development Plan VII. For example, Long An has sought approval to convert its coal-fired power center to one that uses liquefied natural gas. Bac Lieu has also received the Government's permission to cancel the planned Cai Cung coal-fired thermal power plant.
Meanwhile, by late last year, eight wind power plants, with a total capacity of 243 megawatts, and 10 biomass power plants, with a combined capacity of 212 megawatts, had been put into operation.
Also, as of June, the prime minister had approved an additional 130 solar power projects, offering a total capacity of 8,500 megawatts. More than 100 projects had signed power purchase agreements with Vietnam Electricity Group.
After available incentives on the price of electricity generated by slower power plants were applied, 82 solar power projects, with a total capacity of nearly 4,500 megawatts, were put into commercial operation, which is a fivefold increase over the planned capacity.
Solar power plants have accounted for 5% of the nation's total power capacity. Yet this proportion remains modest, compared with the world's 33%.
However, the country has plans to promote the development of renewable energy projects, setting a target to produce 800 megawatts of wind power and 850 megawatts of solar power by 2020. The figures are expected to increase to 6,000 megawatts and 12,000 megawatts by 2030, respectively.
Trung Chanh
According to experts, national energy transition process requires comprehensive and synchronised policies. 

Waste-to-energy technology is a feasible solution for the solid waste crisis in Vietnam's major cities, local authorities have said.