The U.S. Department of Treasury's decision to label Vietnam as a "currency manipulator" is not satisfactory given the country's real conditions.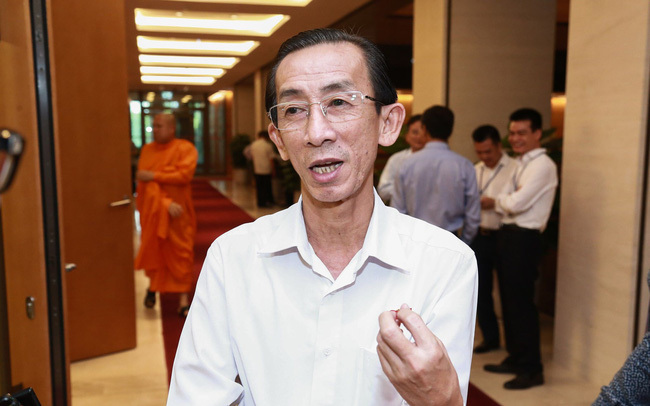 Dr. Tran Hoang Ngan, Director of Ho Chi Minh City Institute for Development Studies
 
Dr. Tran Hoang Ngan, Director of Ho Chi Minh City Institute for Development Studies said Viet Nam is one of most open economies in the world and the country reported more annual trade deficit than trade surplus since it joined the World Trade Organization on 2007.
Viet Nam has expanded trade ties to than 230 countries and territories, signed over 90 free trade agreements and nearly 60 investment encouragement and protection, 54 agreements on double taxation avoidance and dozens of bilateral cultural cooperation agreements.
In 2020, global trade has been seriously affected by the Covid-19 pandemic. However, Viet Nam could gain trade surplus of around US$20 billion thanks to successful management of the pandemic and great endeavor of exporters.
Ngan said Viet Nam's export and import values rose significantly at the same time. If the country tries to devalue its Dong as argued by the U.S Department of Treasury, prices of imports will be higher, thus creating no advantages.
He expressed his belief that maintaining stability and consolidating investors' confidence is more beneficial to Viet Nam than trying to devaluate the Dong.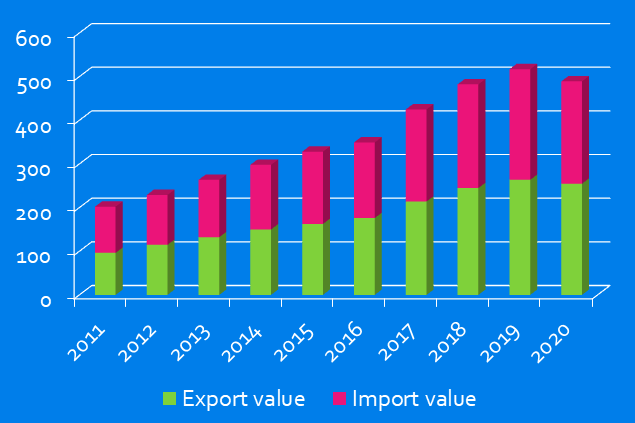 Export-import value (billion usd) from 2011-2019 and first 11 months of 2020. Data source: General Statistics Office
Nguyen Tri Hieu, a finance-banking expert, said as an export-driven economy with low average income per capita, Viet Nam has to pursue pro-export growth strategy, thus trade surplus, if any, is a natural outcome and policy.
In the past, the Vietnamese economy had experienced instabilities due to high inflation and devaluation of the Dong. This is why the Vietnamese Government has consistently regarded macroeconomic stabilization as its top priority.
In his working session with the U.S. International Development Finance Cooperation (DFC), Prime Minister Nguyen Xuan Phuc reassured that the Government places top priority on macroeconomic stabilization and consolidation of the confidence of people and investors.
The Government chief said devaluation of the Dong could only lead to great losses to the whole economy.
In fact, the State Bank of Viet Nam (SBV) has strictly followed the Government's guidelines to design monetary policies in favor of inflation control and macroeconomic stabilization.
If Viet Nam is not removed from the list of currency manipulators and the punitive tariffs are applied, made-in-Viet Nam goods will become more expensive.
Commenting on the Treasury's move, AmCham Executive Director Adam Sitkoff said "currency manipulation has not been an issue for our membership, and any potential action in the final days of this administration to harm Viet Nam's economy with punitive tariffs will damage the close partnership the two countries have developed over the years."
Sitkoff added that tariffs or other retaliatory measures could have broad commercial implications for American companies doing business in Viet Nam.
Regarding Viet Nam's US$100 billion foreign reserve, Ngan said the figure is quite modest in comparision with the yearly import value of US$260 billion.
The foreign reserve is only enough to cover three months long imports compared to five months in Singapore, eight months in the Philipines and the Republic of Korea, nine months in Thailand, and 14 months in China.
In recent years, the annual average inflation rate was around 4% compared to less than 2% in the U.S, therefore it is understandable that the Dong weakened by 1%-1.5%
As an open economy, Viet Nam needs sufficient foreign reserve to ensure safety against external shocks and the central bank's purchase of foreign currency only aims to serve such need.
On current account, Viet Nam's total trade surplus with the rest of the world stood at about US$5-10 billion a year, with exception of US$20 billion in 2020. VGP

The State Bank of Vietnam (SBV) said on December 17 that its management of exchange rate in recent years, within the general framework of monetary policy,

The US Treasury Department's labelling of Vietnam as a currency manipulator is biased, as it is only based on US standards and lacks suitable consideration as well as recommendations from international organisations, according to experts.