Vietnam's machinery and equipment market has achieved solid growth in recent years and the momentum is expected to continue, making the country increasingly attractive to foreign investors, experts have said.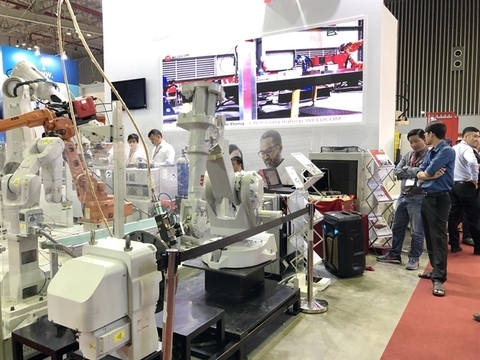 A booth displaying robotic technology at the 2019 Metalex Vietnam.
Vu Trong Tai, general manager of Reed Tradex Vietnam, the organiser of Metalex Vietnam, an annual international exhibition on machine tools and metalworking solutions, said machinery and equipment sales could grow by 12-14 per cent this year.
The rapid industrial development was the reason for the strong demand for machinery, equipment and technology, he said.
Viet Nam had emerged as an attractive investment destination, and many foreign investors had shifted their factories to the country, he said.
"Many bilateral and multilateral free trade agreements that Viet Nam has signed has helped the country become a Southeast Asian manufacturing hub, and investors who pull out of China will target Viet Nam as a leading location."
"The demand for automotive machinery is evolving and production standards are getting higher.
"This is a challenge for local manufacturers, requiring them to keep up to date with the latest technologies and solutions so that they do not miss the business opportunity."
Steven Chen of Yorkers Trade and Marketing Service Co., Ltd, the organiser of the annual Viet Nam International Woodworking Industry Fair (VietnamWood), said: "Viet Nam has a rapidly growing wood industry. Moreover, thanks to the growth in exports to the US and the signing of the EU-Viet Nam Free Trade Agreement and the CPTPP, there will be a lot of orders for Vietnamese wood processing enterprises.
"And Viet Nam will surely be a great market for woodworking machinery and equipment."
In the beginning Taiwanese companies accounted for 80 per cent of the space at the VietnamWood expo, but in recent years many companies from leading woodworking machinery exporting countries such as Italy, Germany, Austria, China, Spain, and the US have been taking part, according to Chen.
Technology 4.0 and the internet of things are being adopted by the wood industry too, helping firms improve productivity, save resources and optimise the value chain.
Fourteen Japanese companies led by the Tokyo SME Support Centre participated in METALEX Vietnam held this month in HCM City, looking for potential customers for their products.
H. Hankirigawa, who is in charge of promoting international trade at the Tokyo SME Support Centre, said there was an increase in manufacturing plants in Viet Nam and that was one reason why Japanese SMEs wanted to enhance supply of their machinery in the market.
Recently 32 Italian companies that design and manufacture machinery, equipment and technologies for footwear production, leather goods and tanning had showcased them at a leather product exhibition.
Paolo Lemma, Italy's trade commissioner, said most of the companies participating in the exhibition had suppliers, agents or representative offices in Viet Nam, and were looking for more opportunities and new partners.
He said Italy's export of footwear and leather machinery to Viet Nam increased 10-fold between 2013 and 2018.
With local machinery and equipment manufacturing not developing much, Vietnamese companies are forced to depend on imports.
According to the General Department of Vietnam Customs, the country imported US$26.8 billion worth of machinery in the first nine months of the year, a year-on-year increase of 12.3 per cent, mainly from China, South Korea and Japan.
According to businesses, there is fierce competition among machinery suppliers.
Tai forecasted machinery demand to remain at current levels or even increase to 12-17 per cent in the next five years. — VNS

Nguyen Phuong, sales director of Minh Thanh Co., Ltd, said his company plans to invest more than 50 billion VND (2.15 million USD) in a production chain for bedroom and living room furniture.

E-commerce firms are now gathering strength for more costly investments rather than focusing on ads and promotions.