Experts, scientists and architects agreed that a construction boom along the Han River over past decade had impacted on the river flow, erosion and floods, and could result in environmental tragedy in the future.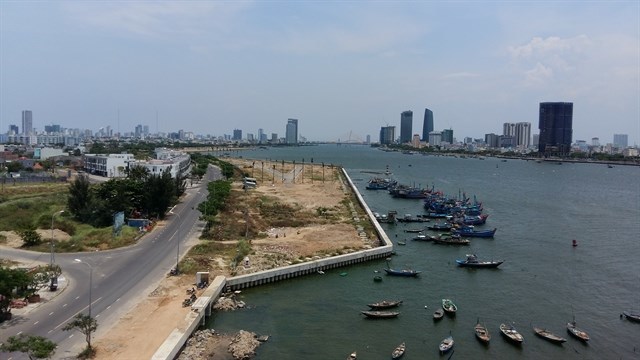 The Marina Complex on the backfilled Han River in Da Nang
The above opinions were discussed at a conference on the development of real estate projects in the central city yesterday following public concerns of construction projects.
The conference, which was hosted by the city's Fatherland Front, heard reports from scientists and experts reviewing the environmental impacts development projects exert on the east Hàn River.
Architect Hoang Su, from the city's architecture and planning association, said 2,000ha of land, lakes and ponds in the Han River upstream – which used to contain 60 million cu.m of flood water – had been cleared for the development of 10 urban and property projects in the past 10 years.
He added that urban and property projects including Nam Viet A and booming high-rise buildings along the Hàn River had occupied large area of the river banks.
Chairman of the city's architecture and urban association, Phan Đức Hải, said some projects had narrowed the Hàn Estuary from 700m down to 560m or even 500m.
"Như Nguyệt Road had taken up 100m of the river to the west, while a seafood processing zone had taken 200m down the river to the east. New urban and living quarters had been built on the backfilled river expansion area from 2005-12," Hai said.
He urged for an independent reassessment on the environmental impact of the property projects.
He also asked for transparency regarding reassessment information of these projects.
Tran Van Thiet, vice chairman of the city's union of science and engineering organisations, raised his doubts about the legality of the Marina Complex as it had been adjusted four times between 2009-17.
He said the city had reduced the scale of the project from 17.5ha to 11.7ha.
In the final adjustment decision in 2017, the city reduced plans for the project from 13 towers to two towers and 57 villas.
Nguyen Thi Nhu Loan, CEO of Quoc Cuong Gia Lai Company, said the Marina Project had been reduced by 40 per cent from the city's initial approval in 2011.
She said the area for public transport and parks was increased from 0.7ha to 2.4ha in the final plan in 2017.
He said the project had completed infrastructure and river dykes for the project.
Vice chairman of Da Nang City's People's Committee, Dang Viet Dung said the city had asked relevant departments and agencies to check and inspect the legal framework and environmental impact of property projects on the Hàn River.
Dung said the city would submit detailed reports on the project to the Prime Minister soon. — VNS