Vietnam needs to remain cautious over trading with the US as with the risk of being named as currency manipulator by the latter has not faded away, according to economist Le Dang Doanh.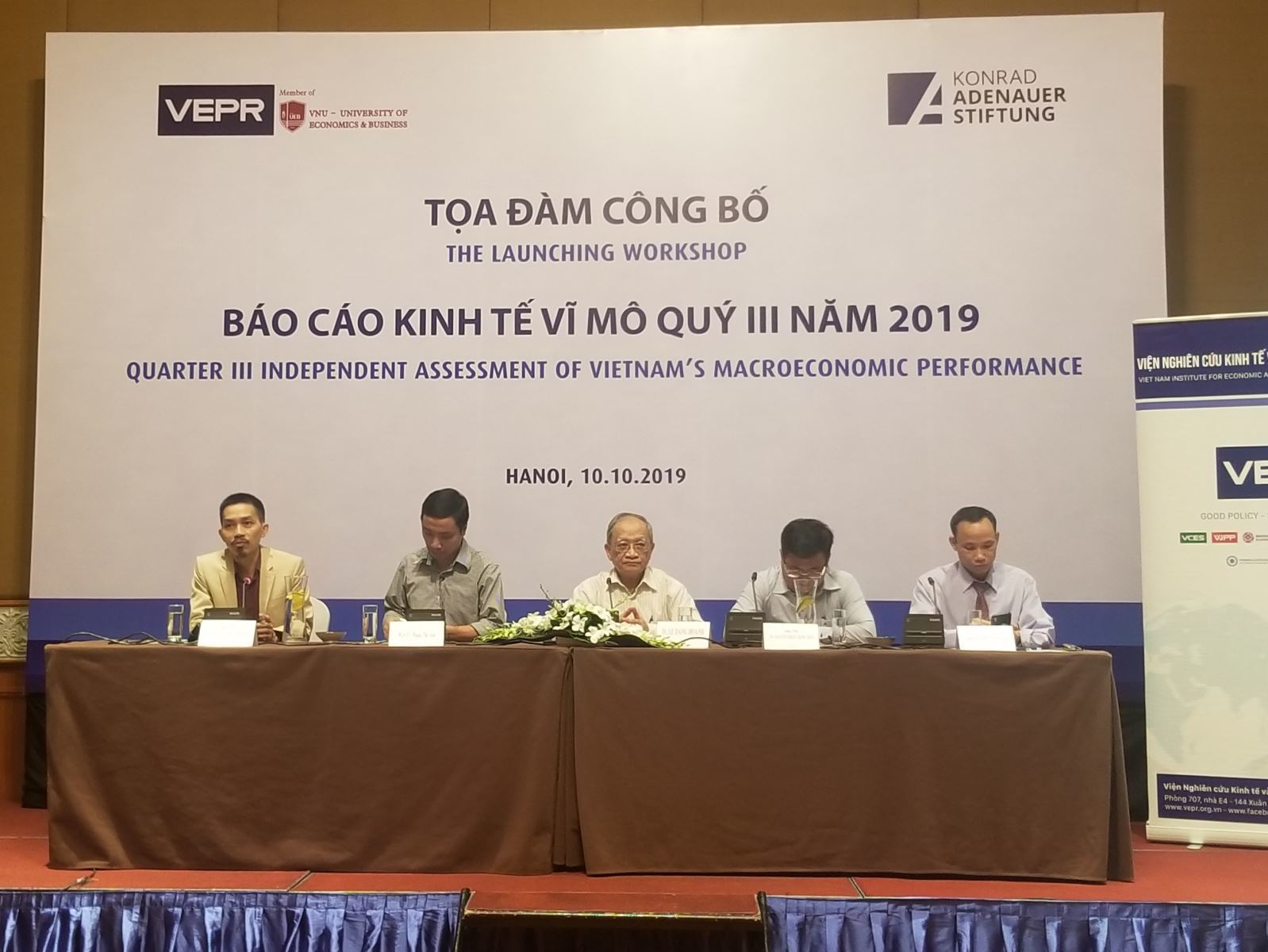 Overview of the workshop.

"Vietnam has been included in the US watchlist of currency manipulation, so in the worst scenario, the US would impose additional import tariffs and cause negative impacts on Vietnam's exports," Doanh told Hanoitimes at the launch of the Vietnam Institute for Economic and Policy Research (VEPR)'s quarterly macroeconomic report on October 10. 
As part of the solution, Doanh recommended Vietnam to build up economic resilience and competitiveness by "pushing for stronger institutional reform, ensuring transparency and fairness during the process."
Elaborating on the issue, Nguyen Duc Thanh, director of VEPR, said there have been unfavorable signs for Vietnam.
Data revealed Vietnam's exports to the US climbed 27% year-on-year to US$39 billion in the first eight months this year. In the third quarter, Vietnam has become one of seven economies having the highest export turnover to the US, Thanh said, questioning whether an increase in exports to the US is truly beneficial to the domestic market. 
This was due to the fact Vietnam's exports are highly dependent on the FDI sector, which accounted for nearly 70% of the country's export turnover in the January – September period. Additionally, 70% of raw materials used for Vietnam's textile and garment sector are bought from China, while the country has also become an intermediary market for foreign goods subject to later export, such as Thailand's agricultural products. 
Moreover, the country's foreign exchange reserves have been increasing lately and reached US$71 billion, Thanh said, adding all these factors are pushing Vietnam to the threshold of being named as currency manipulator. 
"This requires the State Bank of Vietnam (SBV) to remain focused in managing the monetary policy flexibly and objectively," Thanh continued. 
"The authority should avoid devaluing the Vietnamese dong to boost trading activities at present," he stressed. 
Vietnam's GDP growth forecast at 7.05% in 2019
On the prospect of Vietnam's economy in the remaining months of 2019, Thanh expected the GDP growth to expand at 7.26% in the fourth quarter, slightly lower than the country's nine-year high of GDP growth rate at 7.31% in the previous quarter. 
This would result in a 7.05%-economic expansion for the year of 2019, he said.
Thanh said Vietnam still has to improve capabilities of absorbing the foreign capital inflow shifted from China amid uncertainties surrounding the US – China trade friction, as well as opportunities that come from the Comprehensive Progressive Trans – Pacific Partnership (CPTPP) and the upcoming EU – Vietnam Free Trade Agreement (EVFTA). 
Thanh warned the capital from China on one hand is having positive effects on jobs and economic growth, but it could put Vietnam at risks of environmental pollution and influx of foreign workers. 
"This is particularly important as Vietnam is under the process of economic restructuring to raise environmental standards and working conditions to fulfill commitments under the EVFTA," Thanh stated. 
"It has come to the point that Vietnam needs to revise tax incentives and land policies for FDI companies towards the establishment of fairer business environment for domestic companies," Thanh asserted. 
Disbursement of FDI projects in Vietnam totaled US$14.22 billion between January and September, representing an increase of 7.3% year-on-year. Meanwhile, FDI commitments during the period totaled US$26.16 billion, up 3.1% year-on-year. 
Statistics from the Foreign Investment Agency (FIA) under the Ministry of Planning and Investment showed that out of 109 countries and territories investing in Vietnam in the nine-month period, Hong Kong (China) took the lead with US$5.89 billion. South Korea came second with US$4.62 billion while the third and fourth places belonged to Singapore and Japan with US$3.77 billion and US$3.06 billion, respectively. Hanoitimes
Ngoc Thuy

To attract more investment, especially from overseas, HCM City needs to renovate and reform its export processing zones (EPZs) and industrial parks (IPs), Tran Quang Truong, general director of Tan Binh Industry Park said.  

Southeast Asia including Vietnam have emerged as destinations for investors in the reallocation of investment flow, especially capital flow from China.

Industrial zones (IPs) and economic zones (EZs) attracted 397 foreign direct investment (FDI) projects with estimated registered capital of US$10.1 billion in the first nine months of this year.