Farming in Vietnam has become more digitized, which has eased the workload and increased sales of products to people who live in other localities.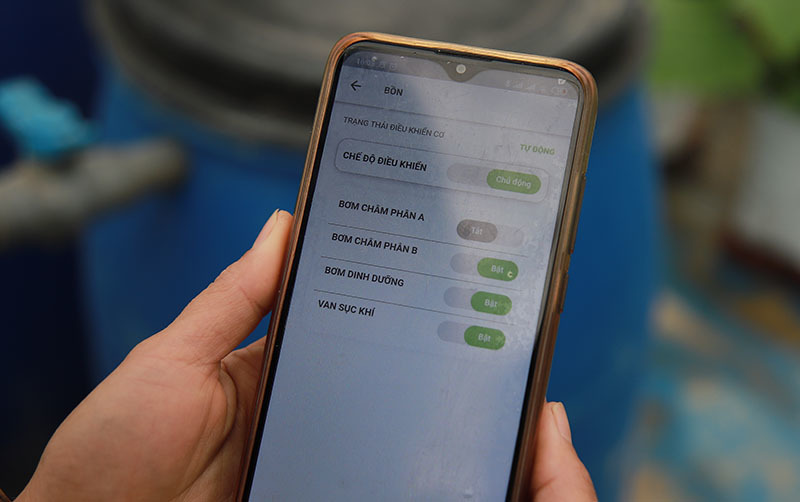 In recent years, produce was often thrown away by farmers in harvest seasons because it could not be sold. Farm-produce "rescue" campaigns were then started by local authorities, ministries and individuals.
However, for many farmers, this is no longer a concern thanks to digitization.
Le Thi Dung, a farmer in Yen Khanh district in Ninh Binh province, said she understands the problems that farmers have faced, because she had to donate some of her unsold produce to schools and pagodas many times.
In 2000, Dung began buying fields and land to organize large-scale agriculture production.
But when Dung started, a lot of the work had to be done manually, which brought low efficiency, while her products did not sell because of the weak brand.
Realizing the importance of technology in agricultural production, Dung became one of the first farmers to use information technology in their farms.
The system measures and gives information about the status of the soil and environment, and suggests the time for watering and lighting, depending on the development stage of crops.
The data collected by sensors is transferred to the central processing unit. The system analyzes the data and gives commands on the spot. There is no need to wait for the host. This hastens the regulation of the systems of irrigation, air conditioners and other instruments.
The system maintains normal operations even if there is no internet connection to the host.
Dung uses control boards or apps on smartphones to supervise all production activities and make timely decisions anywhere and at any time.
The entire process of fertilizing, watering and taking care of crops is recorded automatically.
Asked about the efficiency of the new model, Dung said in the past she had to hire 20 workers or even 40 workers in peak times, but now 10 workers are enough.
The key products of Dung's farm are supplied to Ninh Binh, Hanoi and Hai Phong, available at retail chains that sell safe produce and are also used for export. The annual revenue of the farm has been VND19 billion in the last two years.
Analysts say that digitization has important significance for Vietnam, as 68 percent of the population works in the agriculture sector. 
Duc Anh - Duc Yen

Hai Duong's first farm produce, including cabbage and chicken eggs, are being sold on voso.vn, an e-commerce website, while an online stall distributing Hai Duong's produce has been set up.

After Hai Duong, the country's Covid-19 epicenter, imposed social distancing beginning at midnight on February 16, distribution of nearly 100,000 tons of farm produce was disrupted.