Competition between seaports is set to increase in 2020 when more ports open.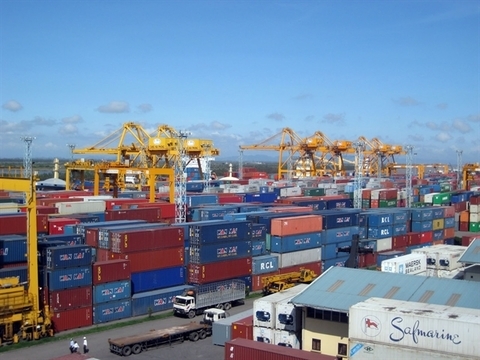 Cat Lai Port in HCM City.
The volume of international cargo that passed through ports in the first nine months of 2019 increased by 6 per cent year-on-year, lower than the 8 per cent rate in 2018 and 9 per cent in 2017.
Except for very large ports like Cat Lai in HCM City, most of the others faced intense competition, and have adopted various measures to retain customers, analysts at SSI Securities Corporation said.
The demand for domestic transport was weak, and so costs did not change much through the year and averaged VND2-2.5 million (US$86.4-107.9) per TEU from Hai Phong to HCM City.
On international routes, the rate increased by 7 per cent for crude oil transport but the dry cargo rate did not change.
SSI forecast that in 2020 the international container volume handled by ports would increase by only 6-7 per cent and ports' revenues by 3-5 per cent this year, with the profit margin likely to remain unchanged due to the increasing competition.
IMO 2020
According to experts, the shipping industry will encounter difficulties this year because of a new global cap by the International Maritime Organisation (IMO) on sulphur content in marine fuels.
From January 1 ships on international routes are required to use fuels with a sulphur content of 0.5 percent m/m or lower
A low supply of such fuels has pushed up their prices sharply, and understandably transport companies operating on international routes are hit in the short term, SSI said.
The SSI analyst team forecast that many vessels used internationally could return to the domestic market if they are unable to meet the IMO requirements or incur losses by meeting the new requirement, bringing huge pressure on the shipping market.
The EU-Viet Nam Free Trade Agreement, which is expected to take effect in the second half of the year, and the increase in FDI inflows would create demand for B2B and marine transport services, it said.
Nguyen Ngoc Hue, president of the Viet Nam Association of Ports-Waterways-Offshore Engineering, said marine transport plays a very important role in the country's economy.
Marine transport accounts for just 5.2 per cent of domestic cargo share, but more than 92 per cent of imports and exports.
Nguyen Xuan Sang, director general of the Viet Nam Maritime Administration, said seaports such as Cai Mep - Thi Vai and Lach Huyen could berth the world's largest ships of up to 194,000 tonnes and capacity of 18,300 TEUs.
He dismissed fears of over capacity.
"With Viet Nam joining free trade agreements, the volume of goods through its ports in the coming years is expected to grow by 12-15 per cent a year, and so investment to increases their capacity is urgently needed." — VNS

With the support of the two governments, Vietnam's oil and gas industry is expected to continue developing strongly.

Vietnam will develop a seaport master plan for 2021-30, with an aim to enhance infrastructure connectivity, reduce logistics costs and promote marine economic development.