Japanese investors continued to demonstrate their confidence in the Vietnamese real estate market with recent involvement in new large-scale projects.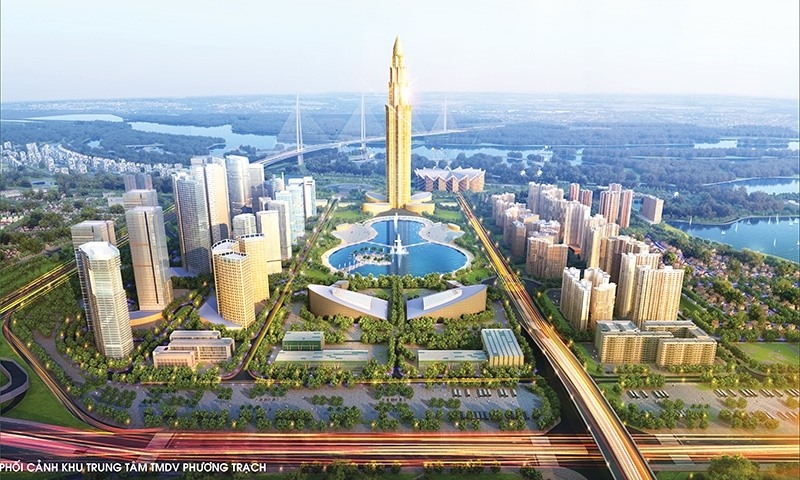 Japanese investment in Vietnamese real estate remains intense 
At the start of the year, two Japanese groups, Mitsubishi Corporation and Nomura Real Estate Co., Ltd, announced plans to co-operate with Vinhomes (a subsidiary of Vingroup) to develop the second phase of the Grand Park urban development area, located in District 9 of Ho Chi Minh City.
The two groups acquired an 80 per cent majority share in a $908 million joint venture to develop 21 residential towers in Vinhomes Grand Park, providing more than 10,000 apartment units.
Mitsubishi and Nomura are familiar to Vietnam's real estate market, with their latest investment representing an expansion of their portfolio.
As announced in its Midterm Corporate Strategy 2021 report, Mitsubishi is strengthening its service and downstream businesses to optimise its business portfolio. Through this project, Mitsubishi aims not only to develop condominiums, but also to combine various services and functions that will enhance the town's value and its own urban-development operations.
In 2017, the company joined forces with Phuc Khang Corporation to develop the Diamond Lotus – a green residential project in Ho Chi Minh City.
Prior to this, Mitsubishi set up a joint venture with domestic Bitexco Group to invest $290 million in The Manor Central Park, a residential real estate project in Hanoi's Hoang Mai district.
Meanwhile, Nomura has positioned overseas business as one of its growth fields. Under its new medium- to long-term management plan, which runs until 2028, the company plans to invest approximately ¥300 billion ($2.7 billion) in overseas businesses.
It is looking to aggressively expand its own overseas businesses, both by breaking into new countries and stepping up development in countries where it already has a strong presence, such as Thailand, Vietnam, the Philippines, and China.
In 2015, Nomura Real Estate Development Group worked with Daiwa House Industry, Sumitomo Forestry Company, and Phu My Hung Development Corporation to develop the Midtown complex in District 7 of Ho Chi Minh City, with the total investment capital of $220 million.
In June last year, the group also set up Nomura Real Estate Vietnam with offices in Ho Chi Minh City. They followed this by acquiring both the 14-storey Zen Plaza building and the company which owned it. The deals follow Nomura's purchase of a controlling interest in Sun Wah Tower, the company's second office rental building in the city.
Japanese investor Sumitomo's Asia and Oceana Group have also partnered with BRG Group to develop a $4.2 billion smart city in Hanoi – the biggest smart city project carried out in Vietnam.
Domestic investor Nam Long has co-operated with two Japanese investors – Hankyu Hanshin Property Corporation and Nishitetsu Group – to develop a range of high-quality residential projects such as Flora Anh Dao, Fuji Residence, Kikyo Residence, Mizuki Park, Akari City, and Waterpoint.
A vast range of other Japanese investors are also teaming up on investment projects with Vietnamese partners in the country, such as Creed Group, Samty Asia Investments, and Kajima Group.
Potential remains huge
According to Akihiko Iwatani, chief representative of Haseko Corporation, Vietnam is one of the most attractive destinations for Japanese investors while the real estate market in other neighbouring countries has become more saturated.
"Foreign investors prefer to invest in apartment units, since the demand for accommodation in Vietnam is now very high in major cities such as Hanoi and Ho Chi Minh City. For Japanese financiers who want long-term investment, hospitality and office rentals are their preferred fields," Iwatani said.
According to Luu Thi Thanh Mau, CEO of Phuc Khang Corporation, in the last three years a number of Japanese groups have met with her to discuss potential investment. Among them were Sumitomo, Taisei, Haseko, and Mitsubishi.
"Japanese investors are actively increasing their involvement in the Vietnam real estate market, which has high potential for long-term investment," said Mau.
She added that Phuc Khang would not be able to set up green projects without co-operation from Japanese partners. "Co-ordinating with them is crucial for domestic developers like us, to improve the quality of Vietnam's urban areas with modern and sustainable solutions," she added.
Nguyen Huu Quang, Netland's deputy general director, noted that by collaborating with Japanese partners, Netland can find financial sources with lower interest rates compared to banks.
Netland so far boasts three strategic partners – Sanei Architecture Planning Co., Ltd., G-7 Holdings Inc., and Anabuki Construction Inc. – to invest in a range of projects in Ba Ria-Vung Tau, Long An, Can Tho, Binh Thuan, Danang, and Nha Trang.
Le Hoang Chau, chairman of the Ho Chi Minh City Real Estate Association, said that there is still enormous opportunity for co-operation between Ho Chi Minh City and Japanese property developers and construction companies, as the city now has some 1,200 projects underway, including infrastructure upgrades and beautifying works.
"Japan is known for creating efficient and successful small metropolitan towns, and they are confident they can do the same in Vietnam," said Chau. "Not only is building these satellite towns a wise business choice for Japan, but it has also expressed interest in Vietnam. The building of smart cities is attractive for investors, the government, and potential residents."
Increasing demand
In a recent visit to Vietnam hosted by the Vietnam Real Estate Association (VREA) at the end of 2019, Shirahama Manabu, a representative from Japan's Ministry of Land, Infrastructure, Transport, and Tourism, spoke about Japanese interest in the Vietnamese real estate market. "Before coming to Vietnam, we had gathered information about the real estate market and projects which are on offer, as well as the country's new legal framework for foreign investors and individual house ownership," Manabu said.
According to Nguyen Tran Nam, chairman of the VREA, Japanese investors are more experienced in property development and have expertise which can be applied to Vietnam.
"Vietnam's property market has potential for short, mid, and long-term investment. The nation has a population of nearly 100 million, 37 per cent of whom live in urban areas," said Nam. "Due to industrialisation and rapid urbanisation, there are more than one million people moving from rural to urban areas, resulting in an increase in the housing demand."
He stated that the major demand is now focused on mid-range and reasonably-priced housing, which is currently in very low supply. "The Vietnamese government is now tightening domestic investment flow into real estate, providing a chance for foreign investment flow into the country. Japanese investors should take advantage of this opportunity," Nam said.
Vietnamese developers also expressed their deep interest in finding a Japanese partner to develop residential projects which have investment capital of around $200 million, or mid-range residential projects on the outskirts of Hanoi and Ho Chi Minh City with the investment capital of $200-300 million each.
Japanese investors, however, are only usually interested in projects with full legal status which already meet the conditions for starting production. They also want to bring a new form of property to Vietnam; the oldotel. This is high-quality resort-style accommodation designed to specifically cater for the elderly.
According to a report from the Foreign Investment Agency under the Ministry of Planning and Investment, Vietnam lured $38 billion in foreign direct investment in 2019, up 7.2 per cent on-year. Manufacturing and processing received the largest amount of investment (64.6 per cent of total pledges) followed by real estate (10.2 per cent).
Last year, South Korea was the main source of capital, followed by Hong Kong, Singapore, and China. Japan stood in fourth position with a total registered capital of $4.1 billion. VIR
Bich Ngoc

Tidy profits have motivated around 64 percent of Japanese firms in Vietnam to consider expanding their business in the Southeast Asian country, according to the Japan External Trade Organisation (JETRO).

Vietnam has been tapped by Japanese firms as the most promising place in Asia to invest in 2020, with India and Southeast Asian countries dominating other top spots, Kyodo News cited a survey as showing on January 8.