The Ministry of Industry and Trade urged firms to strictly comply with rules of origin to avoid negative impacts on exports amid escalating trade defence measures.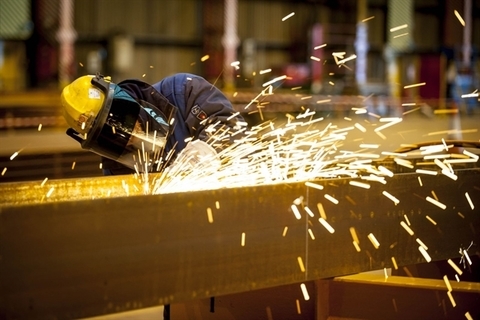 Steel is among products which often face tax evasion investigations. — File Photo
2019 saw increasing applications of trade defence instruments by a number of countries and regions around the world. The US-China trade war had not been showing signs of cooling down, which contributes to nations adopting protectionism.
The ministry said that Viet Nam was heavily affected by the trend due to its economic openness.
Statistics showed that as of the end of December 2019, there were 20 investigations of tax evasion initiated by foreign countries on Vietnamese export goods, or 12.6 per cent of the total number of cases for trade defence measures on Vietnamese export products.
Most of the tax evasion investigations were initiated by the US, the European Union and Turkey.
The ministry forecast that the trend of initiating tax-evasion investigations on Vietnamese export goods would increase, especially when Viet Nam starts to implement the EU-Viet Nam Free Trade Agreement, thanks to which many products from Viet Nam would enjoy zero tax rates.
Many products are shipped to Viet Nam before being exported to other countries to enjoy preferential tax rates, the ministry said.
Thus, firms must strictly comply with regulations related to origin of goods as well as developing a modern origin tracing system to meet requirements of foreign markets.
The ministry also urged firms to closely watch the market and report to the management agencies any unusual developments, to prevent any negative effects on local production.
In addition, firms should be cautious in investing in expanding production to prevent rapid rises in output, which would force firms to increase exports to certain markets as this might lead to investigations, the ministry said.
The US Department of Commerce in mid-December issued a final order slapping duties of up to 456 per cent on steel products produced in the Republic of Korea (RoK) and Taiwan, shipped to Viet Nam for minor processing then exported to the US. — VNS

International free trade agreements have opened up unprecedented opportunities for Vietnamese steelmakers with the industry forecast to see robust growth.