A Trans-Pacific transshipment service connecting the Hai Phong International Container Terminal (HICT) in northern Vietnam with the west coast of the US and Canada is now officially underway, shortening freight time by eight days.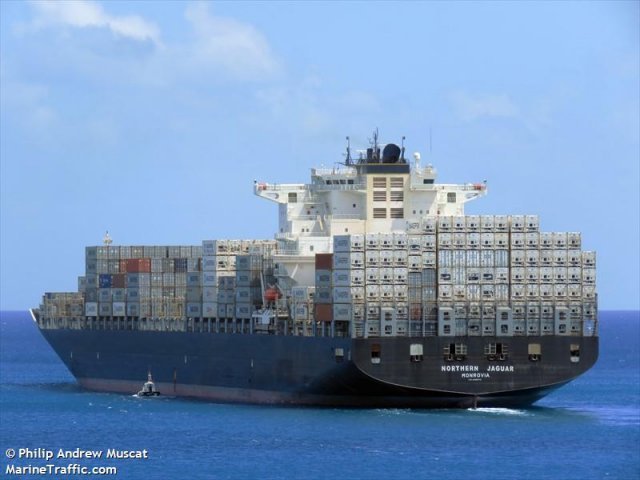 On the night of April 11, HICT welcomed the maiden call of mother vessel Northern Jaguar, deployed by Ocean Network Express (ONE) on the new PN2 transshipment service. Northern Jaguar is a large vessel operated by an alliance of ONE, Hapag Lloyd, and the Yang Ming Line on the trans-Pacific route and will make regular calls at HICT.
PN2 runs from HICT - Yantian - Tacoma - Vancouver - Kaoshiung - Singapore - Laem Chabang - Cai Mep. It cuts travel time from Hai Phong to the west coast of the US and Canada from 25 days to 17 days, calling at overseas transshipment hubs, and therefore helps customers significantly reduce their logistics costs and take the initiative in the delivery of goods, without facing risks at transshipment hubs.
Northern Jaguar, with a capacity of 8,814 TEUs, reaching Hai Phong expresses the efforts and determination of HICT staff and employees in improving the capacity and performance of the company.
The momentous event affirms HICT's capacity to berth large mother vessels and its position in Hai Phong's terminal operator market. It sets a milestone for container transportation via trans-ocean direct services, not only from HICT but also from the north of Vietnam to the US and European ports without transferring at transshipment hubs.
The deployment of this new direct service brings a complete change to the picture of maritime transportation in the north of Vietnam, which contributes significantly to reducing logistics costs, enhancing the competitiveness of Vietnam and its enterprises, and generating a driving force for investment attraction, especially FDI.
HICT is a joint venture between the Saigon Newport Corporation, MITSUI O.S.K Lines Ltd. (Japan), Wan Hai Lines Ltd. (Taiwan), and the Itochu Group (Japan), and began operations on May 13, 2018. It is the first deep-water terminal in the northern key economic region, with two main wharves 750 meters in length, a channel depth of 14 meters, a turning basin diameter of 660 meters, and a vessel draft at berth of 16 meters.
The terminal is equipped with modern facilities, including eight STS cranes, which are the largest in Vietnam, 24 eRTG cranes, and two slewing cranes for barge berths, along with the "TOPS-Expert" operations system and the "ePORT" and "eDO" electronic port systems. HICT can accommodate container vessels of up to 14,000 TEUs (160,000 DWT), with an annual container throughput of 1.1 million TEUs.
In the very near future, HICT will continue to welcome other direct services from Hai Phong to the west and east coasts of the US, India, the Mediterranean, and Europe, putting an international transshipment hub in the north of Vietnam on the map of transshipment hubs in the region and the world.
VN Economic Times