Vietnam's fishery exports are on the way to fulfil the target of US$8.5 billion in value in 2021, after hitting more than $4 billion in the first half of this year, 
on the recovery of consumption demand in major markets such as the US and the EU, according to the Ministry of Agriculture and Rural Development.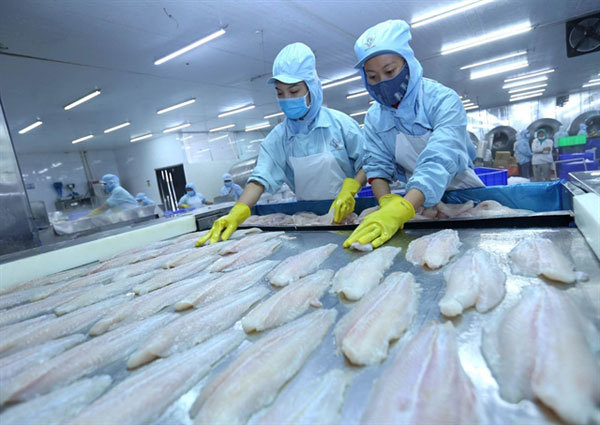 Tra fish processed for export at the Southern Fishery Industries Company Limited in Can Tho Province. Fishery exports were expected to hit US$9 billion this year.  — VNA/VNS Photo Vu Sinh
Statistics showed that Vietnam earned $4 billion from fishery exports in the first half of this year, representing a year-on-year rise of 13.6 per cent. The total fishery output was estimated at 4.1 million tonnes, up by three per cent against the same period last year.
This was a very positive result amid the COVID-19 pandemic, Nguyen Hoai Nam, deputy general secretary of the Vietnam Association of Seafood Exporters and Producers (VASEP), said. 
Exports of many seafood products were robust, such as shrimp and tra fish, Nam said.
At the end of June, the US Department of Commerce announced the final results of the 16th period of review for the period from August 1, 2018 to July 31, 2019 regarding Vietnam's frozen tra fish exported to the US.
Accordingly, the anti-dumping duty for two Vietnamese tra fish exporters Vinh Hoan and Nam Viet is zero per cent per year, which would help increase the competitiveness of Vietnamese fish products in the US.
VASEP said that this was a good opportunity to expand exports of tra fish to the US, adding that Vietnam was the top frozen tra fish supplier for the US market which accounted for 90.5-95 per cent of the US' tra fish import value.
Vietnamese tra fish products also saw good sales in China. Vietnam's tra fish held a market share of 26 per cent in China, the largest share among tra fish exporters to the country although there was signs of decline due to the impacts of the COVID-19 pandemic.
Other markets also saw good consumption of Vietnamese tra fish products, including Mexico, Brazil, the UK, Thailand, the Netherlands, Colombia and Russia with triple-digit growth rates of 100-450 per cent. The association said that these were potential markets for Vietnam's tra fish exports, which would help make up for the decline in the Chinese market.
Besides tra fish, other seafood products also saw good export revenue in the first half of this year, such as tuna with revenue of $364 million, a year-on-year increase of 24 per cent, squid and octopus with $277 million, up by 15 per cent and other fishery products at $847 million, up by 13 per cent.
Truong Dinh Hoe, VASEP's General Secretary, said that the exports of squid, octopus and tuna increased significantly in most major markets of Vietnam. In recent months, the US increased tuna imports from Vietnam by 1.5 times against a year ago. The US market was importing 43 per cent of Vietnam's tuna.
Tuna exported to other markets also saw good growth, such as Italy by 122 per cent, Israel by 37 per cent and Canada by 62 per cent.
Squid and octopus exports to the Republic of Korea, which accounted for 41 per cent of Vietnam's squid and octopus exports, saw increases of around 7-8 per cent.
Squid and octopus to Italy saw rapid expansion by 170 per cent in recent months, with nearly 70 per cent in the first half of this year.
Hoe stressed that there was significant potential for squid and octopus exports in the coming months.
Deputy Minister of Agriculture and Rural Development Phung Duc Tien said that the fishery industry would continue to reduce the number of fishing boats and fishing output, especially inshore fishing, with an aim to conserve fishery resources and at the same time to tackle illegal, unreported and unregulated fishing to remove the EC's "yellow card" and contribute to building a sustainable seafood industry.
Vietnam's fishery exports totalled $8.6 billion last year. 
Source: Vietnam News

Vietnam exported 160 tonnes of frozen shrimp products to the US, Europe and Japan on January 5, its first seafood consignment of the year.

Despite facing difficulties due to the COVID-19 pandemic, seafood exports last year were estimated at US$8.58 billion, the same as in 2019.