Education start-up Gotit, which has operations in Vietnam, recently mobilised US$12.5 million from some US funds.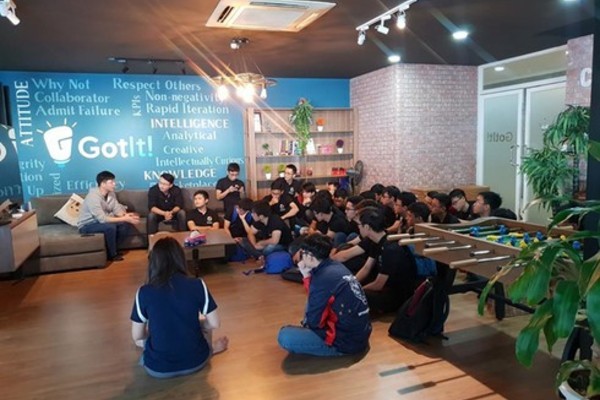 Students meets with Hung Tran, founder of education start-up Gotit. — Photo Gotit
In 2016 it had raised over $9 million in seed and series A funding to build on its on-demand platform for knowledge.
It then became a partner of Microsoft Office.
Another education start-up, ELSA Speak, which stands for English Learning Speech Assistant, a mobile phone application that utilizes artificial intelligence to help non-natives with English pronunciation, recently beat 1,200 competitors to win the first prize at SXSWedu, a competition for education technology start-ups in the US. It uses artificial intelligence to help users improve their English pronunciation.
ELSA Speak has raised over $15 million and has around four million users in more than 100 countries and territories around the world and was listed as one of 13 promising tech startups in Southeast Asia by the South China Morning Post.
Late last month Vietnamese education start-up Everest Education raised $4 million in a Series B round led by Hong Kong private-equity fund Hendale Capital, according to media reports.
The round also saw the participation of venture capital fund Viet Capital and Singapore's Nullabor.
Early last month Singapore- and India-based education fund manager Kaizen Private Equity (Kaizen PE) decided to invest $10 million in YOLA, a Vietnamese ELT service provider backed by local PE firm Mekong Capital.
All these start-ups have some common features: their projects have high applicability, they are developing e-learning or EdTech, and their initiators are all Vietnamese.
GoTit! was founded by Dr Tran Viet Hung and Elsa Speak by Van Dinh Hong Vu and Ngo Thuy Ngoc Tu.
What accounts for this sudden interest among foreign investors in Vietnamese edtech start-ups?
Vietnam and some other countries like India, the Philippines and Mexico, which face major population pressure, have had to opt for e-learning to keep up with the education levels in developed countries.
Vietnam's e-learning market is valued at $2 billion by experts and has enormous potential, thus attracting young people who are strong in digital technology.
Ten years ago some companies pioneered e-learning and achieved reasonable success, including Violet.vn, Hocmai.vn and Topical, who have millions of followers.
The quick success of the edtech companies also means Vietnamese people are able to easily use sophisticated education technology, again underlining the huge potential of the market.
The country's e-learning market size is calculated based on the fact that every year Vietnamese are estimated to spend $3-4 billion to send their children abroad to study.
Besides, the sheer numbers are attractive: it is a country with more than 22 million students.
The Vietnamese online training market has in fact been attracting much attention from foreign investors for years.
At the end of 2016 the country had 309 investment projects in the fields of tech-based education and training with total registered capital of over $767 million.
Market expects banks to follow SBV, cut interest rates
On September 16 the State Bank of Vietnam (SBV) began to cut several key interest rates by 0.25 percentage points to pump prime the economy.
The cuts, the first by the SBV since October 2017, brings down the refinancing and rediscount rates to 6 per cent and 4 per cent.
The annual overnight electronic inter-bank rate and rate on loans to offset capital shortage in clearance between the central bank and domestic banks have been cut to 7 per cent.
The interest rate on bids for valuable papers through open market operations is reduced from 4.75 per cent to 4.5 per cent.
According to the SBV, it previously used monetary policy measures to stabilise interest rates in the context of rising international rates, which contributed to macroeconomic stability and ensured reasonable growth.
But it has now opted for the new cuts since the global economy has become more volatile and less favourable, and many central banks, including those of the US and Europe, have cut key interest rates.
Experts had been asking persistently why Vietnam effected no change though many economies around the world had already loosened monetary policy, including cutting rates.
Dr Can Van Luc, member of the National Financial and Monetary Policy Consultation Council, said the central bank's decision to lower key interest rates was apt amid the current global economic instability.
Besides, Vietnam's inflation rate was fairly benign at 2.57 per cent, which gave the SBV some leeway to cut the rates.
Veteran economist Nguyen Tri Hieu said Vietnam was suffering from the impacts of the US-China trade war especially since they were also Vietnam's two biggest trade partners. So it had to act, he said.
How do the rate cuts affect the market?
According to BIDV Securities Company, the market took the cuts in a positive manner as the first sign of policy loosening.
They would help weaken the dong somewhat against the Chinese yuan, helping sustain Vietnam's exports as well as competitiveness, it said.
ACBs Securities Joint Stock Company said the cuts were a move to stabilise the economy and support growth against the background of a slowdown in some sectors seen in August.
Lowering interest rates is a powerful form of economic stimulus and the lower interest rates are expected to push up personal consumption and encourage enterprises to expand production.
Experts said prospective borrowers now expect a wave of interest rate cuts by banks.
Some bankers said with the lower cost of capital now lenders are likely to slash both deposit and loan interest rates soon.
They expected the central bank's rate cuts would also help banks facing liquidity problems.
But some analysts expressed reservations saying it was too early to predict the outcome of the rate cuts because the central bank's key interest rates had for years had only a modest effect on the economy.
Besides, a cut of 0.25 percentage points was too little to affect the economy considering the current interest rates, they said, implying they would like to see further cuts in the near future.

Prime Minister Nguyen Xuan Phuc has asked for financial mechanisms to be built to attract investment into start-ups and innovation activities from both the country's inside and outside resources.  

The startup ecosystem has been developing very strongly over the last 15 years, but no other unicorn startup has appeared, except VNG, which was valued at $1 billion in 2014.
VNS