Foreign investors are targeting Vietnamese consumer finance companies, even poorly-performing ones, to enable themselves to rapidly enter the local fruitful financial market.
Consumer finance firms rake in cash
Consumer credit booms in Vietnam
Reform policies needed to lure foreign investments in Vietnam's consumer finance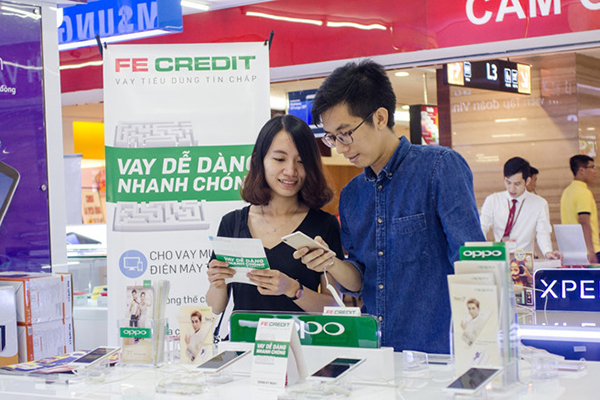 Finance companies posted high profitability with a 3.02 percent ROA ratio last year
Japan's Aeon is the latest investor to show their interest in the Vietnamese finance market. In a recent meeting with Deputy Prime Minister Vuong Dinh Hue, Chairman of Aeon Financial Service Co Ltd Masaki Suzuki said the group plans to expand its financial services to Vietnam via the acquisition of foreign-invested or state-owned financial companies.
The move shows the Japanese investor does not want to set itself apart from a trend in which foreign investors from South Korea and Thailand have been acquiring Vietnam's financial companies.
Earlier, in February, Thai finance firm Srisawad Corporation was reported to be looking to acquired ailing Finance Leasing Company I (ALC I) of Vietnam Bank for Agriculture and Rural Development (Agribank) at an estimated cost of VND523 billion (US$22.45 million).
According to Srisawad, the company is waiting for approval from the Vietnamese central bank of the deal.
In January, the Vietnamese central bank also agreed on the takeover of Prudential Finance Company in Vietnam by South Korea's Shinhan Card. The value of the deal is about US$151 million.
In addition, there were many other purchases of Vietnamese finance companies by foreign investors. At the end of last year, South Korea's Lotte Card spent a significant amount of money to buy Techcombank's finance arm TechcomFinance.
Japan's Shinsei Bank also acquired a 49 percent of MB Shinsei Finance Company from Military Bank.
Major financial institutions in the world such as Credit Suisse and Deutsche Bank have also bought shares of Vietnamese financial companies, such as FE Credit.
Golden time for acceleration
These moves of foreign investors have contributed significantly to flaring up the excitement in Vietnam's consumer finance market, which is considered to be at a golden time for strong development.
According to experts, the Vietnamese finance market has a high growth potential. It is projected to reach US$44 billion this year, largely driven by an increase in consumer spending, a rise in urbanization and the strict lending rules of domestic banks, according to Viet Dragon Securities Corporation.
Economist Le Xuan Nghia said consumer finance was a global trend, citing Europe as an example where consumer credit accounted for some 71 percent of bank loans. The proportion of consumer lending in Vietnam's economy was lower than that of other medium-income countries, where the ratio stands around 30 percent.
Sharing the same view, Yee Chung Seck, partner of international law firm Baker & McKenzie, said what investors see and find most captivating about Vietnam's banking system is that there is an untapped opportunity.
"Only 30 percent of the Vietnam's [nearly 97 million] population has access to banking services and even a smaller number of these people use credit cards or other types of mobile services so that there is huge potential in this unbanked population," Seck said.
It is estimated Vietnam's total consumer credit, including housing-related credit, accounts for only about 18 percent of the total outstanding loans of the economy. If excluding housing credit, it is only about 12 percent.
Meanwhile, a report from the Vietnamese central bank showed in the Vietnam's banking system, finance and finance leasing companies gained the highest return on assets (ROA) ratio last year, with 3.02 percent. The companies also topped in return on equity (ROE) with 13.83 percent. The average ROA and ROE ratios of the country's entire banking system were only 0.7 percent and 9 percent, respectively. Hanoitimes