Despite Covid-19, the forestry obtained total export turnover of $13 billion worth of timber and wooden exports this year.
Nguyen Quoc Tri, director general of the Vietnam Administration of Forestry, revealed at events held on the 75th anniversary of the forestry sector that the sector has been growing rapidly in recent years, topping the top 10 agricultural export items, earning tens of billion of dollars, thus making a great contribution to economic development.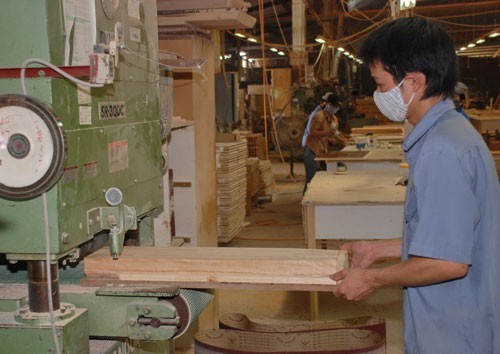 According to Tri, Vietnam exported $11.3 billion worth of forestry products last year, while the figure will rise to $13 billion, accounting for 2.3 percent of Vietnam's total export turnover and 26 percent of total turnover from farm, forestry and seafood exports.
Vietnam has become the fifth largest exporter in the world, the second in Asia and the first in Southeast Asia, in forestry produce.
Vietnam woodworks are present in 120 countries and territories.
The forestry sector also earns money from non-timber forestry products and forest environment services. In 2011-2019, roughly VND2 trillion a year was paid to forest owners and the residential communities who participated in forest protection.
Tri stressed that the forestry sector has actively helped eliminate hunger and reduce poverty as it has attracted 20 million workers, increased incomes, created more jobs, and developed livelihoods from the forestry sector.
The labor productivity of the woodwork sector has been increasing step by step, from $17,000 per head per year in 2010 to $20,000 in 2015 and $25,000 now, an increase of 25 percent compared with 2015 and 47 percent compared with 2010.
Asked about the forest area, Tri said that the figure has been increasing steadily year after year with the national forest coverage rate of 42 percent in 2020.
Vietnam has closed some forests and stopped the exploitation of timber on 10.3 million hectares of natural forests and strictly controlled ' changes in forest use purposes. A network of 2.2 million hectares of specialized use forests and 4.6 million hectares of preventive forests have taken shape.
Commenting about wood and woodwork exports, Deputy Minister of Agriculture and Development Ha Cong Tuan said export turnover has been growing by more than 10 percent per annum.
The exports are mostly wooden products. Besides, there are also non-timber forest products. The noteworthy thing is that the exports of non-timber products have been growing rapidly, by 30-46 percent, which is much higher than the growth rate of woodwork exports.
As of November 2020, the total value of timber and woodworks had reached $11.7 billion, up by 15 percent from the $10.1 billion of the same period last year. $13 billion was the target set before the Covid-19 outbreak, but Tri believes the figure is within reach. 
T. An

In the rapid development of e-commerce, online stores and factories are one of the solutions with which enterprises can cope with the prolonged Covid-19 pandemic while laying a foundation for digitalized business

Striving to become a woodwork manufacturing center of the world, Vietnam is endeavoring to localize regulations to be able to grant FLEGT licenses, paving the way for woodworks to penetrate the EU and other markets.