Nguyen Dang Thao, 45, former general director of HCMC-based Euro Auto, was given nine years behind bars for falsifying the prices of 91 BMW cars in import documents, evading US$275,000 in import tariffs.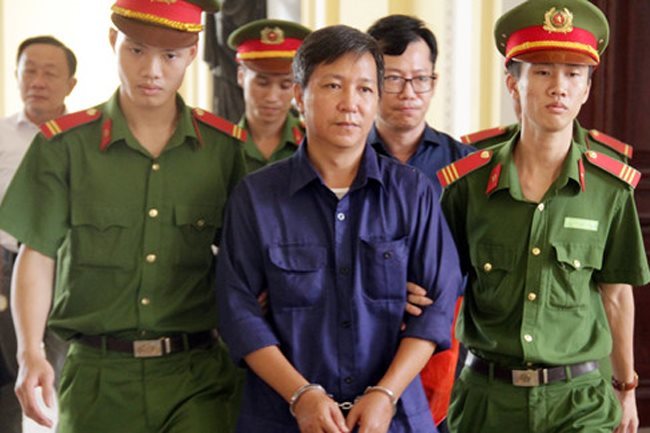 Police officers escort Nguyen Dang Thao (spectacled), former general director of former BMW dealership Euro Auto, and Tran Hai Dang, former deputy director of Viet A Delivery Services Trading Co., Ltd – PHOTO: TNO
The HCMC People's Court made its ruling last week after two days of deliberation, reported the local media. Euro Auto was once the authorized distributor of BMW automobiles in Vietnam.
Thao's accomplices – Nguyen Thi Minh Yen, 37, former head of Euro Auto's planning and product management and distribution department, and Tran Hai Dang, 45, former deputy director of Viet A Delivery Services Trading Co., Ltd – were sentenced to five and seven years' imprisonment, respectively, on the same charge.
Euro Auto was ordered to pay around VND60 billion (US$2.5 million), equivalent to the total value of the 91 cars, after deducting a certain amount of taxes paid.
The Supreme People's Procuracy said in the indictment that Euro Auto had signed contracts with German automaker BMW AG in July 2007 to become the official importer and distributor of BMW cars, Mini Cooper cars and BMW Motorrad motorcycles in Vietnam.
By December 2016, it had signed 473 contracts to import more than 9,350 vehicles at a total cost of roughly VND5.5 trillion (US$235 million).
Euro Auto then signed a delivery service contract with Viet A Company to perform import procedures. Dang was directly responsible for carrying out customs declarations and clearance procedures, as well as managing freight forwarding for the vehicle dealer.
In 2013, Dang falsified the records and invoices of 91 BMW cars at values much lower than the original prices of the German automaker. He later transferred these documents to Yen, so she could submit them to her then-boss Thao for approval.
Investigators found that Thao was the main perpetrator of the crime as the Euro Auto representative who signed the forged documents, causing losses in import duty revenue for the State.
All the cars were later sold for more than VND206 billion (US$8.8 million) to customers who were unaware of Euro Auto's import violations, so the authorities decided not to impound them.
In addition, Thao and Euro Auto's board chairman Simon Andrew Rock were accused of evading the payment of over VND7 billion in special consumption tax.
The duo allegedly smuggled 133 BMW cars and sold 23 of them without customs clearance in 2016, as well as transferred pricing to dodge some VND8 billion worth of import tariff for 81 other BMW cars through a Hong Kong-based company between 2011 and 2012.
However, Rock and some other individuals involved in the case have since fled Vietnam. In April last year, the Investigative Police Agency of the Ministry of Public Security decided to probe these violations separately. SGT

The automobile industry of Vietnam has witnessed progress in the last two years, but the localisation rate still remains low, not meeting the set target, according to a Ministry of Industry and Trade report sent to the NA.  

Despite huge reductions in the price of motor vehicles, car dealerships say sales have been unexpectedly slow in recent weeks.  
Prime Minister Nguyen Xuan Phuc requested that ministries, sectors and localities adjust their policies to speed the development of the automobile and support industries.