Once the television assembly factory of Foxconn in the northern province of Quang Ninh comes into operation, it will generate 3,000 jobs and become a basis for its continued expansion.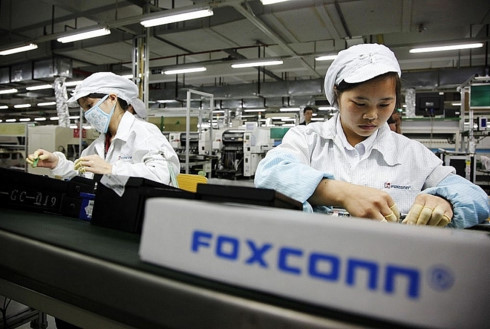 Foxconn is looking to set up a television assembly factory in Quang Ninh.
At a working meeting with leaders of the Quang Ninh People's Committee, Apple's largest supplier Foxconn has expressed plans to develop a television assembly factory in Dong Mai Industrial Park with the total investment capital of $40 million for the first phase only.
According to Harry Zhuo, general director of Foxconn Vietnam, Quang Ninh is a promising investment destination for numerous global groups due to its synchronous and modern transport infrastructure system, and Foxconn also wants to take advantage of its favourable investment environment.
Responding to Foxconn's plan, vice chairman of the Quang Ninh People's Committee Nguyen Van Thang committed to creating favourable conditions and supporting the group during administrative procedures to receive the investment certificate as well as during construction.
Foxconn has been in operation for 12 years and specialises in electronic spare parts, IT, and telecommunications. At present, Foxconn has three factories in Vietnam, including Funing Precision Component Co., Ltd. in Bac Ninh province and Fuhong Precision Component Co., Ltd. and FuGiang Co., Ltd. in Bac Giang province.
In addition to outsourcing and manufacturing for some of the world's largest electronics firms, Foxconn is engaged in mobile phone production with three brand names – Nokia, Sharp, and Infocus.
Previously, in 2016, Foxconn and Finland's HMD Global Oy acquired Microsoft Mobile Vietnam's smartphone factory for $350 million to produce feature phones and smartphones. However, this factory reduced the number of its employees by 10,000 employees after the acquisition. VIR